Yacht Marina in Phuket
Just imagine what a luxurious lifestyle you could have if you owned a yacht; you could experience a wonderful marine-based existence. More and more people are fulfilling that dream and this could be the reason why yacht businesses in Phuket are doing very well and recently, these businesses have received support from both government and private sectors. There are four main marinas providing full services in Phuket. Why not learn about them with Phuket E Magazine?
Phuket Boat Lagoon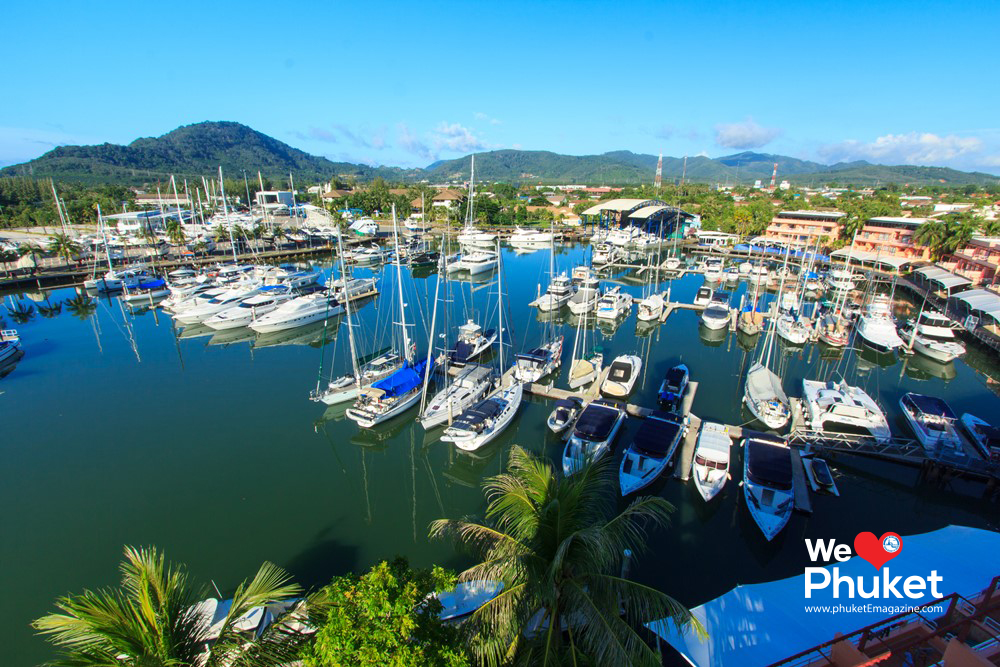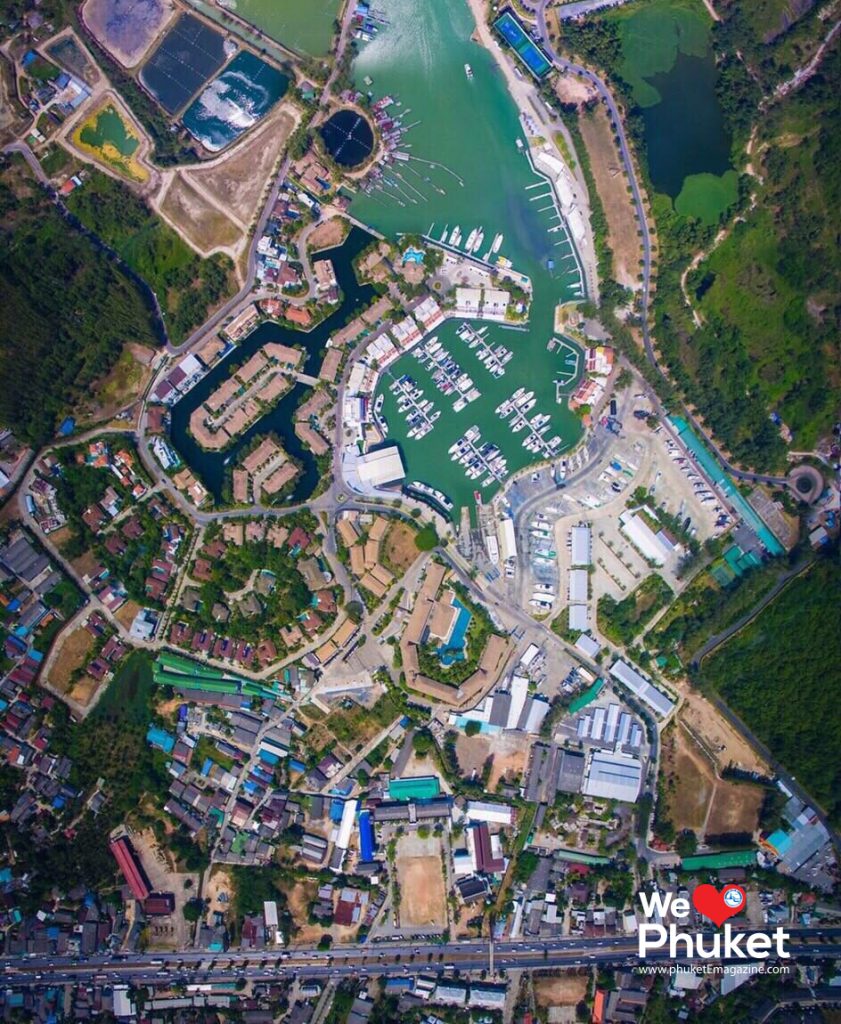 Phuket Boat Lagoon was the first established marina in Phuket and indeed in the country. Located in Koh Kaew, Muang on 250 rai of land, Boat Lagoon offers both wet and dry docking for 40 to 80 tons and will expend to 120 tons in the future. Maintenance services cover engine, paintwork, fiberglass and electrics. Boat Lagoon is constantly improving its services and facilities and handles yachts, catamarans, and motor yachts. It has capacity for roughly 173 vessels from 10-90ft long and 127 two-storey boats from 10-90ft. The dry dock has capacity for 30 boats from 10-25ft. Besides the boat service, there are also other facilities such as a hotel, restaurants, internet, a fitness centre, a swimming pool, tennis courts, a Villa supermarket, a dental clinic, banks, ATMs, and a shopping area. The Boat Lagoon also has received ISO 9001:2008 every year since 2012 as well as support from the B.O.I (Board of Investment) as a full service marina
Website: http://www.phuketboatlagoon.com/
Phuket Yacht Haven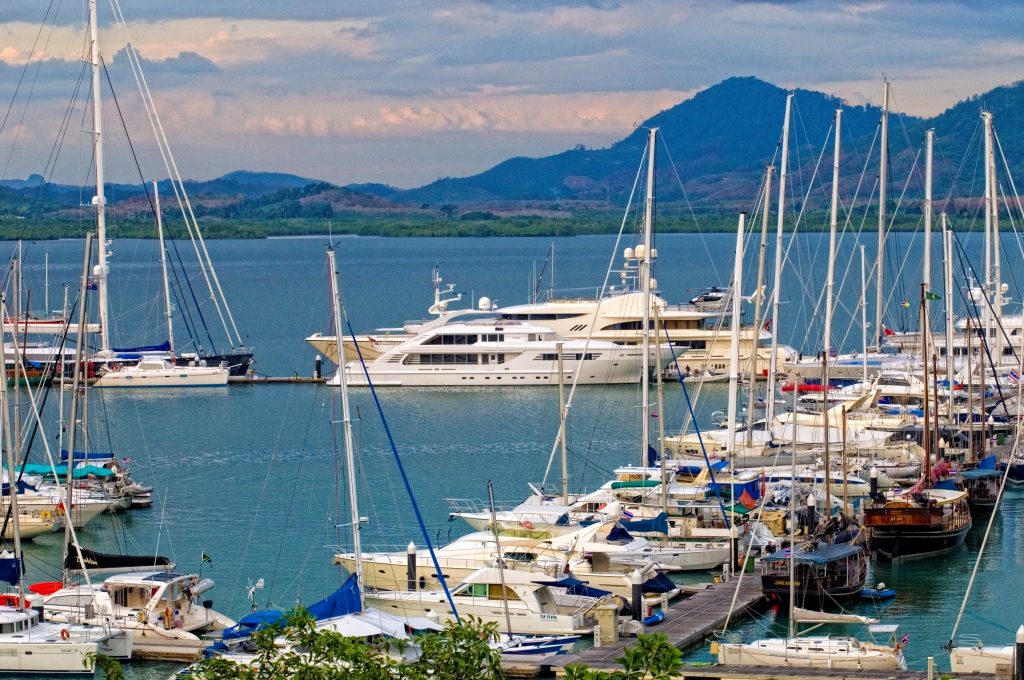 The Phuket Yacht Haven is located in the Thalang area, in the northern part of the island – a 15-minute drive away from Phuket Airport. It's also not far from Saphan Sarasin Bridge linking the island to the mainland and Mai Khao Beach which has many five-star resorts such as JW Marriott Phuket Resort and Spa. The marina is on the east coast of the island located in Phang Nga Bay and is suitable for all-year-round maintenance work. Yacht Haven started business in 1997 and can support 320 boats from small to super-size yachts. Yacht Haven is also a part of the Marina Industry Association which means that it enjoys worldwide standards. It has full facilities such as internet, fuel, 24-hour security and much more. There are two popular restaurants, 'The Heaven' and 'The Deck' which serve Thai and International dishes. There's also a fitness centre, yoga classes, a swimming pool, massage, hotel, laundry facilities, a shower room, minimart and private parking, car rental, taxi, vans and an ATM machine. All provided by professional and experienced staff members.
Website: http://www.pyhmarina.com/
Ao Por Grand Marina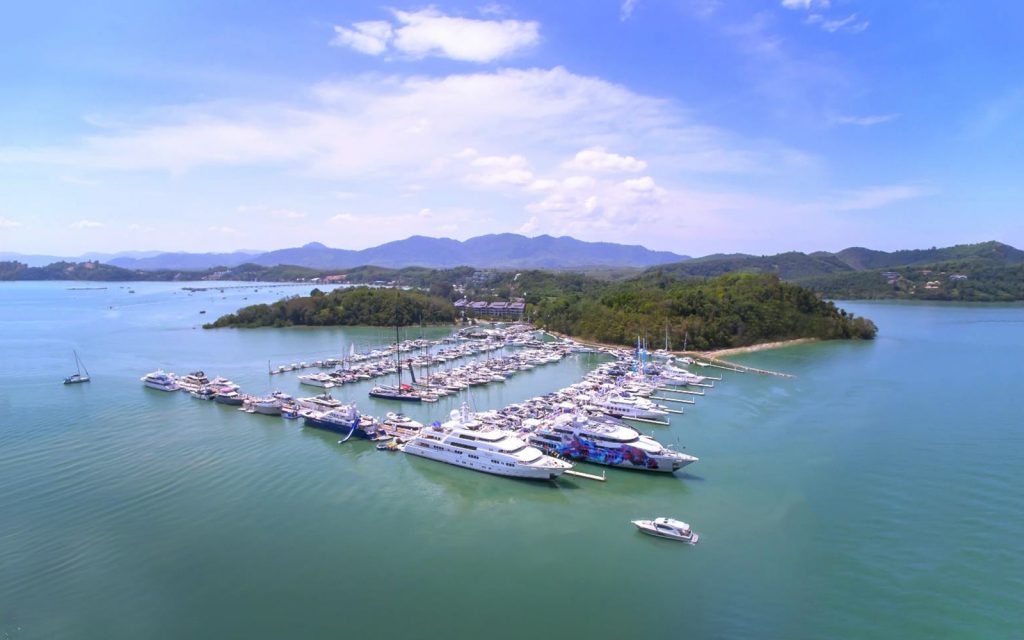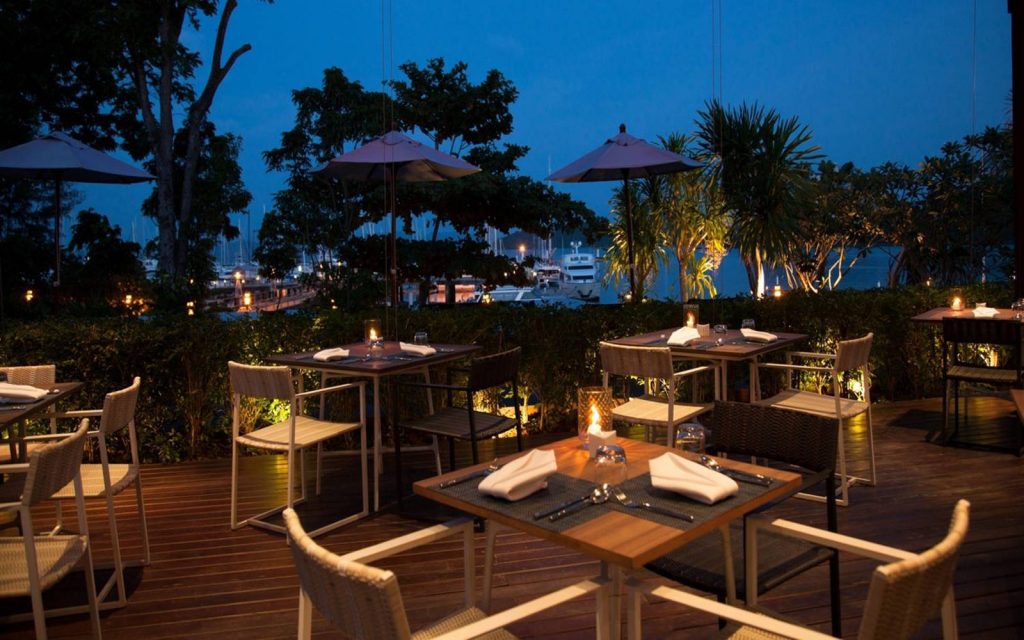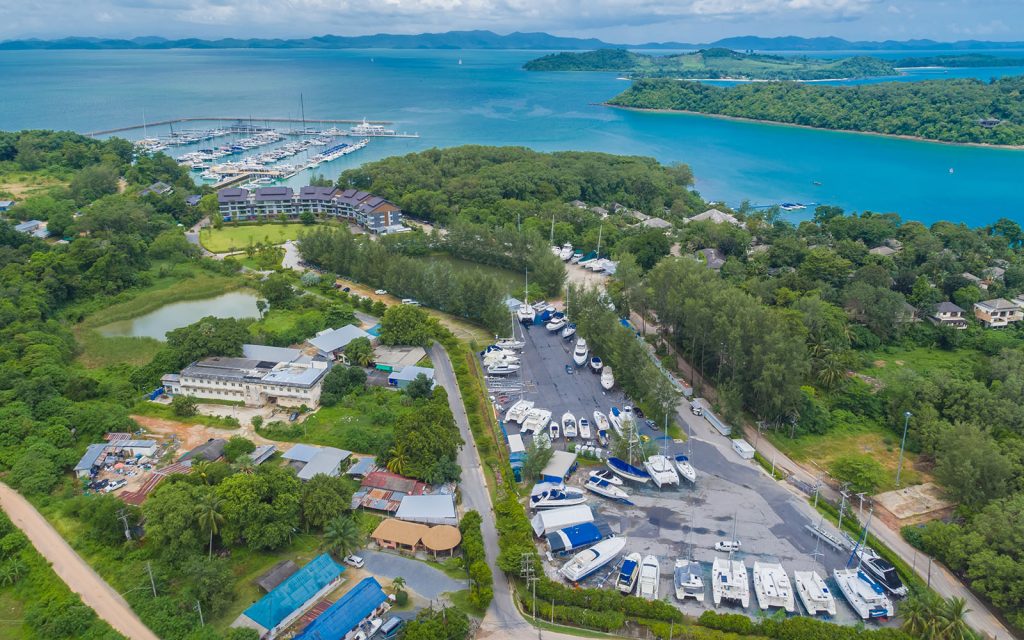 Under the concept of 'A home away from home' Ao Por Grand Marina was opened in 2008 in Phang Nga Bay and is surrounded by nature. It can support 300 small to super-size yachts. Ao Por Grand Marina provides a wide variety of services such as electricity, internet, fuel and 24-hour security. Other facilities are the 'Port of Call' restaurant and 'D'Deck Bar', a fitness centre, yoga classes, pilates classes, a swimming pool, sauna, steam room and an ATM machine. There are taxi and car rental services in the nearby area. Ao Por Grand Marina is integrated in the local community and is right by pineapple farms, fisheries, and local community based tourism.
Website: http://aopograndmarina.com/
Royal Phuket Marina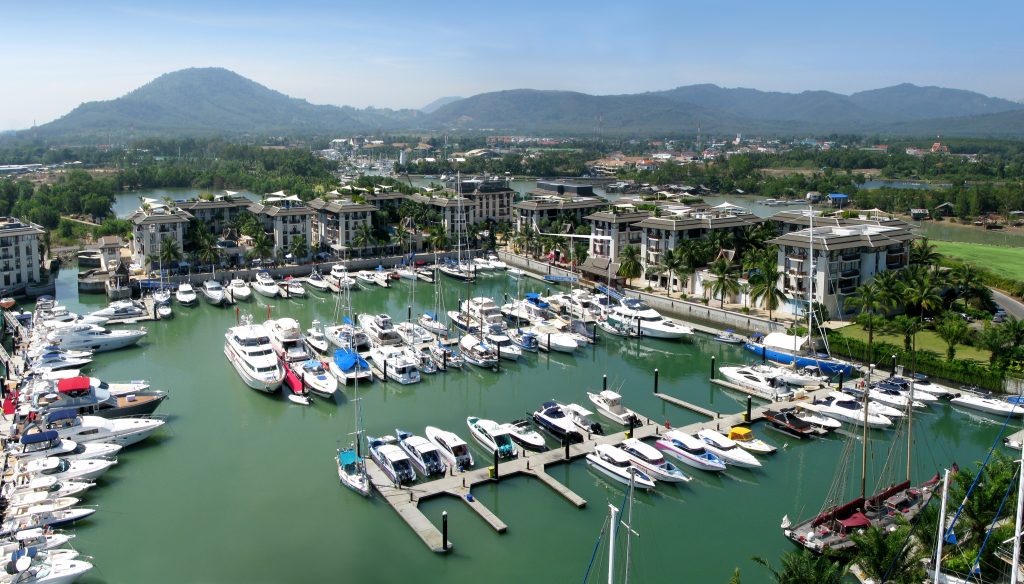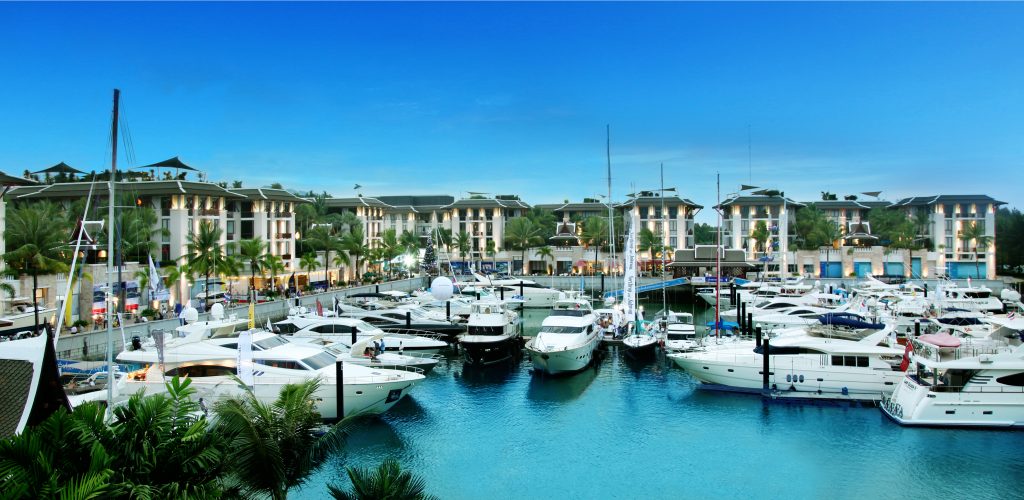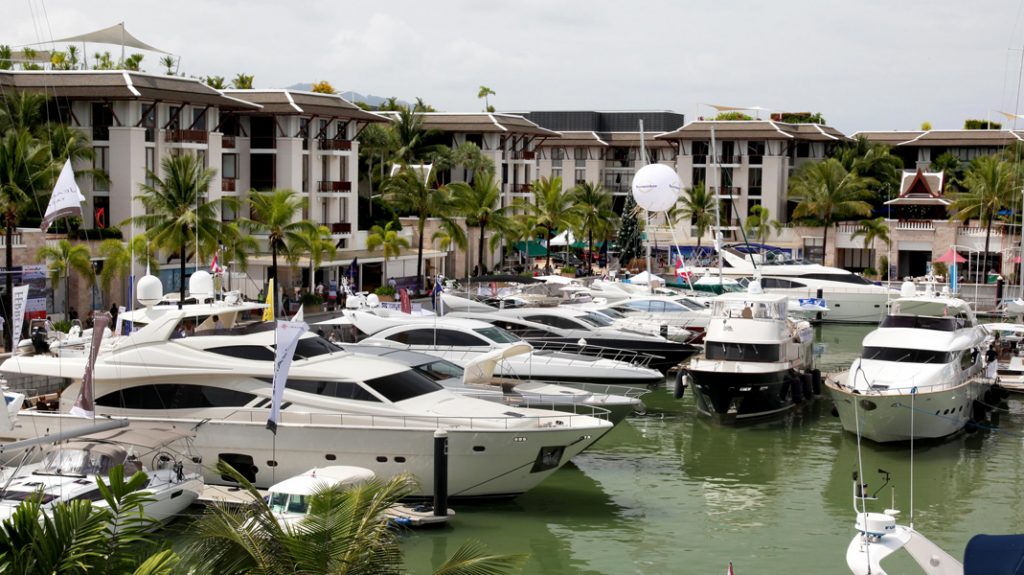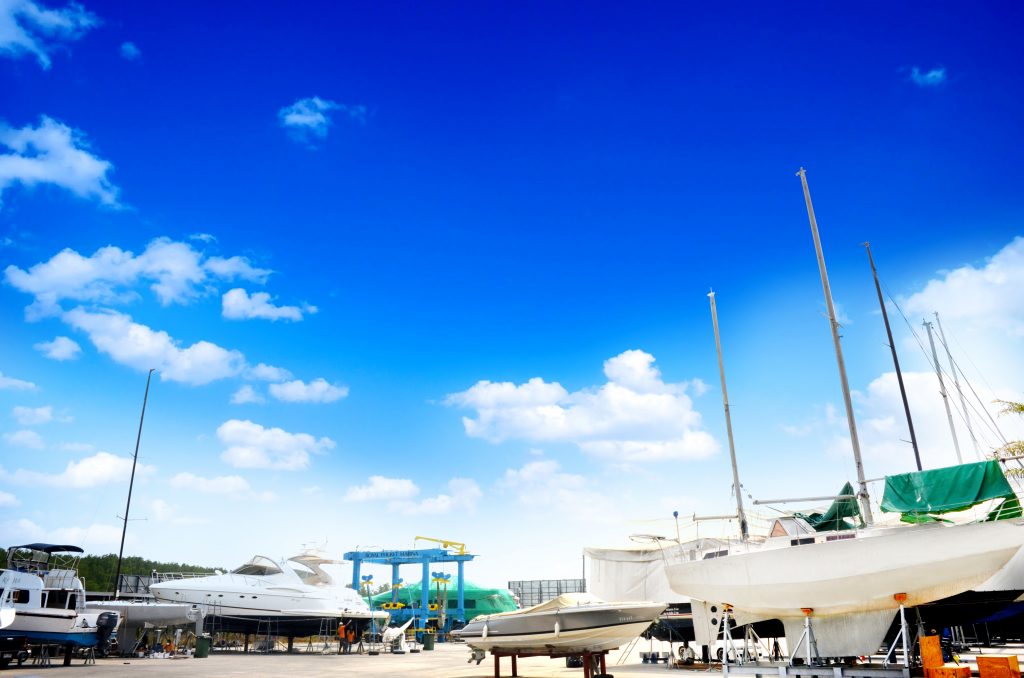 Perhaps the most luxurious of Thailand's marinas, Royal Phuket Marina offers a swathe of facilities when it comes to lifestyle, health, shopping, dining, stylish accommodation, and of course marine engineering and maintenance. Royal Phuket Marina offers 100 wet berths and 50 dry berths and is the proud holder of the prestigious 'Five Gold Anchor Award' bestowed by the British Yacht Harbour Association. The marina is also the holder of CNBC's well-known Best International Design award, as well as Cityscape's Best Waterfront Development in Asia 2010 award. Located adjacent to the Boat Lagoon on Phuket's sheltered east coast the marina has easy access to the natural wonders of Phang Nga Bay and all-year-round access.
Website: http://www.royalphuketmarina.com/