Phuket is a creative city when it comes to food, certified by UNESCO. It is a destination for foodies who want to explore and taste various cuisines. The culture of food in Phuket is rich and diverse, and it is a challenging place for skilled chefs to showcase their culinary arts to both Thai and international food lovers. Phuket e-magazine invites readers to chat with five chefs from different restaurants, including Fine Dining, Farm-to-Table, Chefs' Table, and Contemporary Cuisine, about their inspirations in creating unique menus from local ingredients and cultural influences. There are many dishes that each chef presents, and we recommend that readers try them out for themselves to experience the authentic taste of Phuket that cannot be found anywhere else.
"Nitan" comes from the word "pannitan" which means intention in Thai. It was the intention of the founders, Khun Paeng and Khun Chuer, to establish a Casual Fine Dining restaurant that serves Thai cuisine using high-quality local ingredients in Phuket, a city known for its interesting food ingredients. Chef Pom, the Chef de Cuisine of Nitan, begins by introducing the meaning behind the name of the restaurant.
Nitan is located in a peaceful and serene location in the sea view villa project, with a natural color tone that provides a calming and relaxing atmosphere. The interior is simple and uncluttered, with a clear glass view of the kitchen, showcasing the meticulous preparation of each dish.
With the passion of the founders, who are foodies and designers, along with the experience of the chef team, especially Chef Pom, who studied culinary arts and previously worked at a Michelin-starred restaurant in Bangkok, Nitan is ready to tell the story of flavors through the 7-course menu that has been carefully curated by the Nitan team.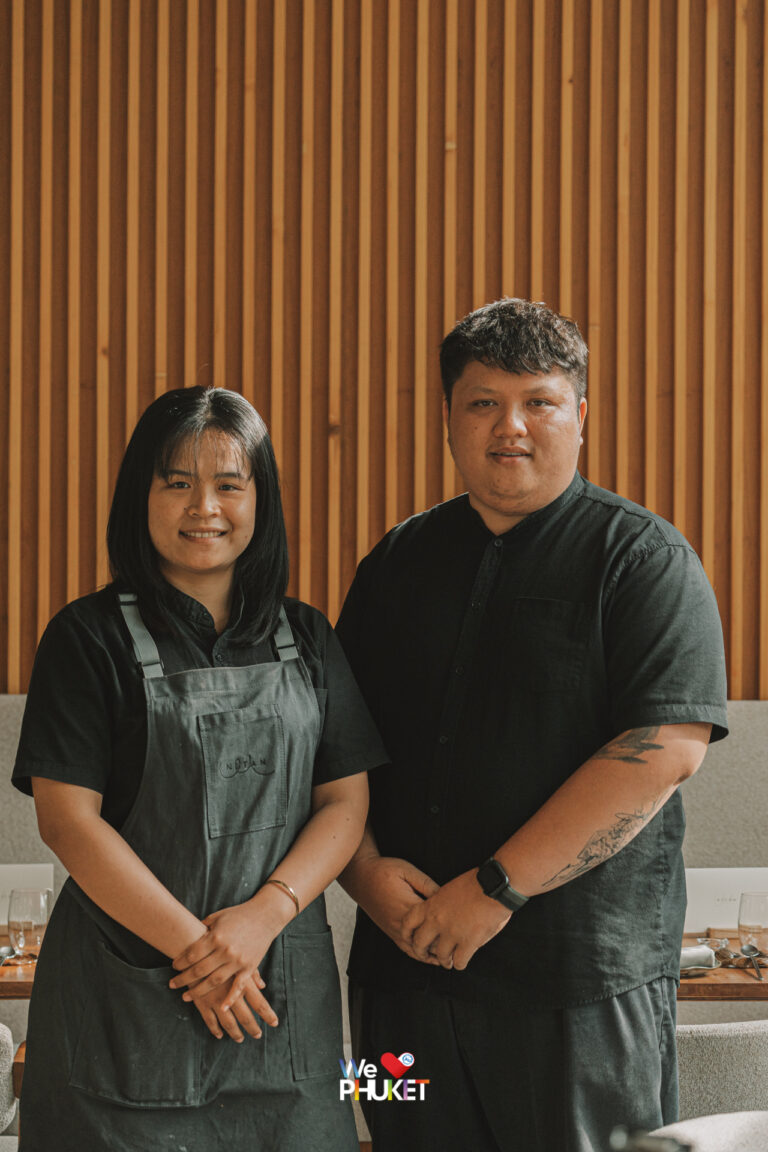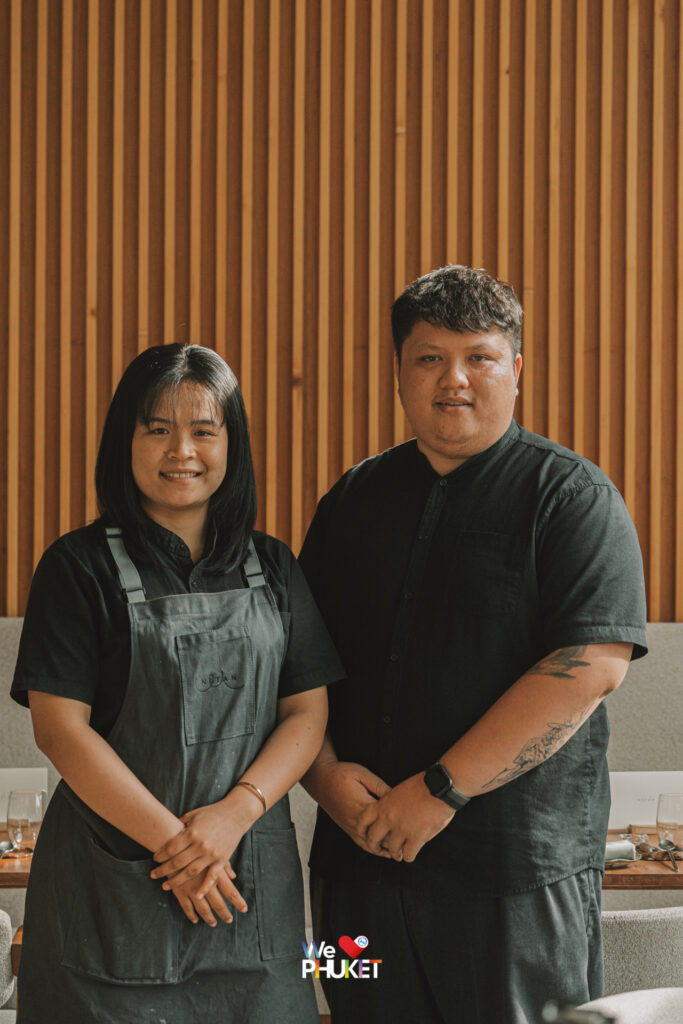 "In creating the menu for our restaurant, both Chef Khun Paeng and Chef Cheu will offer ideas and help taste-test. Myself and the mysterious Sous Chef May, will collaborate and use all of our experience to bring those ideas to life. We must find inspiration and try various ingredients to discover new things. After moving to work in Phuket, I will spend time absorbing the local way of life and observing what people here eat and what ingredients they use in their cooking. I love going to markets, especially community markets, to look for fresh local ingredients. I once visited a team member's orange grove and found a native tree called "Som Kwaay" or "Buffalo Orange." I learned that people in Phuket use dried buffalo oranges in their cooking, and I tried the young leaves, which gave me new ideas for incorporating this ingredient into our dishes." Chef Pom shares about finding new inspiration from ingredients in Phuket.
The article discusses the diverse food culture in every region of Thailand, and how it is not limited to presenting menus in different ways during each season, using fresh local ingredients from Phuket as the main ingredient.
"This season, we want to present a lively atmosphere of socializing and reminiscing about the delicious grilled dishes, such as the popular grilled prawns. We have transformed it into a Shrimp Moose Tart, using prawns to create a mousse and serving it as a tart. We also have the Chicken Skewer, which is grilled with lemongrass to give it a fragrant aroma, and the Yellow Curry Chawanmushi, a savory steamed egg custard mixed with a flavorful curry sauce and topped with crispy fried pandan leaves. It's a perfect snack to enjoy with a drink."
In addition, there are also dishes that showcase fresh ingredients such as crab or seafood that comes from local fishermen in Phuket. "For the Crab dish, we use fresh crab meat to make a Raviolo-like filling, which is stir-fried with curry powder and salted egg yolk for a hint of sweetness. The green sheets wrapping the filling are made from blended pandan and flour, resembling a dumpling wrapper. At the bottom, there is a foam made from blended crab meat."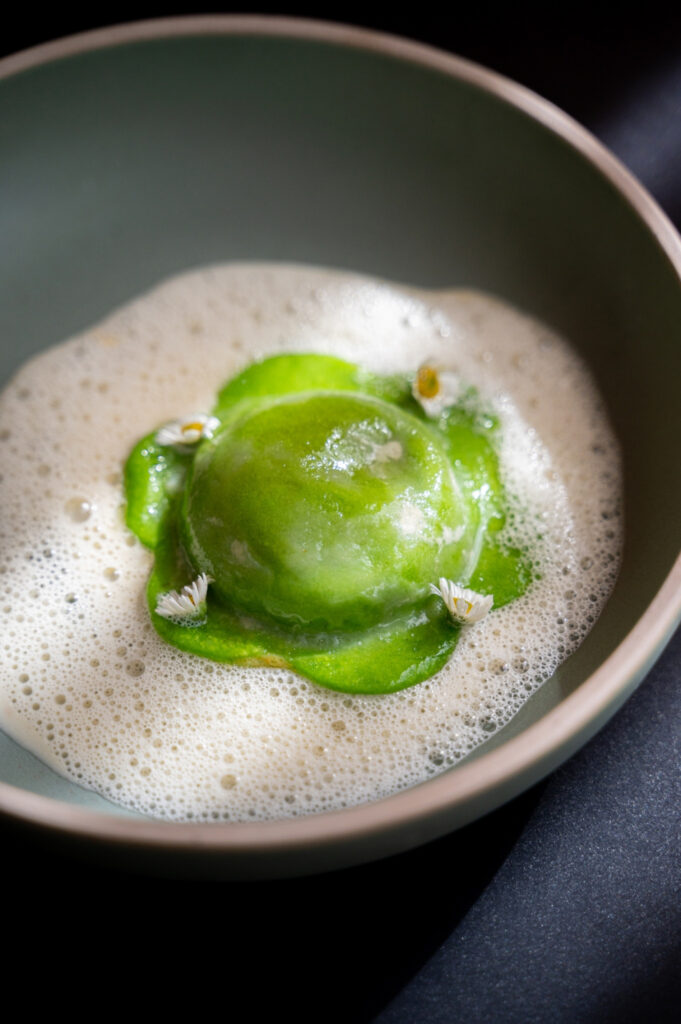 This dish, Big Eye Scad Fish, showcases the freshness of the large-eyed scad or yellow stripe trevally, which has a fatty texture. It is prepared in a similar way to grilled or baked fish, or Thai-style sashimi. The fresh fish is seasoned with salt to enhance the taste and make the flesh firmer. It is served with pickled vegetables, both sour and sweet, and garnished with a foam made from samphire to add a salty flavor, along with roasted peanuts.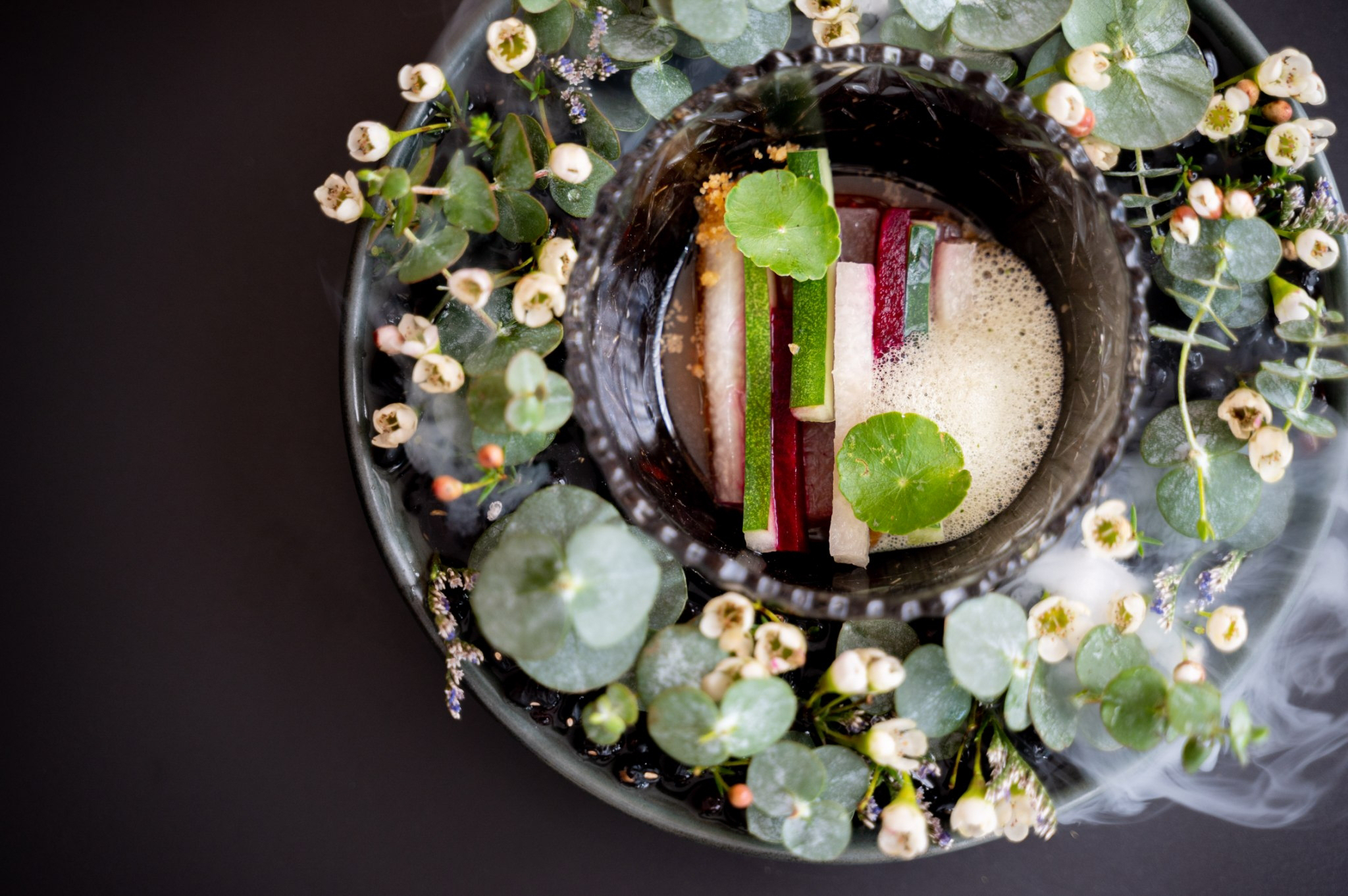 John Snapper The chef uses freshly caught and chemical-free local Red Snapper fish. The Red Snapper is steamed and served with Phuket pineapple jam and a dipping sauce made with red and green bird's eye chili peppers for a slightly spicy taste. The dish is garnished with salmon roe to add richness or can be elevated to a higher level by choosing caviar.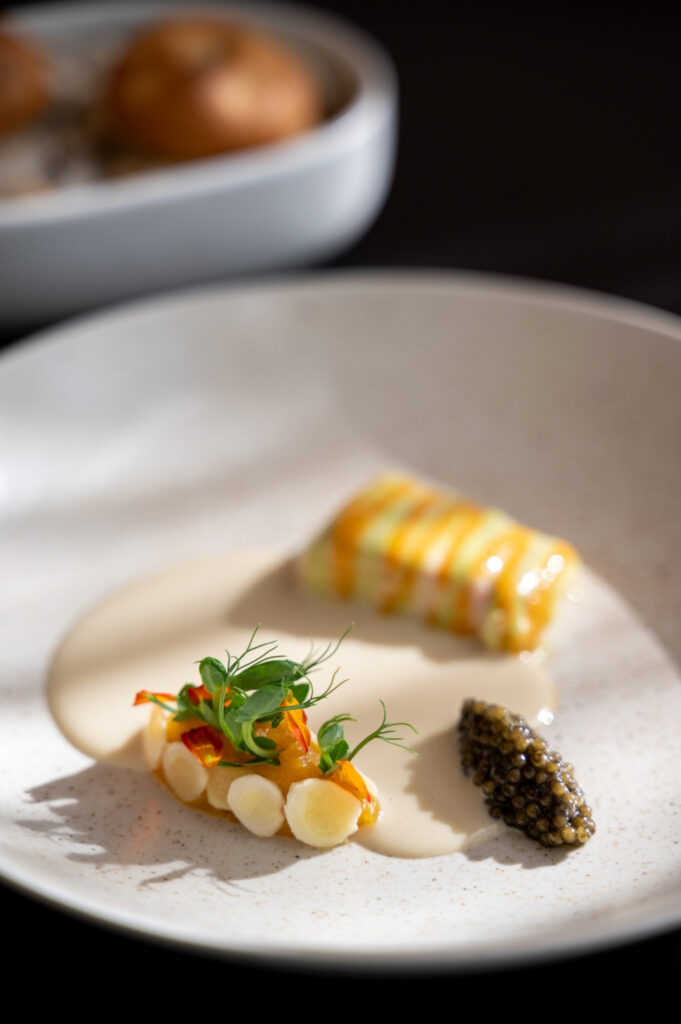 Som Khaek Tonkotsu Broth is a tonkotsu soup made with kaffir lime leaves and pork bones, similar to Thai pork soup with cha-om leaves. However, we use kaffir lime leaves from Phuket which give a different sour flavor than cha-om leaves, and we also use kaffir lime leaves to infuse with garlic oil and layer it on top of white tofu. It is garnished with soft kaffir lime leaves. The sour taste from kaffir lime leaves helps to cleanse the palate before moving on to the main course, which is 7 Days Duck, a dish made with aged duck meat. It is served with nam khao soi sauce and pickled sawtooth coriander. It is a rice noodle dish without any noodles.
The inspiration for this dessert comes from a traditional Phuketese sweet called "Kosoy." The bottom layer is made of Kosoy dough, which is made from palm sugar sourced from Phang Nga province instead of using regular white sugar as in the original recipe. This substitution adds a richer aroma and sweetness to the dough. On top of the Kosoy layer is homemade coconut ice cream, drizzled with coconut-infused caramel sauce and garnished with pandan leaves and crumbled crumble. This beautifully presented dessert is a perfect way to end any meal.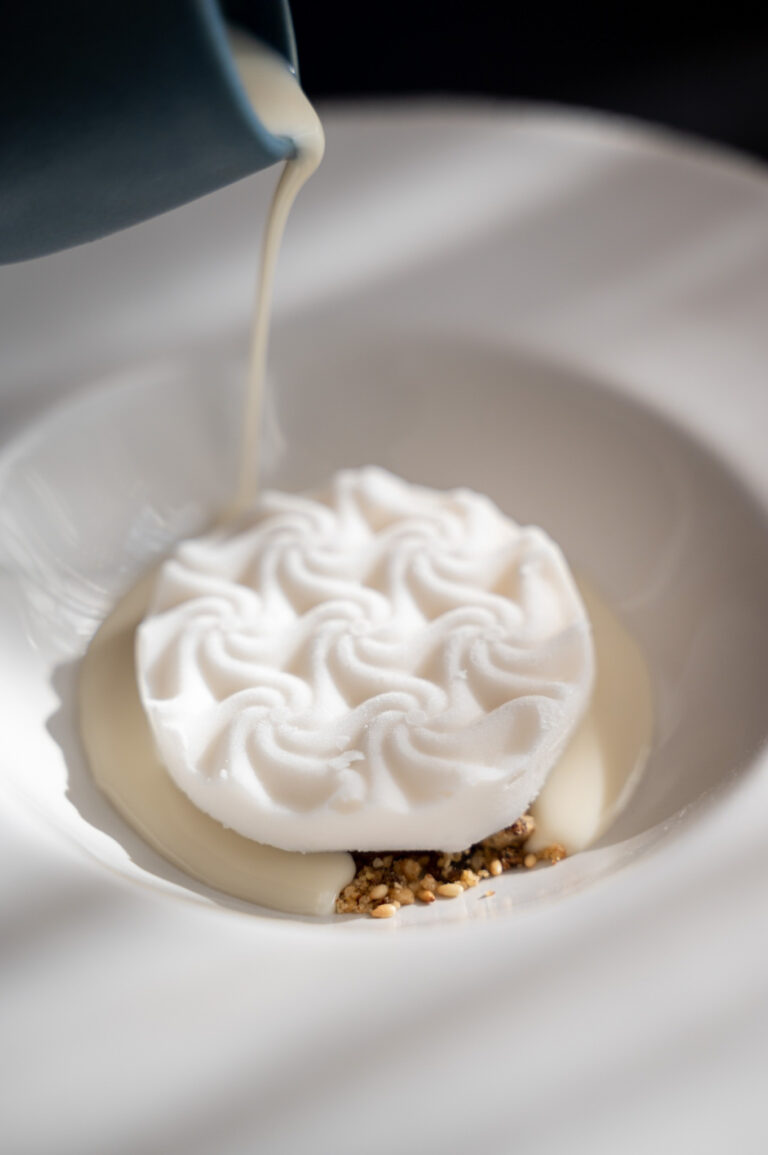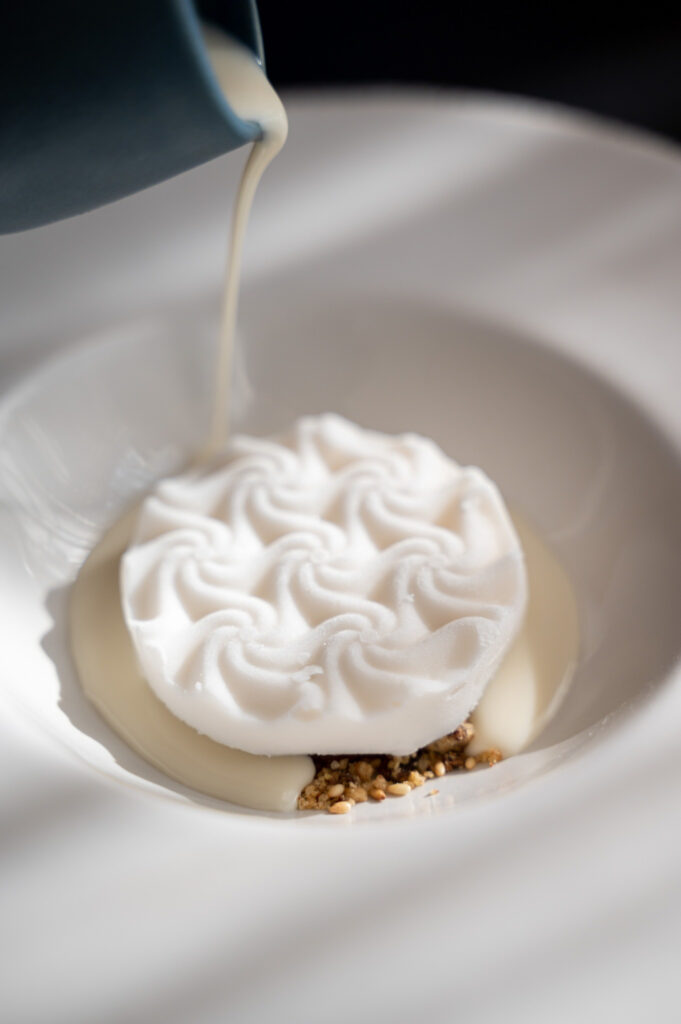 The charm of Nitan lies in its unique taste and texture. As for the charm of Phuket cuisine, Chef Pom answers, "I think the charm of Phuket cuisine lies in the freshness of the ingredients, which is our selling point. We are located by the sea, so we can get fresh fish, crab,
The allure of Nitan lies in its novel taste and texture sensations. As Chef Pom explains, "I believe that the charm of Phuket cuisine lies in the freshness of its ingredients, which is our strong suit. We are located by the sea, and we can get fresh fish, crabs, and shrimp daily without having to transport them from far away. We source our ingredients from local fishermen whom we know and trust, ensuring quality control. Even the fruits and vegetables, such as Phuket pineapple, are another highlight of our ingredients. Phuket pineapple is both sweet and crispy, and it tastes delicious when used in cooking with fresh ingredients."
Nitan is open from 7 pm to 10 pm daily, except for Mondays and Tuesdays. Visit their website at https://www.nitanphuket.com/ or call 065 683 0432 for more information.