When talking about Phuket local food, stewed pork belly, crab curry, and smoked shrimp chili dip may be the first things that you think of. If you want to try some different dishes, Phuket E-Magazine would like to recommend you one of Michelin Guide's choices in Phuket, Mor Mu Dong.
Mor Mu Dong is located at Soi Palai, Chao Fa Road, Chalong, The owner or the main chef of Mor Mu Dong started this business 24 years ago with his wife as a local Thai food cooked to order. At first, there were only a few tables and their menu will be depended on the ingredients that they have. Their first customer target was the fishermen in this area but many customers spread word of mouth so Mor Mu Dong became famous. The couple decided to increase the tables as seen in the present.
Mor Mu Dong has its own unique style of cooking. All recipes are from the owner even though he doesn't cook anymore he still controls the dishes by himself. Moreover, he is interested in organic food especially the local vegetable and herb. This is the reason why the vegetables that they use to cook all local food in Mor Mu Dong are fresh and safe. Even rare local vegetables, you can find here.
The signature dish of Mor Mu Dong, Pla Yat Sai or Stuffed Fish, is always reviewed on the internet. They use mackerel as the main ingredient. The mackerel has its bones removed and its flesh scraped out. Then, the flesh is mixed with red curry paste and stuffed back inside the mackerel. The fish is then fried and served up crispy.
Another recommended dish is shellfish with shrimp paste sauce salad. Blanched shellfish mixed with spicy shrimp paste sauce.
Next is stir-fried eggplant with curry paste. Eggplant and curry paste is fried until crispy. The combination of the soft eggplant and the crispy curry paste is a winner.
In addition, they also serve Thai tamarind fish soup with ginger and Paku Midin, Curry soup with river snails and piper lolot, and Stir-fried pork with salt which is a popular menu in Phuket especially at Mor Mu Dong.
Mor Mu Dong, the restaurant has a thatched roof and its own unique style of interior with the atmosphere of mangrove forest. After ordering food, they also serve fruit with a shrimp paste sauce. As this is a family business, they try to do their best to facilitate all guests who want to experience their food.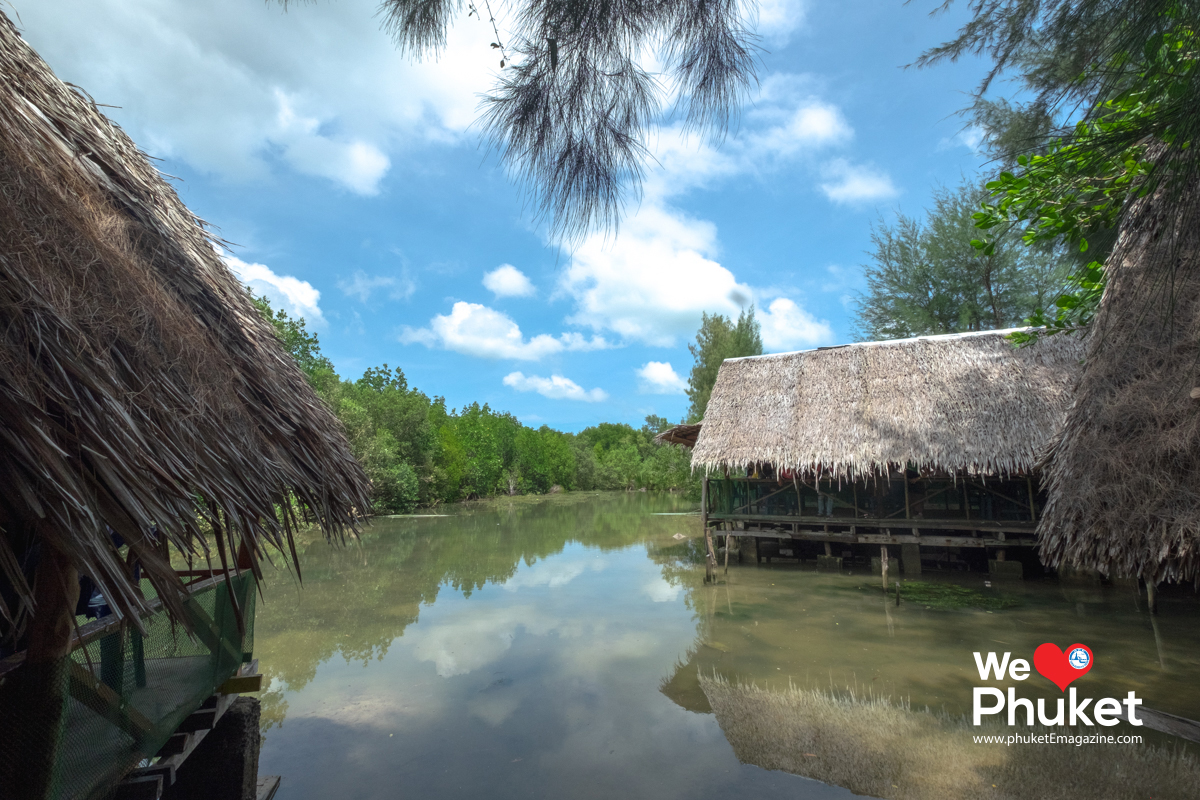 Mor Mu Dong opens daily from 10.00 to 21.30 hrs. and close on the 15th of each month (If the 15th fall on weekend, it will be closed next Monday.)