When the sweltering days of summer officially arrive it's time to find ways to escape the heat. Luckily, on Phuket Island we have a delicious solution – crunchy and sweet Phuket pineapples. If you've never tried them maybe now's the time.
Phuket pineapples have long been famous for their unique taste and texture – a distinctiveness that keeps them in great demand. Locals call their pineapples 'Ya-Nut' and Chinese Hokkien call them 'Ong Lai' and they're said to bring good luck which is why they're regarded as an auspicious fruit. Traditionally, they're used in many religious ceremonies.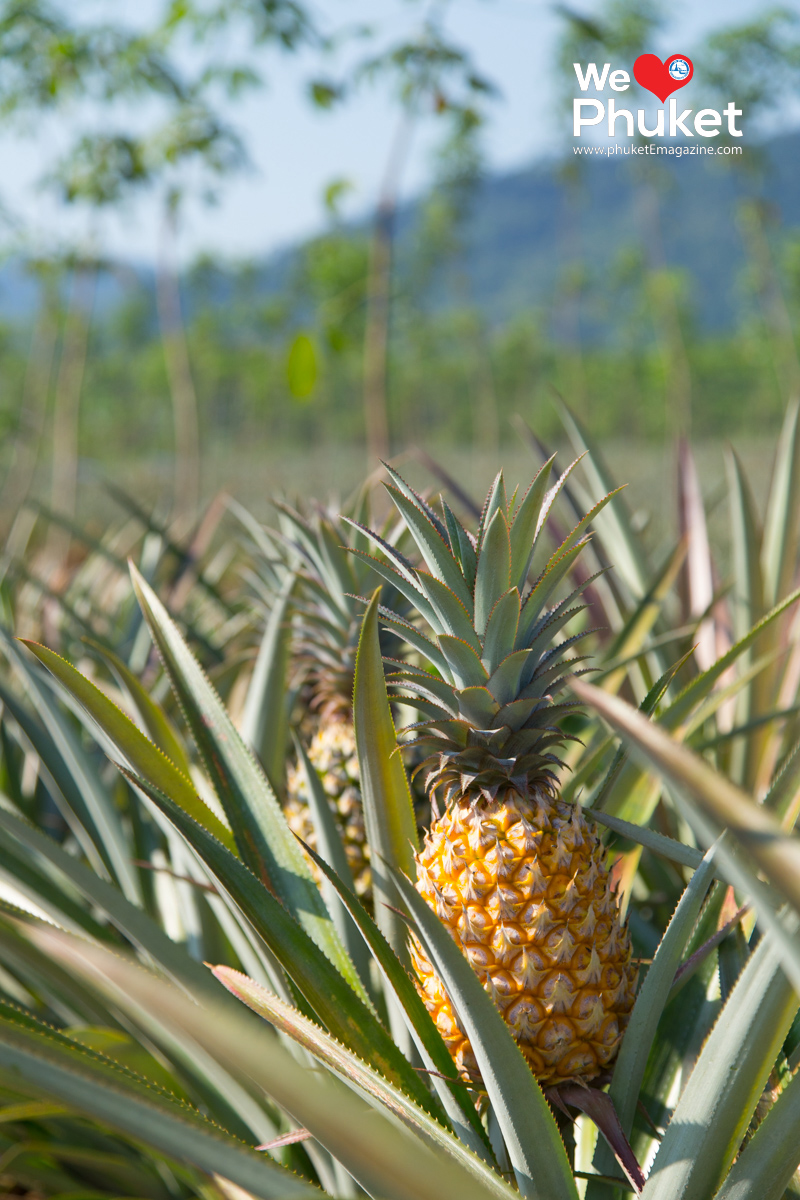 To learn more about Phuket's pineapples, local farmer Khun Wichai Sae-ton can explain. Mr. Wichai tells us that a certain Pha-ya Charoonratchapokakorn brought pineapple seeds from Penang, Malaysia to southern Thailand and to Phuket but geographical factors made the island's pineapples taste different from other parts of the south Thailand. Minerals and temperatures are the main factors, thus the best possible pineapples can be grown only on Phuket Island.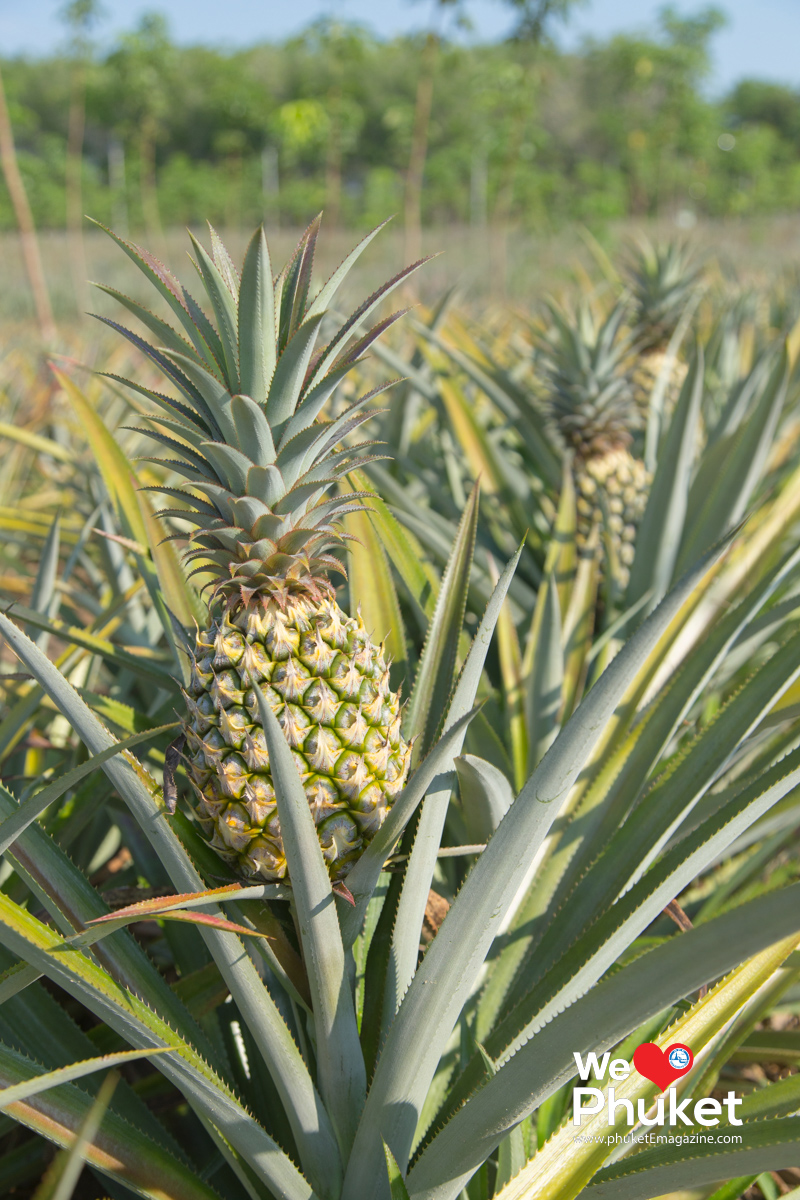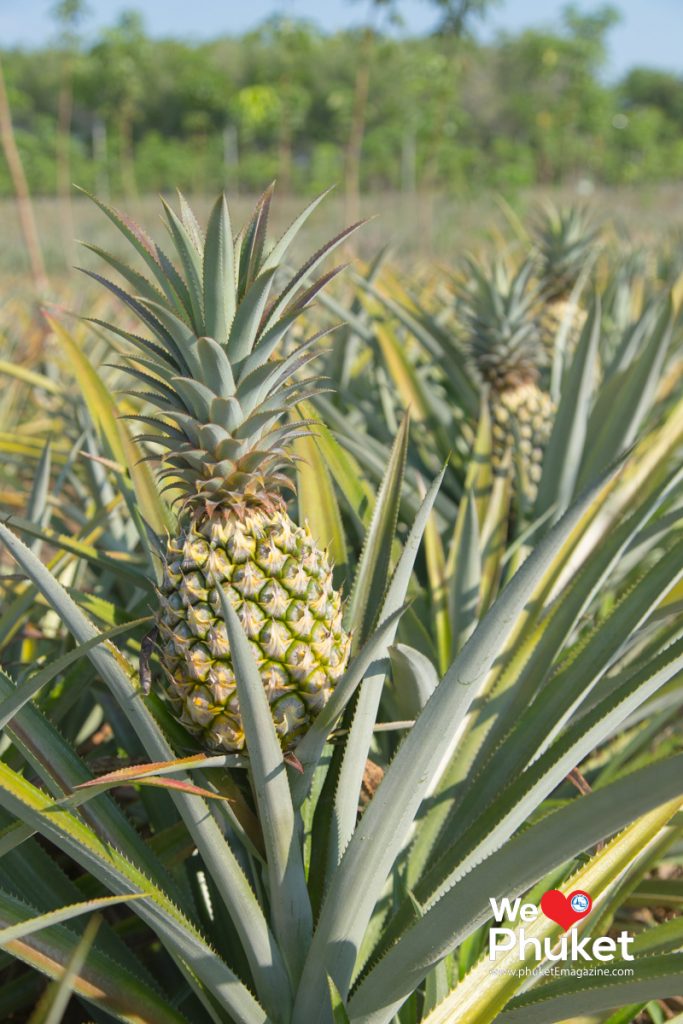 Mr. Wichai's family has been running their pineapple farm for 50 years and it was his father who started the business. Pineapples take 15-18 months to grow and ripen and after the harvest, the roots need to be taken care of for future use. Pineapples are usually planted in between baby rubber trees until the rubber trees have grown tall. Then the pineapples are removed and the farmer will plant new young rubber trees and the process is repeated.
About 500-600 pineapples are harvested daily for shops and hotels in Phuket. Nowadays there are 48 registered pineapple farms here but that's not enough to meet market demand. So it has to be said that there are many 'outside' Phuket pineapples being brought onto the island and sold here lately. Some people bring pineapples from other provinces to sell in Phuket claiming that these pineapples are real Phuket pineapples. However, you can check as Phuket pineapples are small to medium size with a cylinder shape with noticeable indentations. The interior will be yellow to dark yellow and the taste hovers between sweet and sour. The centre is also distinctly crunchy.
Pracharat Samakee, a non-profit community organization plays an important part in supporting Phuket pineapples. Mrs. Orasa Tosawang, president of the organization, explains that pineapples have played an important role in Phuket's lifestyle for many years. Recently we read that one pineapple was sold for 1,543 baht! This was for a symbolic reason; 543 is the size of Phuket Island and the '1' stands for the best premium. It was a smart marketing move to promote the value of this fruit.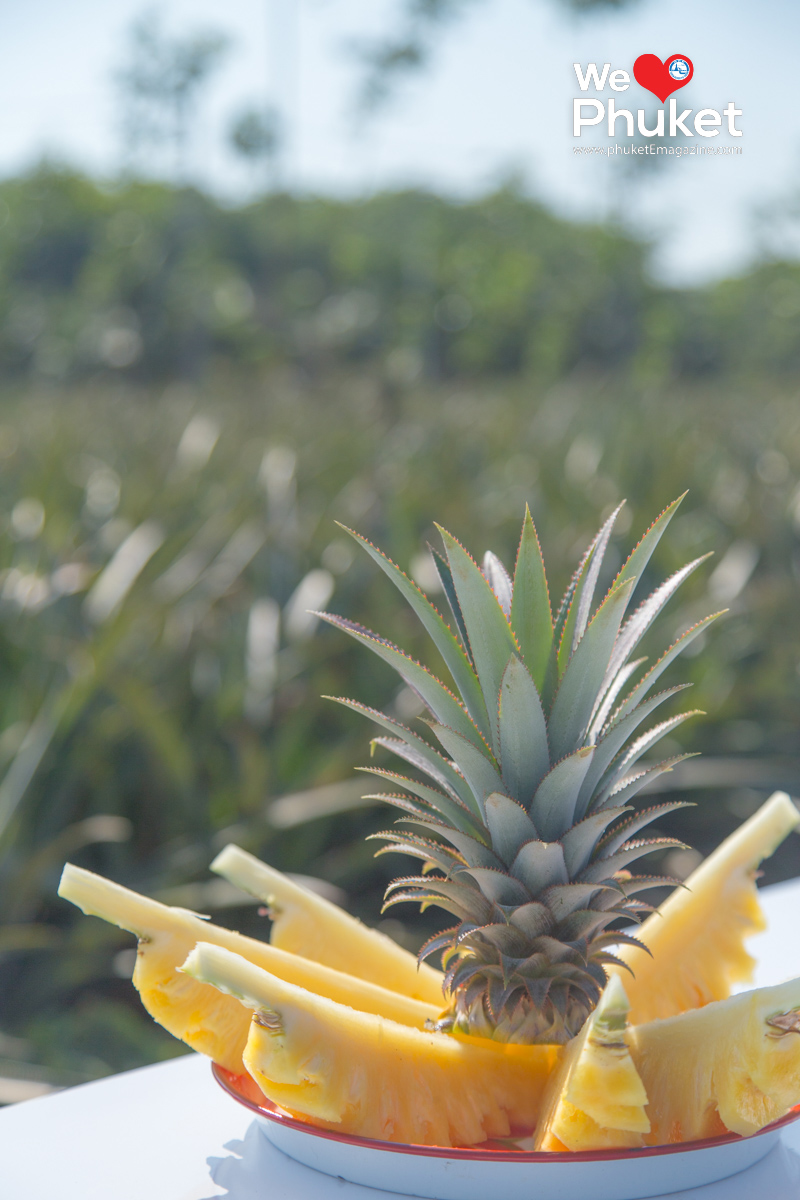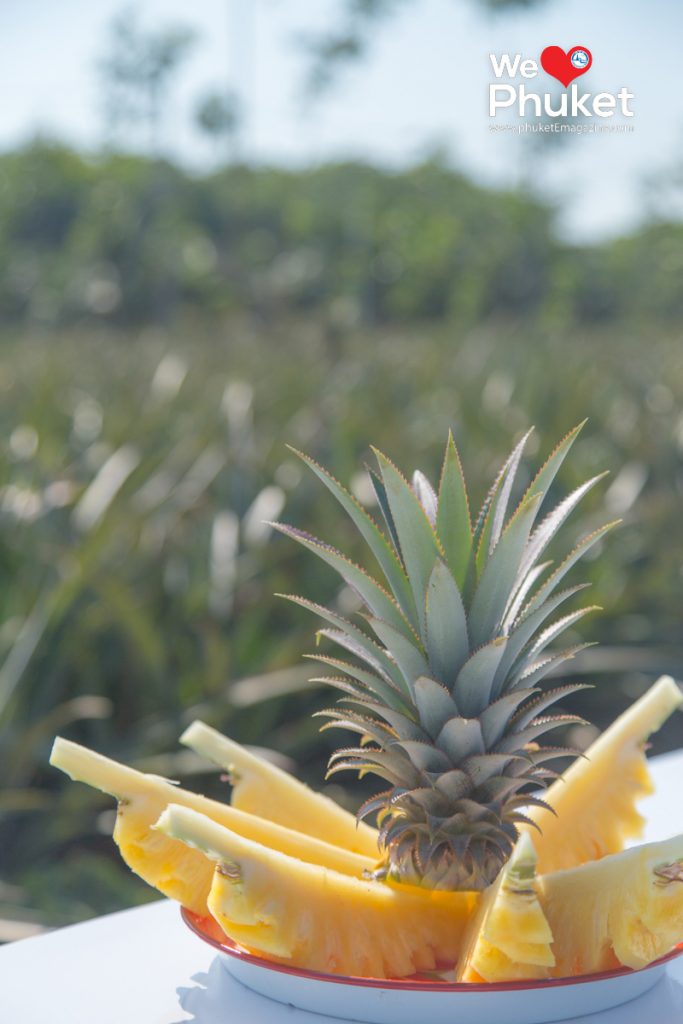 In the terms of product value, Phuket pineapples received a 'GI' or a guaranteed Geographical Indication. Pracharat also worked with local organizations to help Phuket receive a 'GAP' or Good Agriculture Practice award. The organization also has goods trucks that deliver and sell the island's product including, of course, pineapples. Farmers can be greatly helped by these tactics and are encouraged to participate in Pracharat's practices.
Offshoot products are of course pineapple juice, Tao-Sor pineapple filling, and pineapple puffs. Pracharat also encourages local community in Paklok area to run agri-tourism for tourists to visit local pineapple farms as well.
Pracharat obviously believes in its products and is sure that it's worth following up on its marketing because of the quality of Phuket pineapples. So why not sample some this summer?