Phuket is a culinary hub accredited by UNESCO. It is a destination for foodies who want to explore and indulge in a variety of cuisines. Phuket is a city rich in diverse food cultures and is becoming a challenge for many skilled chefs to showcase their culinary art to both Thai and international food lovers. Phuket e-magazine invites you to chat with five chefs from various restaurants such as Fine Dining, Farm to Table, Chef's Table, and Contemporary, who will share their inspiration for creating special menus from local ingredients and culinary culture of Phuket. There are many dishes that each chef presents, and we recommend that you take the opportunity to try them out for yourself to experience the unique taste of Phuket that you cannot find anywhere else.
HEH
Wow, what's this? The first time I saw the name of the restaurant, many people might have been confused. HEH is a contemporary Australian-style restaurant that emphasizes fresh ingredients from Phuket Island and the Andaman Sea. It is an exchange of unique and interesting culinary cultures.
Chef Nattapong Othnavasit, Chef and Owner of HEH Restaurant, spent 10 years living in Melbourne, Australia, where he discovered his passion for cooking and decided to pursue it professionally. He gained extensive experience working in restaurants in Australia and in Michelin-starred restaurants in Bangkok before deciding to open his own restaurant, HEH, in Phuket. Chef Nattapong is also a celebrity chef and a competitor in the 2023 season of Top Chef Thailand, and is considered one of the top chefs in Thailand. HEH is a restaurant that specializes in contemporary Australian cuisine, with a focus on fresh and local ingredients from Phuket and the Andaman Sea. The restaurant offers a unique and interesting culinary exchange of flavors and cultures.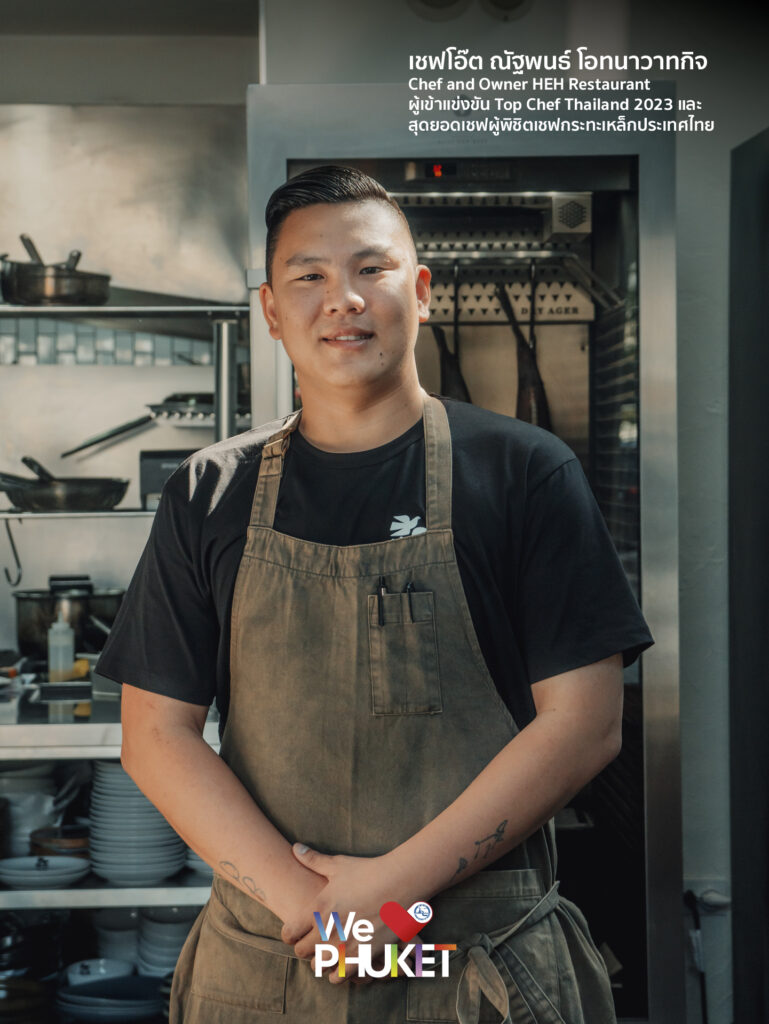 The reason why Chef Oat chose Phuket as the starting point for his first restaurant was because he had been to Phuket as a tourist several times before, but it was when he stayed in Phuket for a few months that he started to see Phuket in a different light. Having more time to explore and try different foods, he realized that Phuket was a city that he wanted to create something meaningful in, rather than just a place to visit and then leave.
"I already love seafood, so I went around trying different dishes at the beach and visiting fish markets, and saw the variety of resources that Phuket has to offer. At that time, it was during the COVID-19 lockdown, so I was cooking seafood at home every day and found it really interesting. The food trends and culture in Phuket are almost as up-to-date as those in Bangkok. Phuket also has resources that cater to what I want to do, so I decided to start my business here."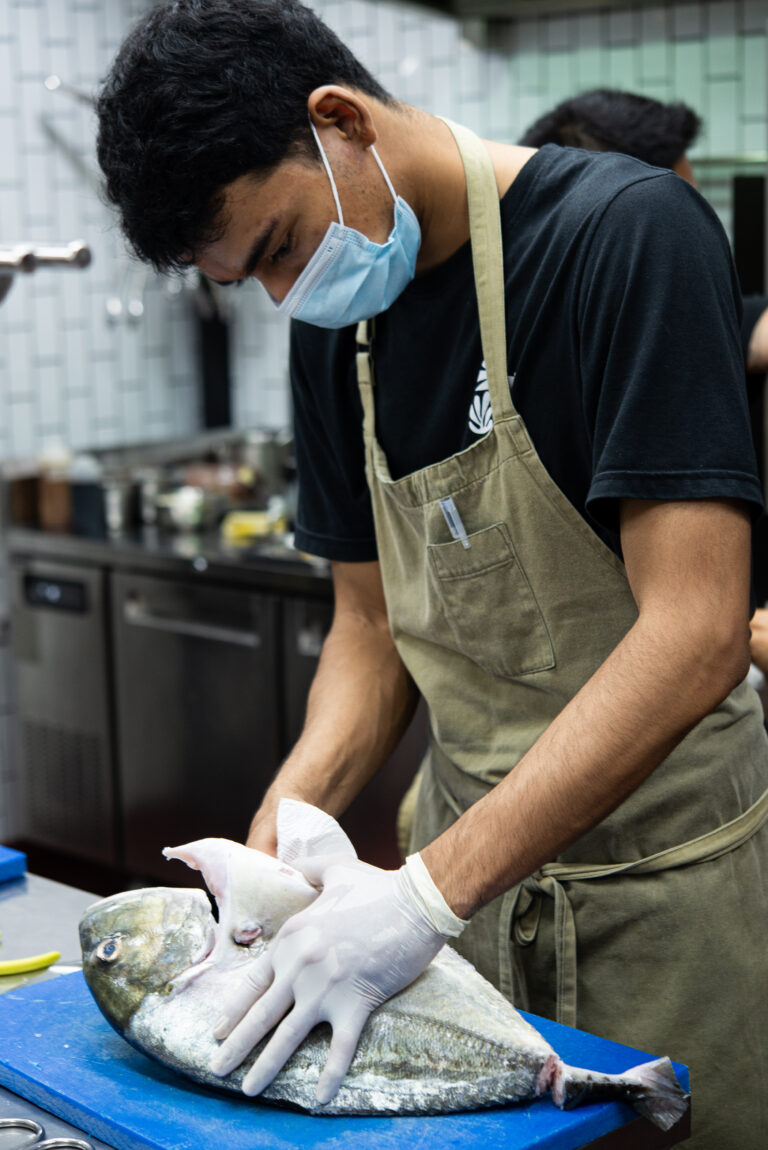 Chef Oat chose to open his restaurant in the city center of Phuket, not far from the old town area, instead of choosing a beach location to cater to tourists. He wanted to connect with the locals and be a part of the Phuket lifestyle. The atmosphere of the restaurant is casual and not too formal, making customers feel comfortable to enjoy a special meal in a relaxed manner. This aligns with Chef Oat's vision to have guests who come to his restaurant to have fun and enjoy his food.
"The menu that we offer starts with our personal preferences. We find the uniqueness and fun factor in each dish that we serve. We are confident that each dish we create is unlike any other. This is not only true in Phuket, but also throughout Thailand. All of our dishes are created based on our personal preferences and sometimes with the help of our team. The staff at HEH are involved in developing both the menu and the restaurant."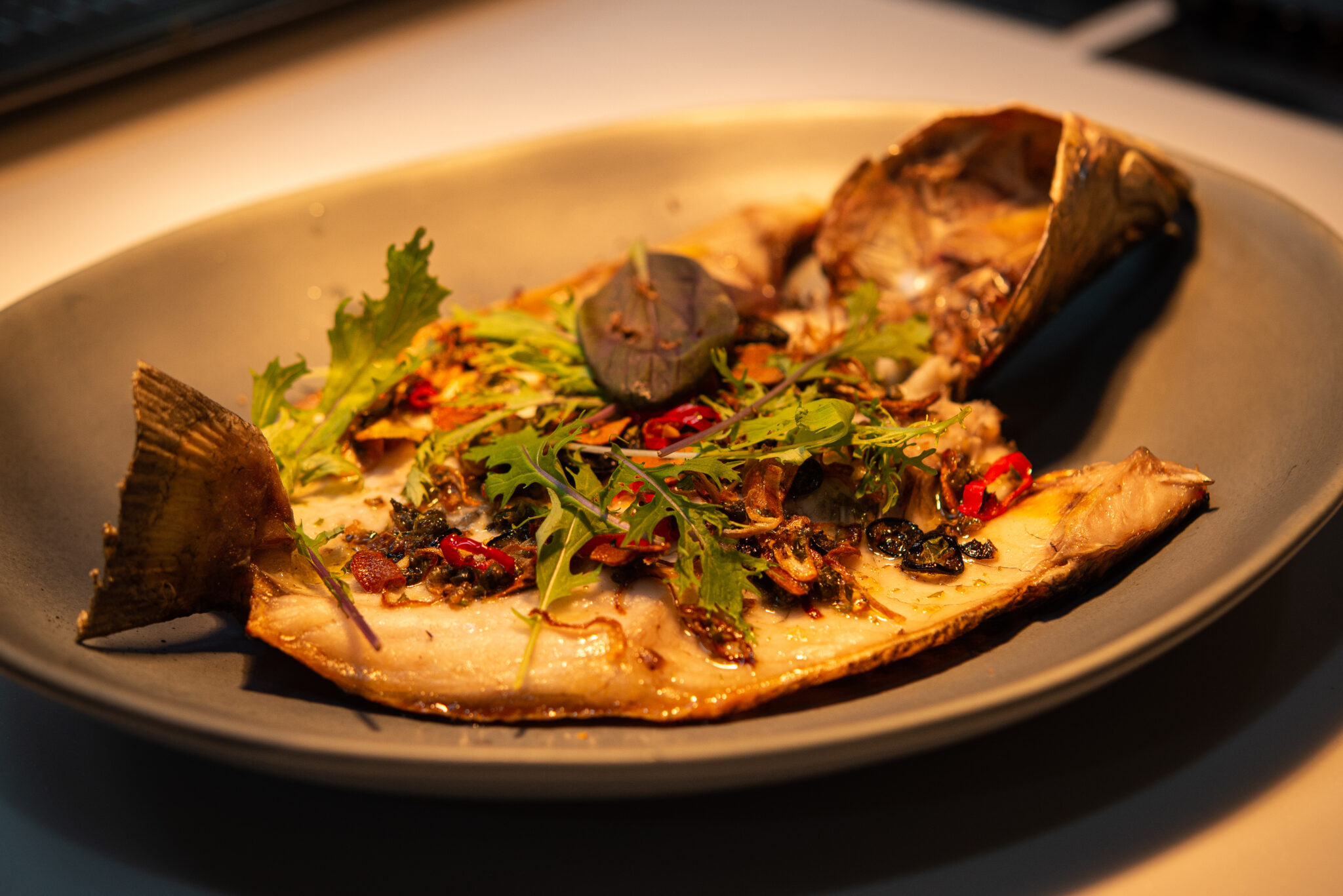 The uniqueness and fun factor are presented through each of the diverse menus at HEH. For instance, the Charred Broccoli is a popular appetizer that is served with crispy fried fish flakes and anchovy sauce, while the Teriyaki Belly is a dish made with fresh ingredients sourced from Phuket's sea. Other seafood menus include the Pan Fried Fish with Yuzu Beurre Blanc, a dish made with crispy-skinned sea bass and a delicious yuzu-flavored sauce, and the Aged Giant Trevally Sashimi, a dish made with a type of trevally fish that has been aged for a richer flavor and texture. In addition to these, there are also other seafood menus such as Tiger Prawn Taco, Charcoal Grilled Calamari, Hot & Spicy Soy, Lime Aioli, and the Rock Lobster Curry with Lobster Oil and Pickled Phuket Pineapple, which are carefully selected by local fishermen and seafood vendors to ensure the freshness and quality of the ingredients.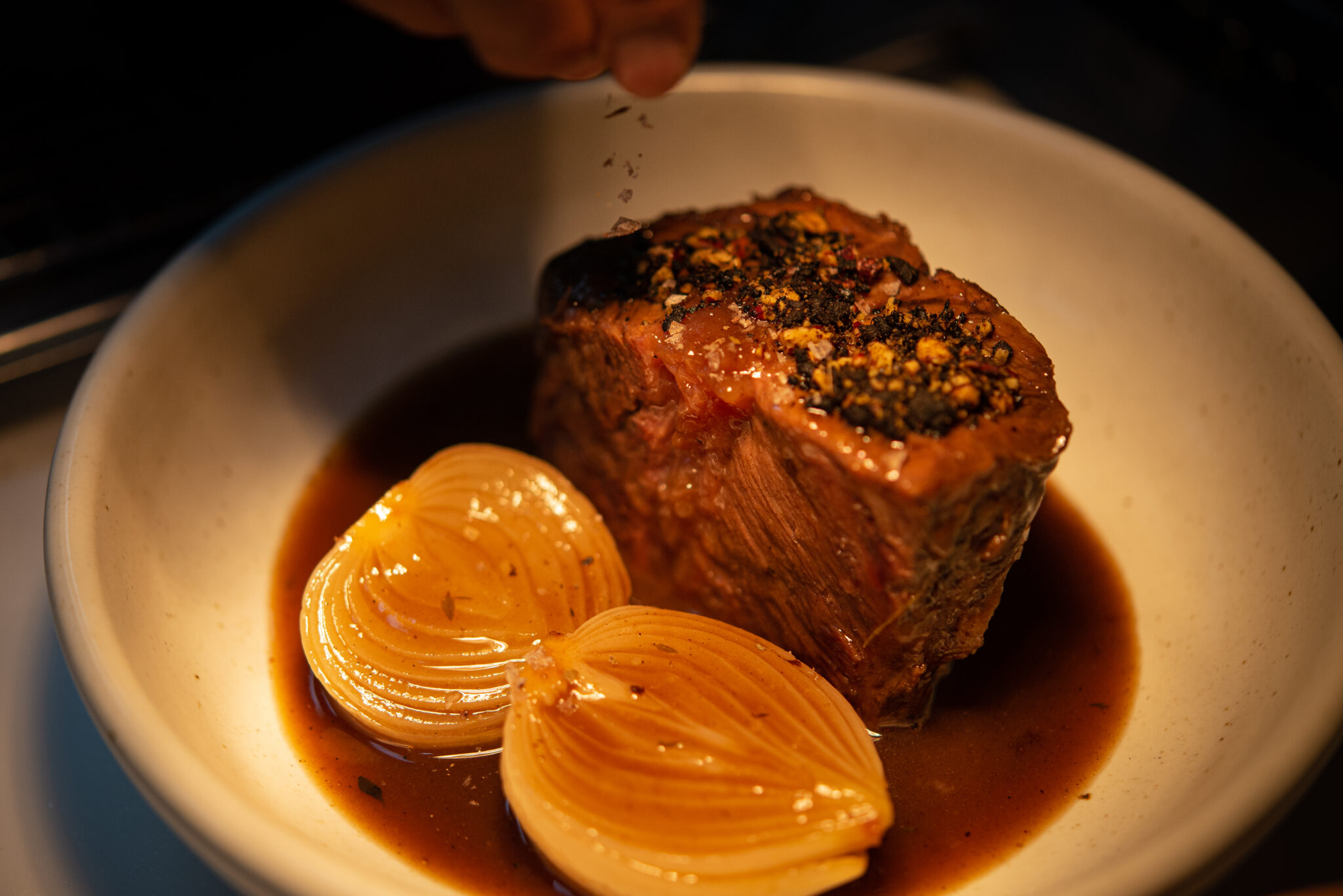 "Besides the standout ingredients, Phuket cuisine is quite unique in its bold flavors. I really love Phuket because of its flavorful food, such as 'Gaeng Phrik Gluk' (spicy pork bone soup) which has been adjusted into a menu item served in restaurants. There are also seasonal ingredients that are interesting to try, like 'Sato' or 'Kapek'. I really enjoy these local ingredients as their flavor and texture are similar to White asparagus. Through continuous tasting, we can discover new local ingredients and have fun experimenting with new recipes. In the future, HEH will surely have more menu items inspired by Phuket, so stay tuned."
The article is announcing the opening hours of HEH restaurant, which is from 5:00 PM to 11:00 PM every day except for Tuesdays. The website for the restaurant is https://www.HEHphuket.com/ and the phone number is 082 619 0527.