Phuket is a culinary hub with certification from UNESCAP. It is a destination for food enthusiasts who must take a trip to explore the cuisine. Phuket is a city rich in diverse culinary cultures and is currently a challenge for many skillful chefs to present their artistic taste to both Thai and international food lovers. The Phuket e-magazine invites readers to have a conversation with five chefs from various restaurants such as Fine Dining, Farm-to-Table, Chef's Table, and Contemporary, and discover their inspiration in creating unique menus from local ingredients and culinary culture of Phuket. We highly recommend that you seize the opportunity to taste these delightful menus to experience the authentic flavor of Phuket, which you can hardly find anywhere else.
Royd
Foodies all know the renowned Chef Mond Sujicuangkanha. He conquered Iron Chef Thailand and is the chef behind CLOUD MARKT, a grocery store that supports local products in Thailand. He is also the same chef who owns and runs Royd Fine Dining, a southern Thai cuisine restaurant
"The word 'Royd' for Southerners does not just mean deliciousness, but it also represents coolness and awesomeness. It is a word that has been used by Southerners of all generations until today. That's why I chose this word as the name of my fine dining restaurant, which presents the culinary culture of Southern Thailand." This is the context behind the word "Royd" and how it became the name of the restaurant.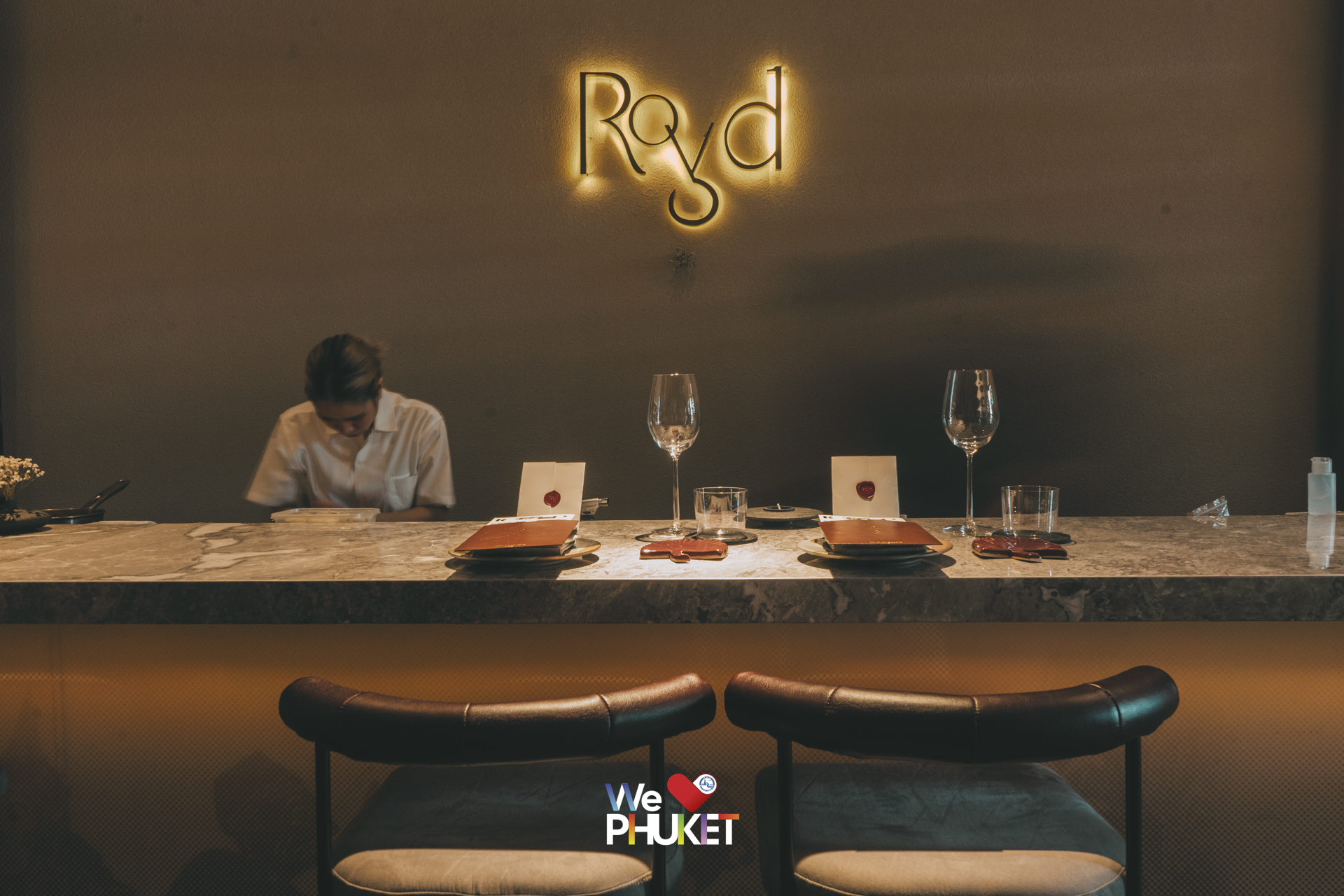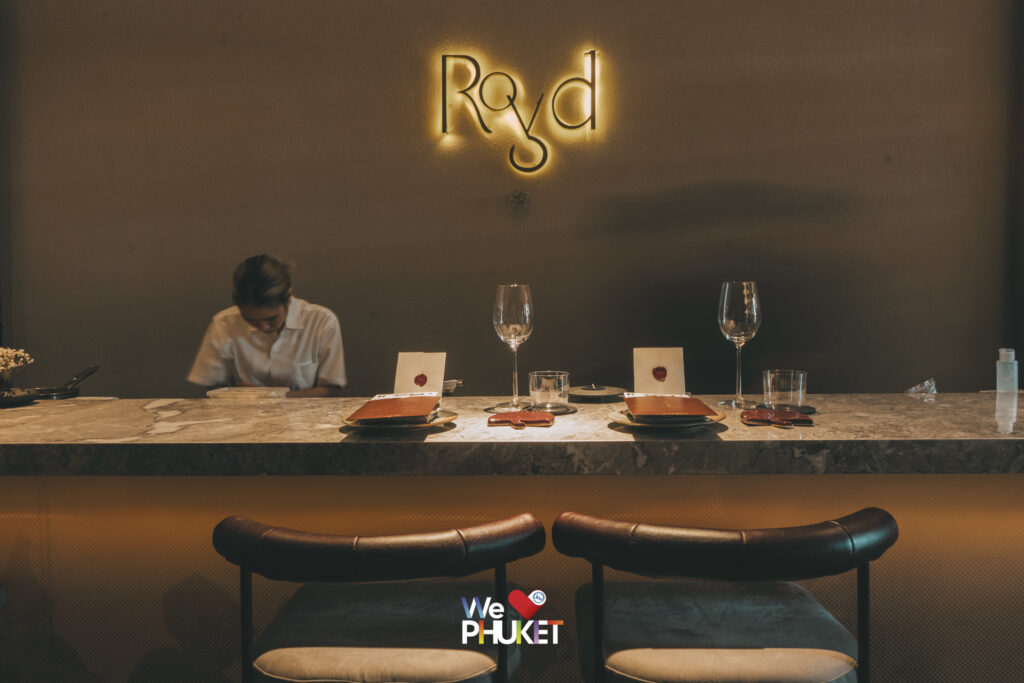 Chef Mond grew up in a family that ran a well-known local restaurant business in Phuket called "Kap Kluay" (Banana Leaf). Although he never thought of becoming a chef when he was a child, the atmosphere surrounding him became an important ingredient that helped shape his identity.
"I wanted to study art, but I wasn't good at drawing. Eventually, I chose to study cooking because I believed that food is also a form of art. I've been studying and working in Western kitchens all along. After graduating, I returned to Phuket and started working as a chef in a hotel. Luckily, during that time, I got to try a lot of fun things with my friend, who is a mixologist named Khun Win Pongsathorn. We were invited to do pop-up events in various places, from different islands to the old town. I cooked and Khun Win made drinks using ingredients from the places we went to. Eventually, we decided to open a small restaurant called Mizulim, which served Southern Thai cuisine. We only had one table and eight seats, and we only opened on Sundays. Mizulim was a lot of fun for two to three years, but as we started to get more customers, we had to start taking reservations a month in advance. The space became too small, so we started thinking about opening a new restaurant. Along the way, we started to realize that Southern Thai food is our specialty and something we're good at."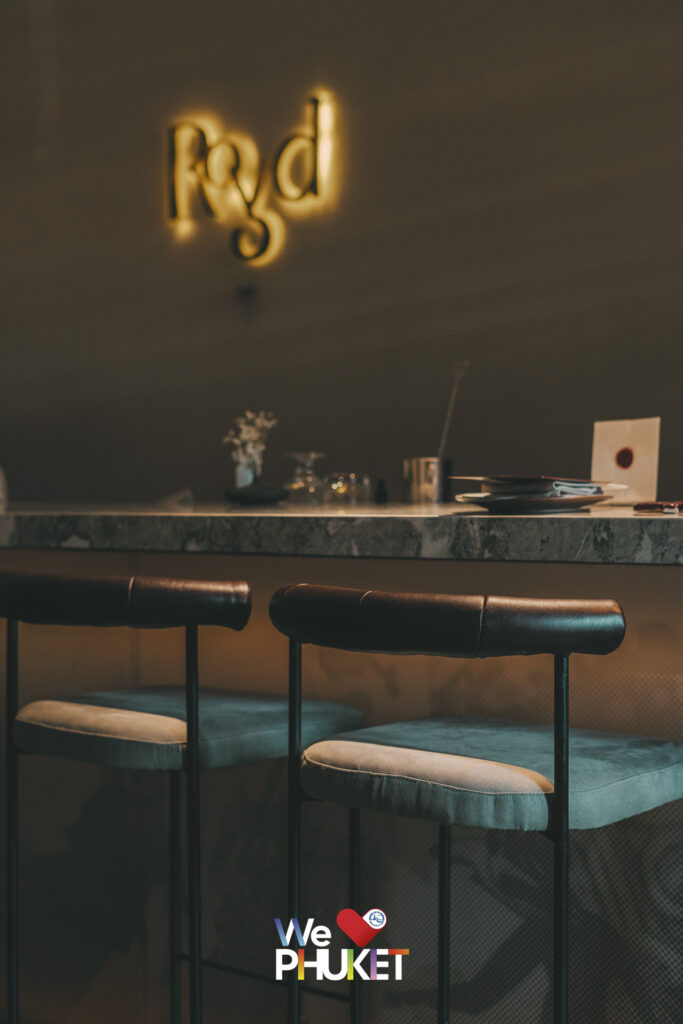 Royd was born from the process of upgrading and transforming into a new and modern design. From the exterior appearance of the building, the red building stands out and breaks the sweetness of the pastel-colored buildings lined up along Deebuk Road. The architect chose to use a red-painted exterior which may seem imposing and daunting to passersby, but the interior decoration of the store uses a cozy color tone that is unique. It is like the stereotype of people from the south that they may seem rough on the outside, but in reality, they are friendly. I chose to renovate an old row of buildings on Deebuk Road because of my attachment to this area. I used to go to a primary school nearby this store and walk along this road every day. The decoration of our store tries to preserve the details of the old building while incorporating new design ideas. There are few decorations inside the store to create a calm atmosphere. The use of light and shadow highlights the bar counter like a scene from a movie. In addition, the details added to the utensils on the dining table, such as the ceramic spoon with a sugar leaf pattern, as well as all the dishes and containers in the store are the works of Professor Padungkiat Ratnasiri and Professor Emsophian Benchametha who used clay from the southern region.
"The fun for Royd is changing the menu every season, and this season we call it The Taste of Junk Ceylon. In the past, Junkceylon was the name that Western sailors called the area at the southern tip of Thailand, which is now Phuket, Phang Nga, Krabi, Ranong, and Trang provinces. If you observe, you will find that this region has a unique culture that is a blend of Chinese and Malay cultures, especially in terms of food. Therefore, we would like to present dishes that are a reflection of the past of this mixed culture. There are local dishes from Phuket that many people are familiar with, as well as dishes that some may have never heard of and will have the opportunity to try for the first time."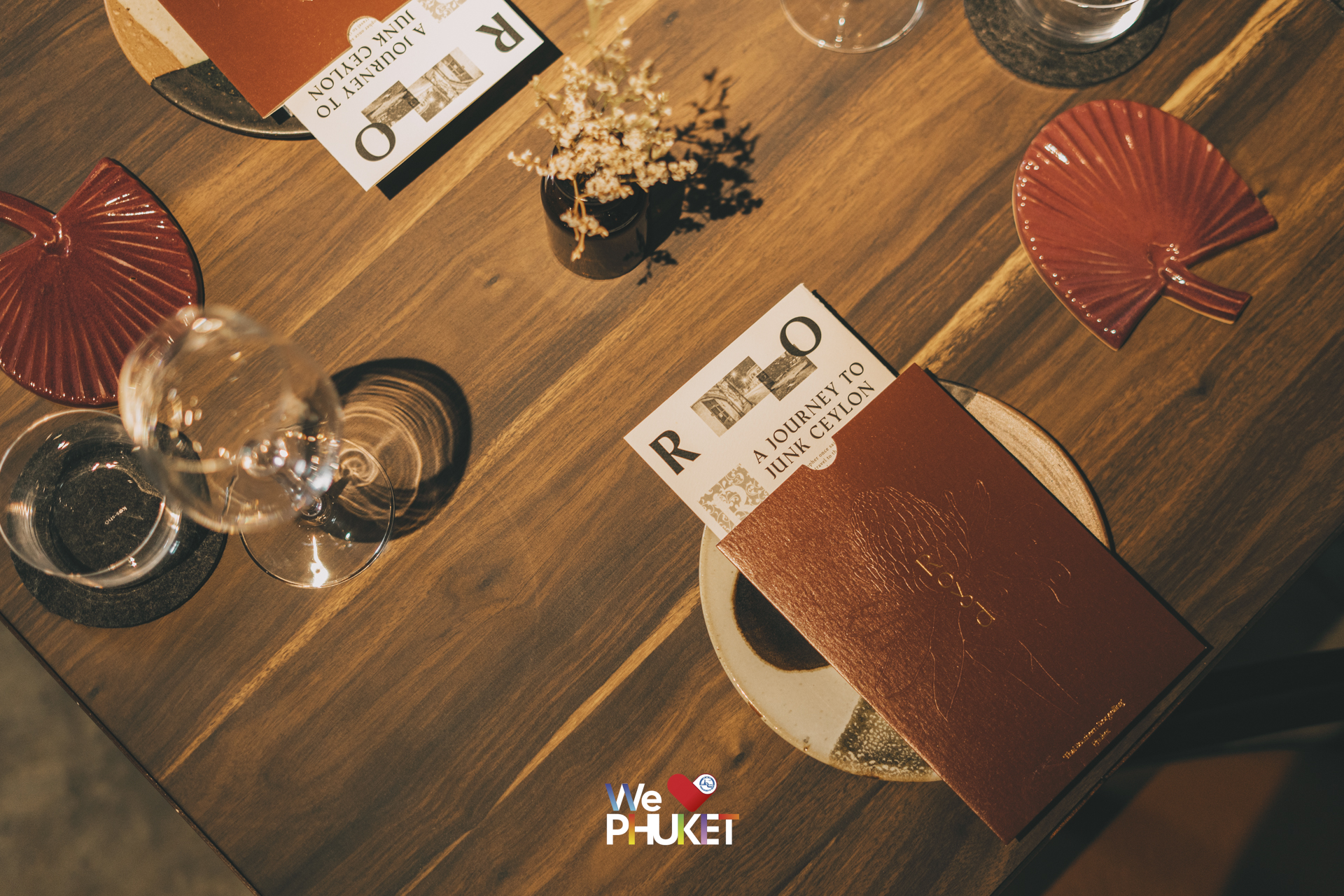 "Nobody tells the story of Phuket cuisine as real as a Phuketian chef. Chef Mond has chosen many dishes that he has been familiar with throughout his life and presented them in a way that has never been seen before in his life."
Hokkien Cha is a dish that many people in Phuket must try. Originally, it consists of yellow noodles stir-fried with "liao," which is a mixture of meats such as pork, shrimp, fish balls, and bog choy. However, the Hokkien Cha that Chef Mond presents uses liao made into noodles and is served with Hokkien Cha sauce. On top of the dish, there oyster mousse, yolk confit, crispy nest made from black soy sauce, pickled red onions, and crispy fried red onions. The aroma and taste are complete and perfectly capture the essence of Hokkien Cha.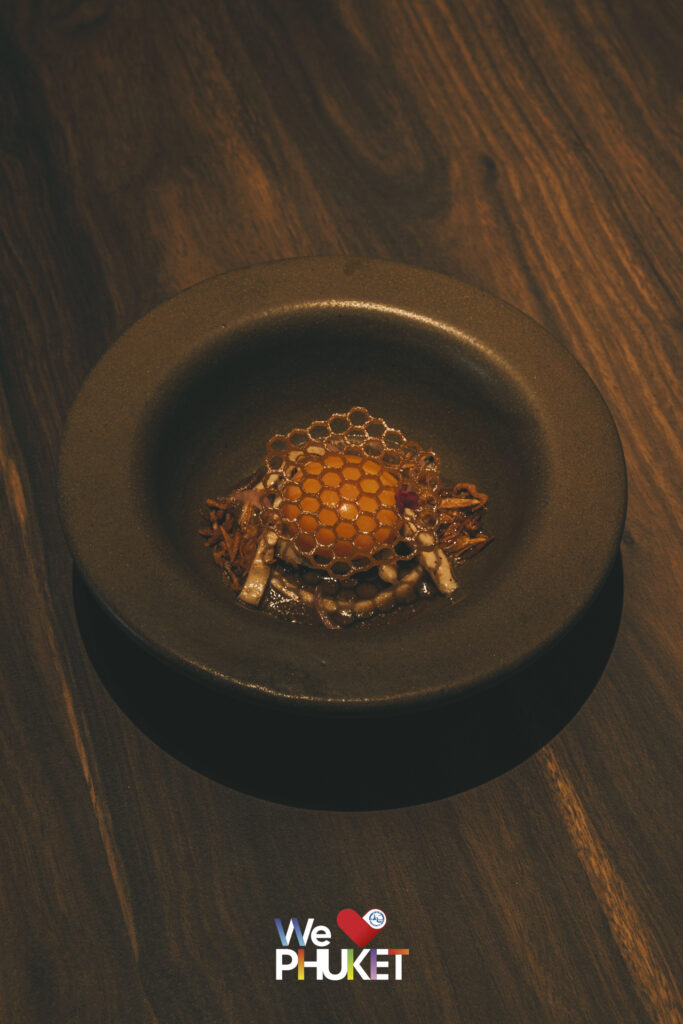 B/W Sour Curry is a dish that decodes the classic sour curry into a mini-sized appetizer. The black side of the dish is the base sour curry sauce made from fish stock, with a sour taste from garcinia and umami flavor added from squid ink. The white side is grilled squid mixed with sour curry paste, decorated with coconut shoots and thinly sliced coconut shoot and colocasia gigantea. The bottom of the dish is a pineapple gel. Despite its mini size, this dish delivers the full and bold flavor of sour curry.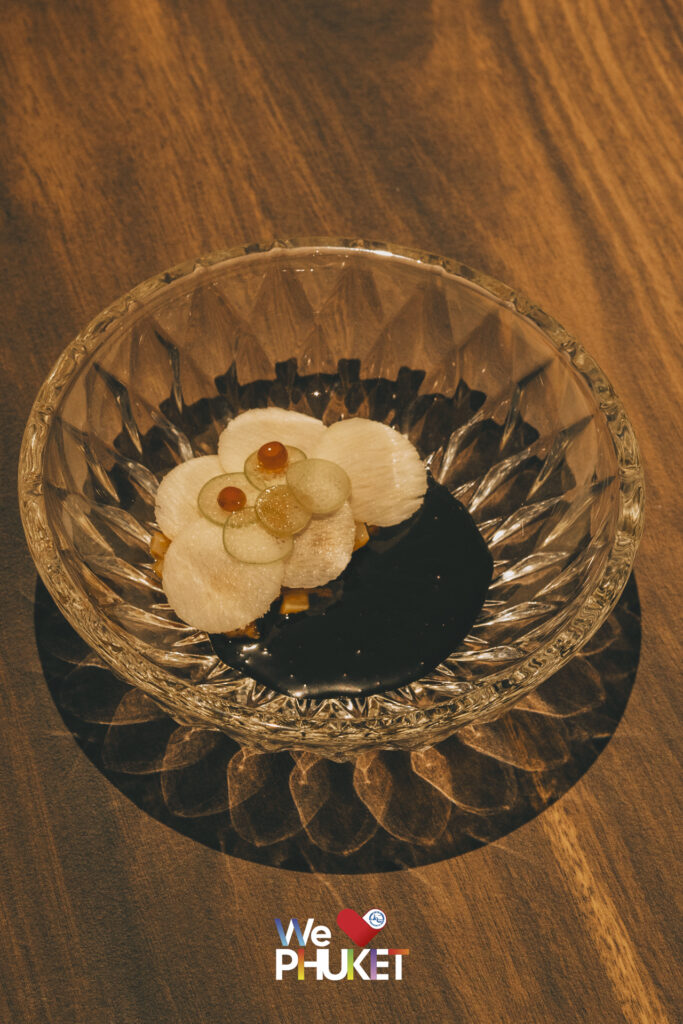 Duck Bak Kut Teh is a dish made with Pato-Barbary duck meat from Phatthalung, served with the traditional Bak Kut Teh sauce, accompanied by crispy Chinese kale, Chinese cabbage soup with shiitake, and pickled peppers. In addition to this, there is also the Jiu Hu Eng Chye dish, crispy noodles served with shrimp, morning glory and a secret sauce recipe. These are signature dishes from the same area that inspired Chef Mond's creations. Other dishes include Pla nam, Budu Salad, Lamb Bao, Khao Yum and many others that were inspired by local cuisine.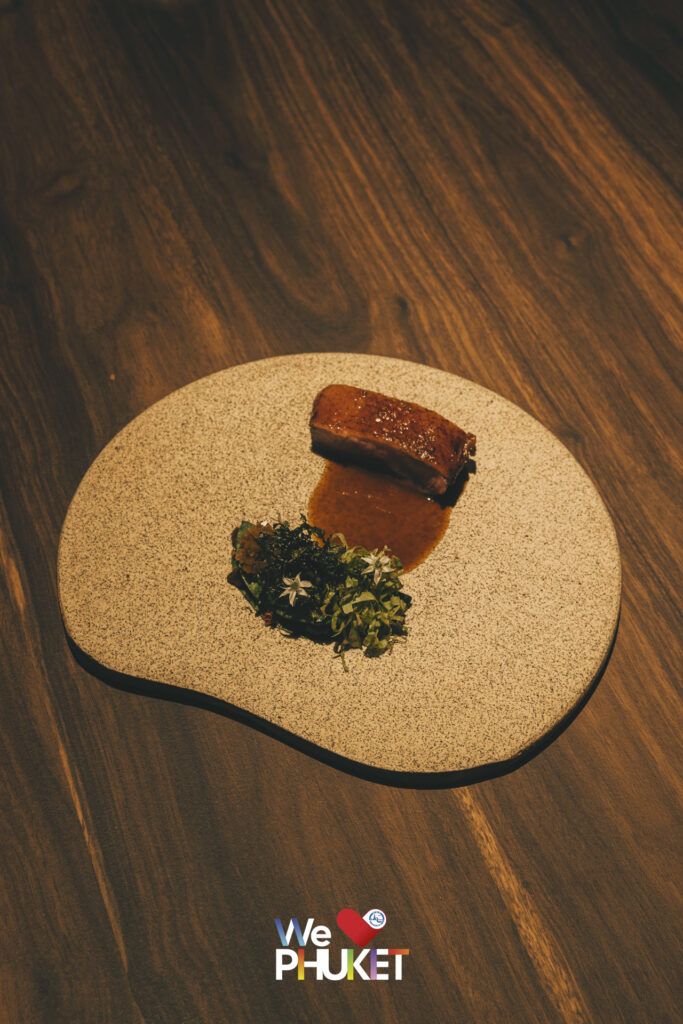 New and unique dessert worth trying from Torry's Ice Cream. The collaboration with Royd resulted in a southern styled pork stew ice cream, featuring the aroma of Chinese spices and the chewy texture of southern styled pork stew. The taste is enhanced by the addition of garcinia sauce, which provides a sour, sweet, and savory flavor. In addition to the ice cream, there is also a Progressive Pairing drink that helps to complement and cut the taste of the food for a well-rounded dining experience.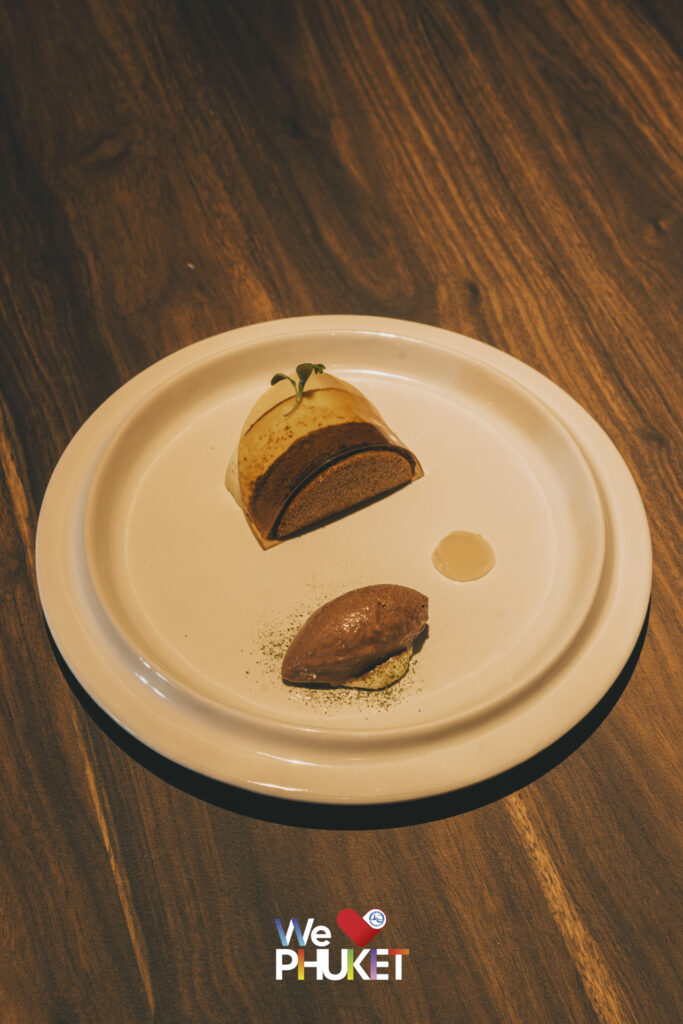 The 9 Courses 9 Bites Tasting Menu at Royd comes from the work of a chef who not only cooks in the kitchen, but also truly engages in research every time they create a new menu. "I travel to source ingredients, talk, observe, and taste the distinctive flavors of each region myself. We are from Phuket, we are Southerners, and we already have the ingredients within us. We just need to bring out their charm. When I go to eat, I like to talk with the uncle (restaurant owner), aunt (cook), father or mother in the kitchen, and invite conversation endlessly. We get so many new techniques and knowledge from those moments."
For Chef Royd, pride comes from being a local. "More than just enjoying delicious food, more than just enjoying the moment, I think food is one tool for learning culture. When we travel and taste the food there, it's like traveling through taste. Every time I have the opportunity to work with other chefs, both Thai and foreigners, I feel proud every time I introduce our local food in a new and unique way. Many people have different perspectives on Southern Thai food, and I have fun every time I present the variety that showcases the many interesting identities of Southern food."
Royd is open from 6:00 PM to 11:00 PM every day except Tuesdays and Wednesdays.
https://www.restaurantroyd.com
Call 0655542494.