Let's begin the month of love with desserts that are traditionally used in Chinese-Thai or Phuketian ceremonies. In the past they usually held the wedding ceremony at home and made lots of different kinds of desserts for guests. Each dessert symbolized love and marriage implying a positive future for the bride and the groom in their married life. Nowadays, these traditional desserts are not difficult to find. This coming Valentine is a good chance to try out these 11 auspicious Thai desserts instead of the usual desserts such as chocolate. Your lover will be both happy and blessed by these 11 auspicious Thai desserts.
Kalamare: Also known on Phuket as kan-mare, this is the most common dessert found in wedding ceremonies. The texture of kalamare is sweet and sticky which implies that married life will be sweet and the lovers will stick together as one. Moreover, the process of preparing kalamare takes time and one needs to be patient which implies that married life will need to use compromise – the secret of a successful marriage. Kalamare is made up of sticky rice, coconut, and sugar stirred until all the ingredients stick together. Kalamare is really chewy and perfect with afternoon tea or coffee.
Kao Niew Heep: This is a two-tone sticky rice dish made up of purple and white mixed together representing the bride and groom who are from different families yet live happily together as a one new family. The purple tone of the sticky rice is made from the butterfly pea flower. The two-tone sticky rices are mixed together and pressed until they're firm then topped with green or yellow custard. The dessert is cut into small pieces for easy distribution. This dessert is commonly found in local markets in Phuket Town.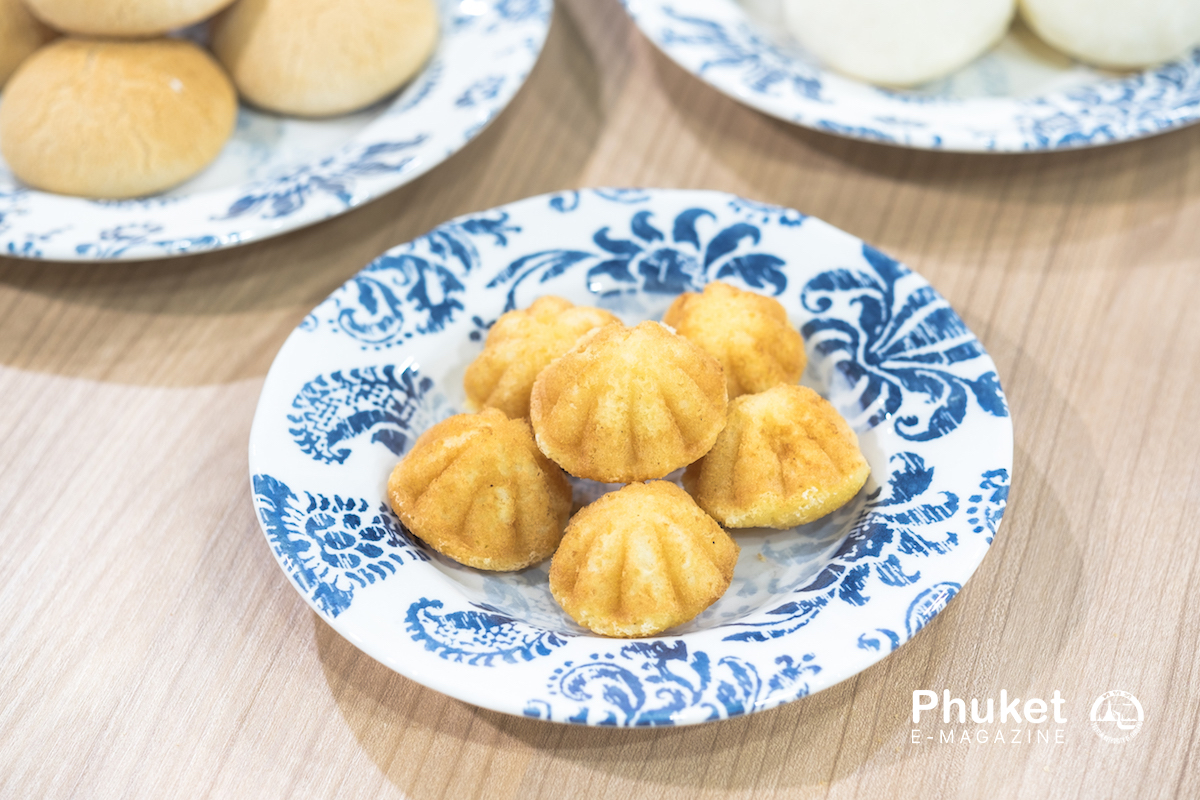 Kanom Boo Lu: Or Kanom kai is made from wheat flour mixed with sugar, eggs, and milk put in a mold to bake until it the texture becomes spongy. This spongy texture implies that love, like prosperity, grows. Boo lu is very delicious when it's freshly baked straight out from the oven.
 Kanom Pak Tong Ko: This dessert is similar to sponge cake with white and red spots as decoration on top. Kanom pak tong ko is made from yeast and steamed until the flour is puffy like sponge. This spongy texture implies that the lovers' lives will grow in prosperity. Kanom pak tong ko can be easily bought at the morning markets or in the Phuket Town area.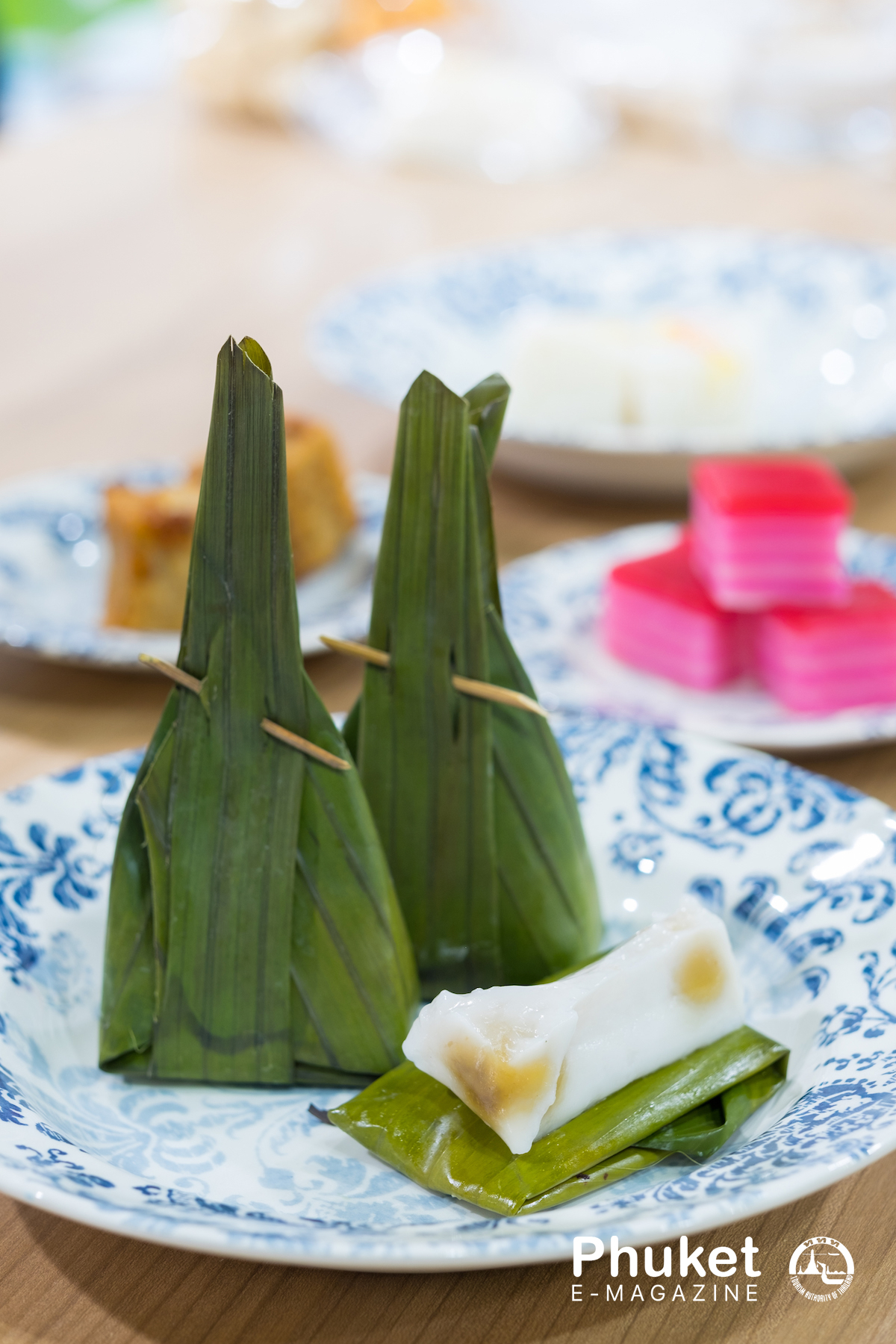 Kanom Hor: This stuffed dessert is commonly served at wedding ceremonies. The dessert is filled with coconut sugar and wrapped into flour balls and the outside texture is made from coconut milk and flour wrapped in a coconut leaf and steamed until cooked. Kanom hor is always stuffed with two flour balls to represent lovers. Kanom hor is also easy to find in most Thai dessert shops in Phuket.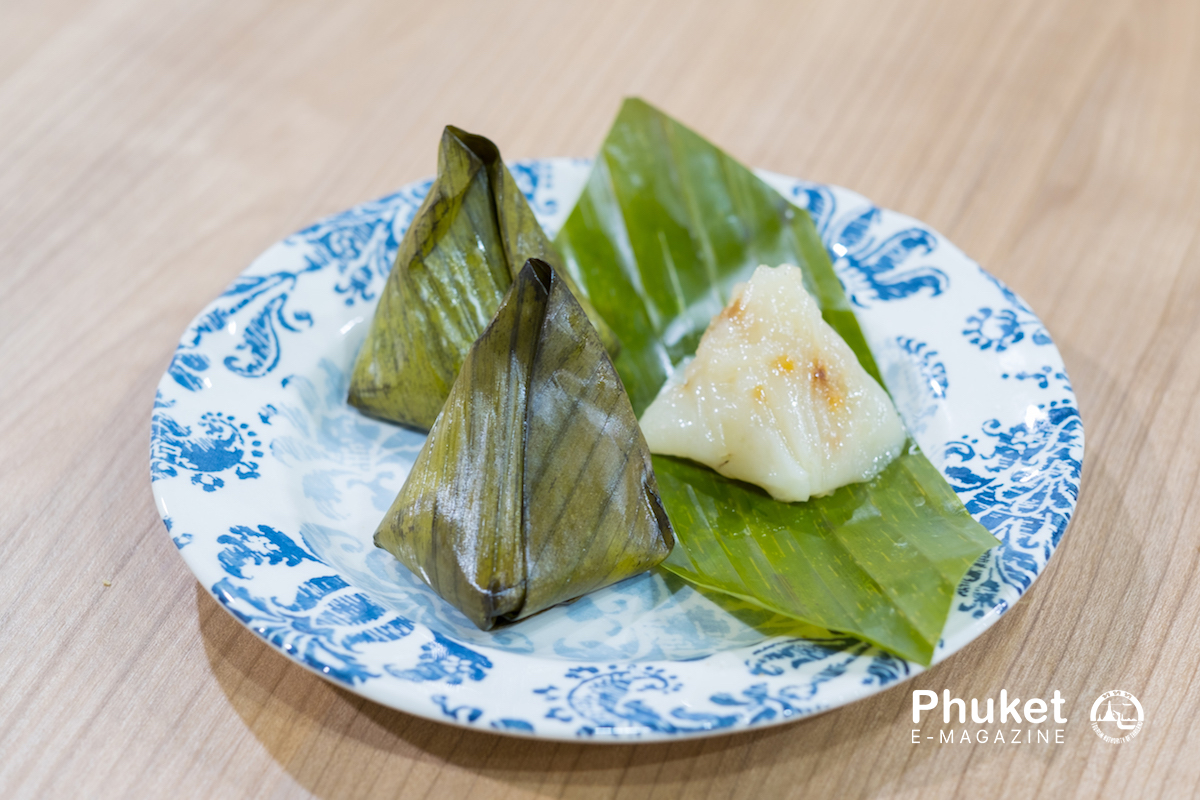 Kanom Tian: This dessert is made from sticky flour and stuffed with beans, sugar, and Thai herbs. The sticky texture represents 'togetherness', the sugar is the sweetness of love and the beans prosperity and growth. Also the dessert is wrapped into a triangle in a banana leaf meaning growing prosperity. And 'tian' in Thai mean 'candle' which implies that the marriage will be bright and shine like a candle.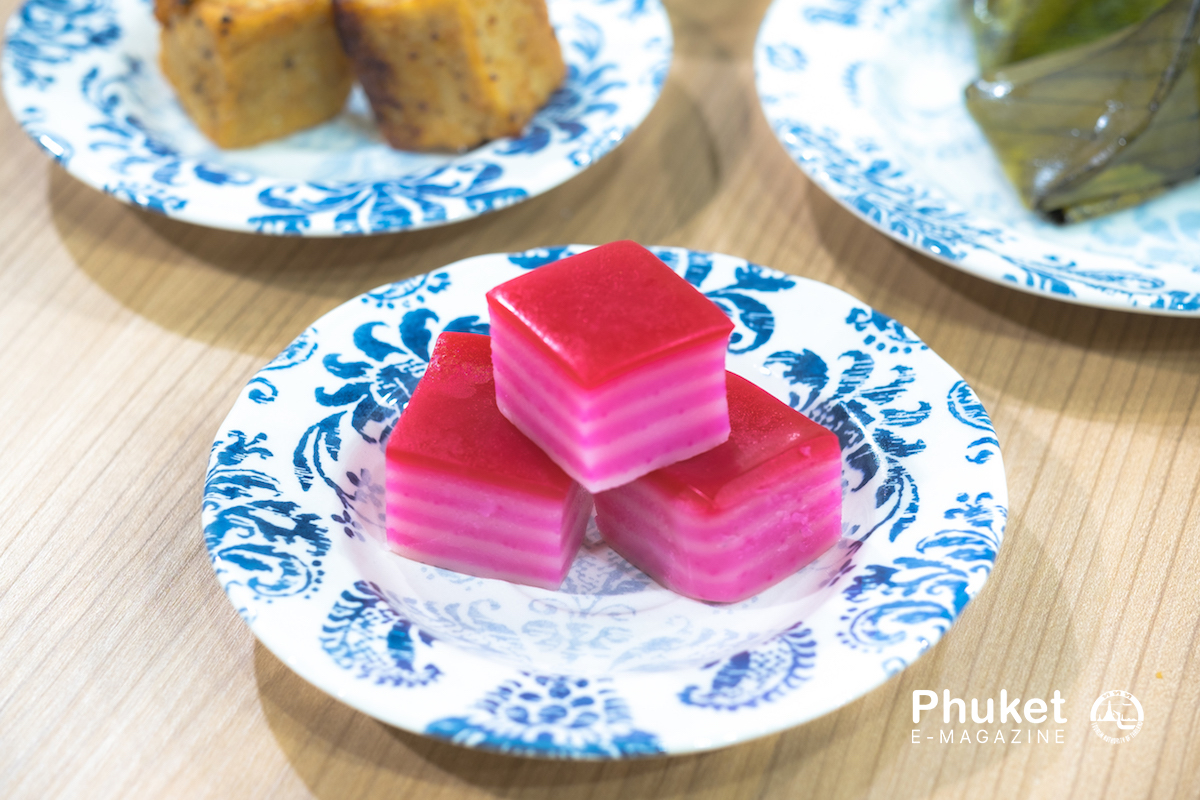 Kanom Chan: This dessert can easily be found in most wedding ceremonies and other occasions. The layered texture represents ranks in the working life and that the consumer will be in the higher echelons.
Kanom Thong Muan: This khanom can also be called by different names such as ka-pek-koi (local) or kanon keap. The meaning of 'thong' in Thai is 'gold'. So, this thong muan can be found at any auspicious event. The way thong muan is made is by putting the ingredients into a pan which has grips like tweezers. Grill the ingredients slowly in the pan tweezers, turn the pan tweezers upside down until it's cooked equally on both sides. When done take it out from the pan and fold. The shape of the dessert when folded implies an auspicious meaning that the lovers will always be together.
Kanom Chai Thao Koi: Some people call this dish kanom hua pak kad. The main ingredients of this dessert are radishes mixed with sugar and flour, cut into small squares then fried. The texture is really chewy. The meaning of this dessert is a happy marriage.
Kanom Zea-Koi: In the Fujianese language this means 'melon'. It's similar to melon as when it's cut in half the outside is green and the inside is red. This dessert is commonly used to pay respect to deities. The meaning is growing prosperity. You can find it in the Phuket local market in the morning.
Kanom Ping:  When we hear the word 'ping' in Thai, we think of 'warmth'. This relates to love in the warm meaning. The outside texture of kanom ping is hard but when you bite into it it'll melt in your mouth. The correct way of baking this dessert is to know how to control the heat so, the dessert will be baked and create a sweet smell, just like true love that takes time, we must take care of each other until it is fully grown.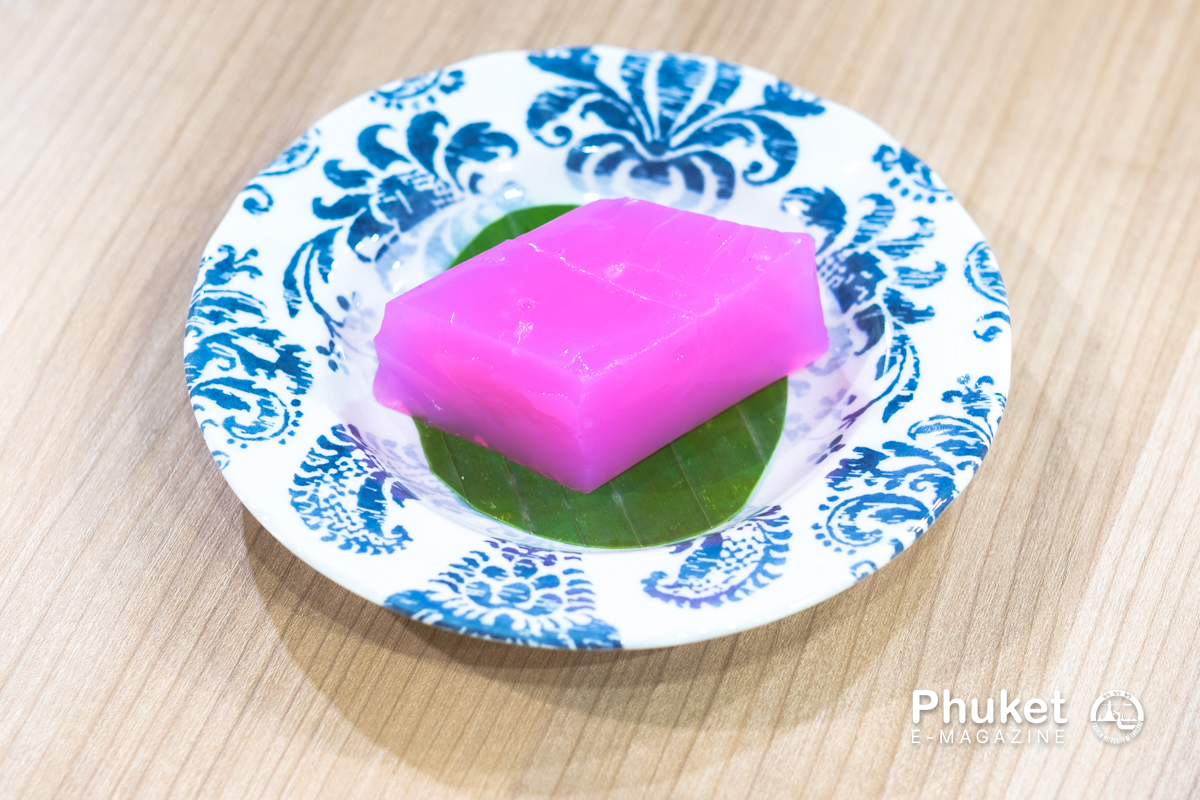 Kanom Hoon Koie: This is a local dessert that you will rarely find these days – only in Phuket local dessert shops. Hoon koie is pretty much only used at auspicious ceremonies such as ordination ceremonies (for Buddhist monks) and weddings. Hoon koie is made from green bean flour stirred on low heat until the flour is thick and sticky. The texture of the dessert will be pink and transparent which is suited for wedding ceremonies. The meaning of hoon koie is to bless the bride and the groom for their future married life and for them to hold on each other as long as possible.
Many thanks for the information from the Peranakan association