Advanced technology and medical advancements have been developed to help people maintain robust health and extend their lifespan. Additionally, there is an emphasis on retaining youthfulness and achieving a high quality of life. However, in this modern era, healthcare focuses on integration and balance, utilizing wisdom and practices that reconnect with nature for holistic well-being. If there is one place to choose, it should be where we can retreat and explore our inner selves, dedicating time to self-care, reestablishing life's equilibrium, and enriching our bodies for a quality life ahead.
Phuket is becoming that very destination, a Wellness Destination that is fully equipped in all aspects. As desired by health enthusiasts, Phuket is featured in the Phuket e-magazine, highlighting the top 5 places for holistic health care. These places will complete your travel experience, leaving you balanced and rejuvenated.
Laguna Wellness by BDMS Phuket
The COVID-19 crisis has heightened people's awareness of health and shifted their focus towards maintaining strong physical well-being and a robust immune system. Prevention is better than cure, and this mindset has prompted the establishment of Laguna Wellness by BDMS Phuket. This initiative emerged from a collaboration between Bangkok Hospital Phuket, Bangkok Dusit Medical Services Group, and Laguna Phuket, recognizing Phuket as a well-rounded tourist destination.
Phuket boasts comfortable accommodations, top-notch spas, comprehensive amenities, pleasant weather, excellent cuisine, and stunning natural beauty, making it an ideal destination for travelers seeking both relaxation and proactive health care. This is where tourists can enjoy their journeys, unwind, and simultaneously invest in preventive health measures.
Laguna Wellness by BDMS Phuket is situated at the heart of the scenic ambiance of Laguna Phuket, encompassing hotels, resorts, spas, and beautiful surroundings. It offers services delivered by a team of expert medical professionals equipped with state-of-the-art tools. The service approach of Laguna Wellness by BDMS Phuket revolves around the 4Ps: Predictive, Preventive, Promotion, and Personalize.
Predictive involves comprehensive health screening and risk assessment to identify potential illnesses or physical degeneration. Advanced health assessment programs are employed to delve deep into genetic levels.
Preventive strategies are designed based on the screening outcomes and identified risks. Physicians provide guidance on prevention, utilizing a diverse range of health maintenance programs.
Promotion goes beyond prevention, focusing on enhancing physical resilience through various innovative techniques to rejuvenate and slow down the aging process.
Personalized care entails analyzing individual data and presenting tailored health care plans that suit each person's unique needs, all under the guidance of specialized physicians.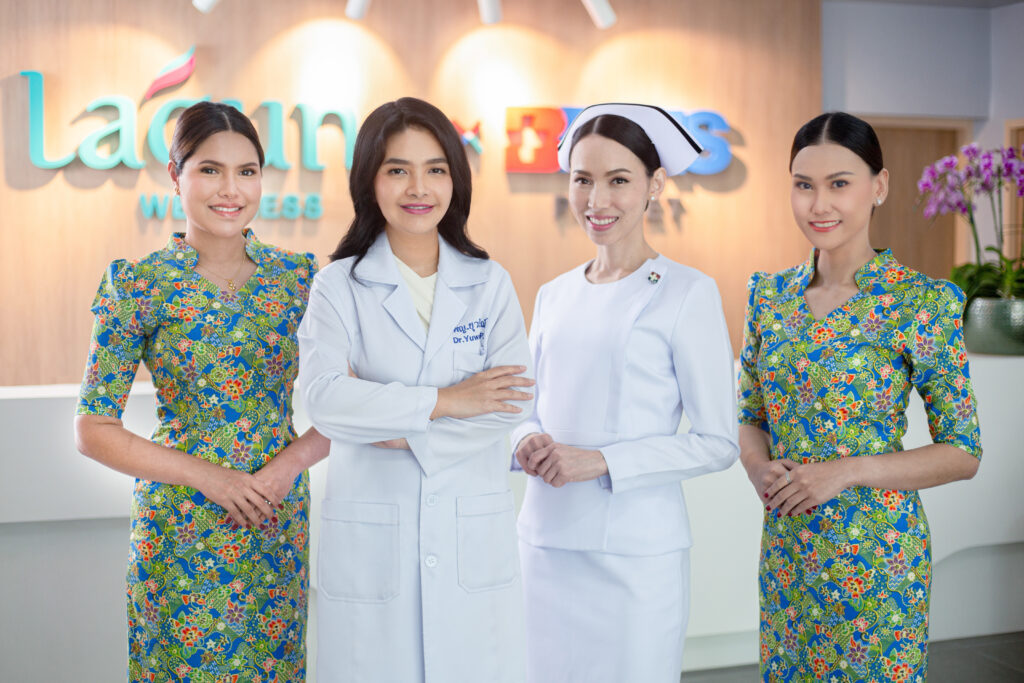 Despite being a healthcare facility, the atmosphere of Laguna Wellness by BDMS Phuket sets it dramatically apart from a traditional hospital visit. The interior is adorned with warm and soothing color tones, creating a comfortable ambiance. Consultation rooms are designed for relaxed discussions with specialized physicians, providing a serene environment for receiving services.
Khun Tinnarat Prapachaya, the Manager of Health Promotion Center at Bangkok Hospital Phuket and the individual overseeing the Laguna Wellness by BDMS Phuket project, highlights the various services tailored especially for travelers who seek a holistic health experience during their getaway. This unique blend of wellness and leisure opportunities caters to the needs of those who wish to rejuvenate and maintain their well-being.
It's not necessary to wait for health issues to arise before beginning health care. The approach of Laguna Wellness by BDMS Phuket starts with individual data analysis. Beyond just examining health test results, physicians engage in conversations to gather medical history, lifestyle habits, work routines, dietary habits, and relaxation patterns. They also review past health test results to analyze future illness trends. For instance, if blood sugar levels are approaching the upper limit but not exceeding it, general treatment might consider this within normal range. However, if there is a continuous upward trend, they would assess insulin functioning and offer recommendations for lifestyle adjustments. This could involve measures like getting an extra hour of sleep or moderating partying, as insulin functions better with sufficient sleep.
These examples form part of our Anti-Aging Regenerative Medicine program that delves into genetic health analysis. As some diseases can be hereditary, we offer packages like the Royal Hormone, which assess hormone functionality to provide tailored health care and timely intervention. Alternatively, it can enhance bodily systems for optimal performance.
Another standout service provided by Laguna Wellness by BDMS Phuket is the Medical Grade Supplements, characterized by their high quality and lack of harmful additives. These supplements are a rewarding investment in one's body, as they enhance overall health by supplementing essential vitamins and nutrients in a safe manner.
"Every individual's body is unique, and so is their lifestyle. Hence, diverse care is essential. Supplements offer personalized body nourishment, where tailored sets of vitamins and nutrients are carefully curated to match each person's specific needs. This customization is based on health data analysis. Gone are the days of indiscriminate vitamin consumption or unnecessary over-the-counter purchases with uncertain quality. We have experts who analyze and allocate supplements comprehensively, providing convenience and ensuring the benefits align precisely with our bodies' requirements.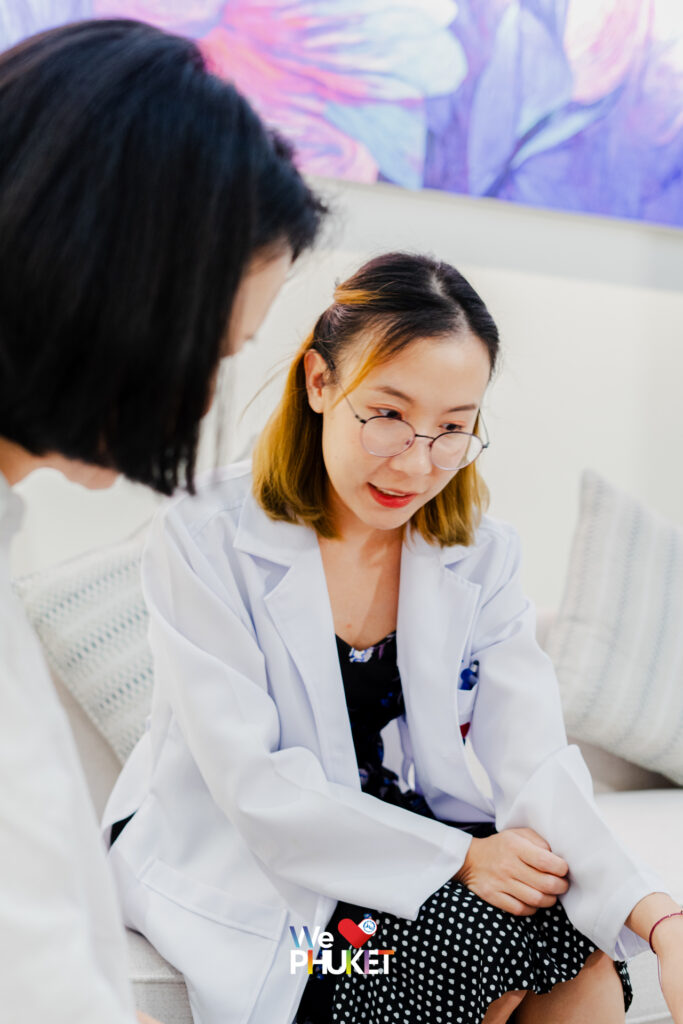 We have prepared a buffet-style health program catering to diverse health care needs of travelers. You might choose to plan ahead for a trip to Phuket, where you intend to take care of your well-being. You could schedule a pre-trip consultation with a doctor or even virtually walk in for advice from an on-site physician, making an informed decision. The flexibility of timing is yours. For a brief program lasting 2-3 hours, you can opt for hormone supplementation or vitamin injections to rejuvenate your body before continuing your journey.
Visiting Phuket serves as a period of physical and mental respite from the daily hustle and bustle, allowing you to recharge from work-related stress and more. Beyond a simple vacation, it's about fortifying your body for a robust return. The objective is to ensure your body remains in top condition, ready to face challenges with vitality for an extended period. This holistic approach extends the quality of your well-being.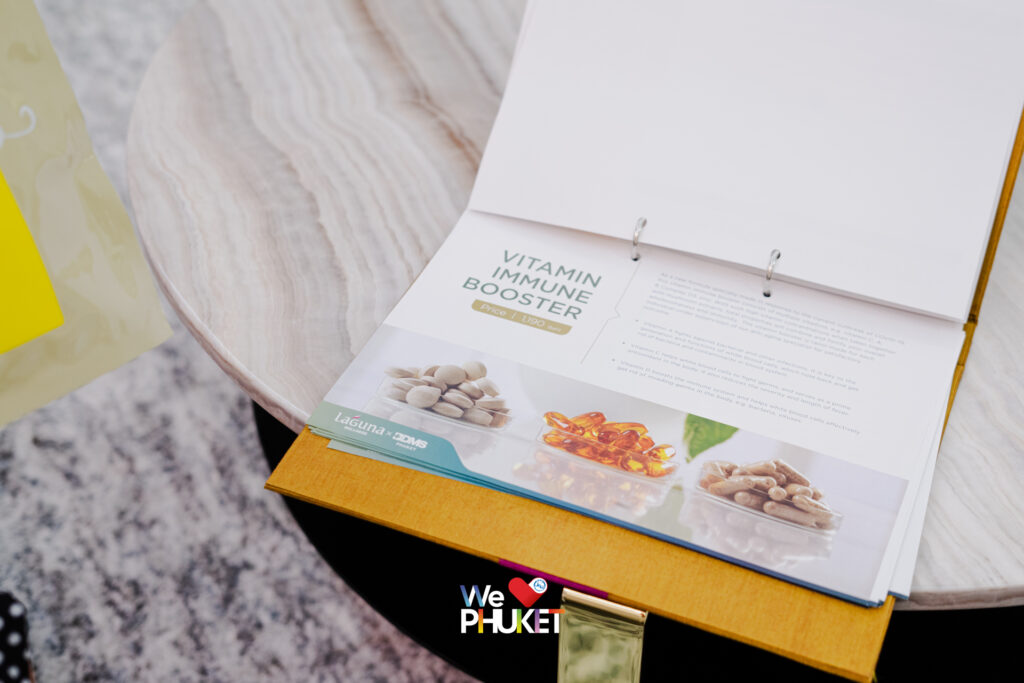 ติอต่อสอบถามเพิ่มเติมที่ : https://www.phukethospital.com/laguna-wellness/