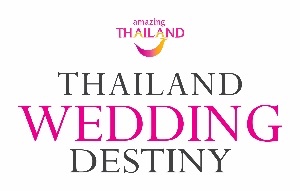 Tourism Authority of Thailand invites 9 foreign couples from across the world
to "Thailand Wedding Destiny" for luxury wedding ceremonies in
Thailand's 4 romantic cities, promotes Thailand as world-class wedding destination
The Tourism Authority of Thailand (TAT) has selected nine foreign couples from nine different countries for exclusive wedding ceremonies that will take place in Thailand's most romantic cities under the "Thailand Wedding Destiny" campaign. A total of nine professional wedding organisers have joined in to make sure the wedding experiences for each selected couple will be more than impressive. Held from 8-12 February,2017 the Thailand Wedding Destiny's special wedding ceremonies are designed to encourage foreigners to get married in the Thai kingdom.
Mr. Tanes Petsuwan, TAT Deputy Governor for International Market (Europe, Africa, Middle East and Americas), says TAT has recognised that the wedding industry has high economic value as each foreign couple spends between t5 million and t20 million Baht on their wedding. The amount of spending varies in accordance with the number of their guests. At present, Thailand has already been a popular wedding/honeymoon destination among foreigners. According to the Destination Wedding Planners Congress 2016, Thailand is No. 1 in the Asian market. In Australia and New Zealand, Thailand is No. 3. In Europe, Thailand secures the 6th spot. The Middle East, meanwhile, has ranked Thailand as the third most popular emerging destination. For Africa, Thailand is the No. 1 emerging destination.
The "Thailand Wedding Destiny" campaign has been launched to show off Thailand's rich potential and also to bolster its image as a world-class wedding destination. To Thai wedding organisers, this campaign is paving way for them to shine in the global market. Thailand has all it takes to host beautiful wedding ceremonies in terms of products and services. With professional services, Thai wedding organisers can stunningly decorate chosen venues for a dream wedding.
After launching the "Thailand Wedding Destiny" campaign last November, TAT in collaboration with Bangkok Airways and top Thai wedding organisers chose brides and bridegrooms from nine territories, namely, China, Hong Kong, Japan, Britain, France, Czech Republic, Australia, America and Brazil for special wedding ceremonies in Thailand's four romantic cities. Ceremonies will be held both in a traditional Thai style and Western ceremony, depending on the local landscape.
The special wedding programme will start with a romantic dinner cruise along the Chao Phraya River. All nine couples will board the Supanniga Cruise from the Peninsula Bangkok Hotel and enjoy the world-class experiences together.
Hailed from China, Mr. Zhang Wei, 37, plans to tie the knot with Ms. Wang Rui, 32, at the Celes Beach Front Resort on Samui Island. Mr. Alexander Brennan and Ms. Yasmin Wellington have also chosen Samui Island. But for the couple who have already travelled around the globe, their planned wedding reception will take place in a so romantic style at the InterContinental Samui Baan Taling Ngam Resort. The wedding ceremonies for both couples will be held on 10 February, 2017.
Three other couples are set to get married in a romantic and relaxing style in Phuket the following day. For Zaza and Woody from Hong Kong, their chosen hotel is the FOTO Hotel. Zaza is a famous blogger, and she loves sharing pictures of elegant wedding gowns. For Mr. Luke Booth, a British businessman, and Ms. Naomi Wallen, the Vijitt Resort Phuket will host their wedding reception. Mr. Christopher Kehaulani and Ms. Aida Mollenkamp, a prominent blogger from America, meanwhile opt for a chic wedding at the Twinpalms Phuket Resort.
Away from the beach, are Mr. Yaniss Lespert, a famous actor, and Ms. Betina Orsetti, a model. This French couple are scheduled to get married in a traditional Thai wedding ceremony at the Sukhothai Heritage Resort in Sukhothai province on 11 February, 2017.
On 12 February, 2017, Mr. Nagai Kenji and Ms. Niko Yukari from Japan will see their dream wedding come true. Their dream of tying the knot overseas will materialise in an elegant Thai style at the Sukhothai Treasure Resort, which is also in Sukhothai.
On the same day, Mr. Breno Lima and Ms. Larissa da Silva from Brazil will celebrate their stylish wedding at the Pimalai Resort and Spa in Krabi province. Ms. Andrea Bezdekova, Miss Czech Republic 2016, will also wear her wedding gown on the same day to marry her fiancé at the Tubkaak Krabi Boutique Resort in Krabi.