'Work Hard; Play Harder' is a great concept when you really want to experience anything more than 100% or to give it all you've got and then some. If you already spend the whole week working hard, with the gang at the weekend you should get as crazy as you can! Ladies and gentlemen I give you 'HYPE Luxury Boat Club' – an extreme party boat that you and your friends absolutely have to try.
We all meet up at 12.30 at the Yacht Haven Marina in the north of Phuket and we board about 13.00. HYPE is a big black catamaran and already groovy beats and dance music welcome us along with a welcome drink for every guest – a fruity mixed refreshing cocktail. Once everyone is on board we cast off and head out.
On the boat I have a chance to talk with Khun Kat who is the sales manager of the boat. She tells us that the concept of HYPE started out with a group of young business people from France. These young people love to live their lives in an extreme manner, to travel around the world and party. Their inspiration was born when they visited beach clubs in Spain and they decided to do the same thing in Phuket as they'd visited the island many times and knew that Phuket had the potential to be a party destination. Plus there's the added aspect that Phuket is known worldwide, has a high turnover of visitors, and has beautiful maritime destinations and opportunities. The main idea was simple; to party and to do it on a boat.
HYPE's been operating for two years now and has managed to gather quite a reputation. This is a fairly new concept in Thailand and it's had pretty good reactions from both locals and visitors. People come on a party trip then share the experience on social media so more and more folks get to know about the boat.
The owners deliberately chose to operate from a catamaran because of the boat's stability and with a capacity of 85 HYPE is able to sail all year round. During the High Season when the weather is better and the sea calmer, HYPE operates from Patong Beach. There's a wide range of destinations to choose from as Phuket is surrounded by exotic tropical islands and the boat operates six days a week, only taking Mondays off. During low season, HYPE operates from Yacht Haven on the sheltered east side of Phuket and visits islands in Phang Nga Bay such as James Bond Island and Rang Yai. The trip normally starts from 13.00 and arrives back at 19.00. They also offer private group tours as well as events parties, birthday parties and weddings.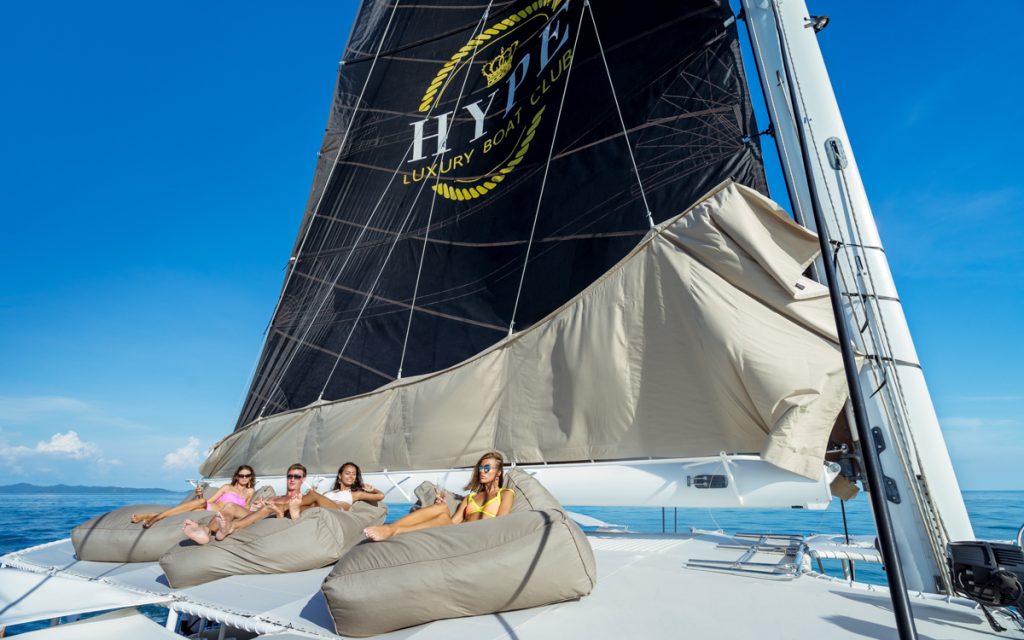 The boat's concept is a 'Beach Club on the Sea' with girls in bikinis and topless muscular guys enjoying the sun, everyone moving to the non-stop beats spun by DJ Kevin from France. As for onboard food, HYPE serves sushi, sandwiches, and pasta with unlimited soft drinks. There are also delicious cocktails, wine, and other drinks to be had.
There are many good spots to sit around the catamaran. Some people love to sit next to DJ to get closer to the music and some choose quieter and private zones. The boat sails about two hours until reaching the first destination. Guests can enjoy swimming in the sea and can also take a small boat to visit islands as well. Lifejackets and snorkeling equipment are provided. HYPE usually anchors for an hour before heading back to Phuket and this time of day is perfect to take in the beautiful sunset, to turn the beats up and to enjoy a few drinks and a dance or two. For most partiers, this is the best part of the trip.
In only a few hours on HYPE, I enjoyed the beautiful natural sights and had a lot of fun, too. It's a great balance of partying and recharging your batteries.
https://www.facebook.com/hypeluxuryboatclub/