Visiting Phuket is not only about local food, going to the beaches, and planned activities, it's also about seeking out unique souvenirs. But let's be clear; Phuket Souvenirs are not only made up of the usual dried shrimp paste, or Tao-Sor nor rice fish. There are also many good quality goods that are manufactured in Phuket which are unique to the island and unavailable in other locations. Get them here or you won't find them anywhere else so let's check them out now!
Phuket Soy Sauce
Moo hong, Hokkien noodles, loba, fish with lemongrass or shrimp paste are all delicious, right? This is because of Phuket's 'secret ingredient' which is the local soy sauce. The key to the local food's unique taste is this tropical Phuket soy sauce made by Car Brand – ubiquitous in every Phuket kitchen. Car Brand Sauce has been produced by the Junsaeng factory for more than 100 years now and the recipe's inventor was a first-generation Chinese Hokkien which means that this particular recipe is over three generations old now. The process starts with a good selection of top-quality soya beans, boiled then preserved for a year until the solution is mature. Stirred with brown sugar it becomes black soy sauce and with white sugar white soy sauce. Either way, the result is perfect. The sauce is not too salty or too sweet and it complements so many dishes so don't for get to buy some during your stay on the island.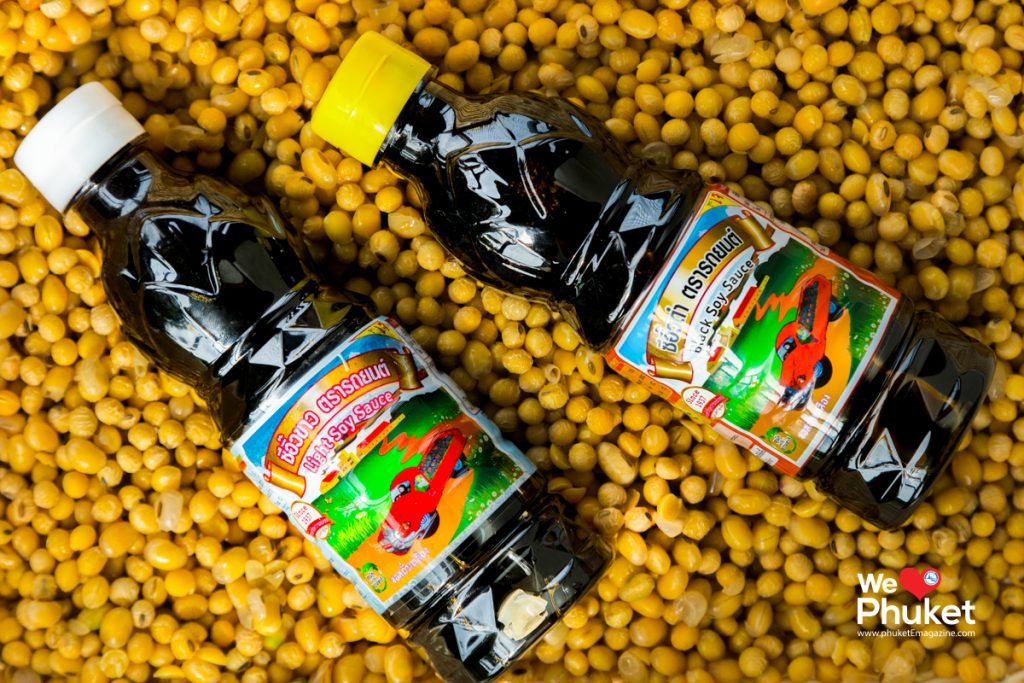 Junsaeng Factory, Car Brand 168 Moo 6 Srisuntorn, Thalang, Phuket. Tel 081 8932178, https://www.facebook.com/Junsaeng/
Phuket Coffee
Most coffee lovers always find the best coffee shop at every destination they visit. Phuket also has traditional coffee that's been produced ever since the tin mining era. Hokhoelee Coffee started about 60 years ago by importing beans from Indonesia and roasting them in the traditional manner. Nowadays, they have a machine that makes thing easier but the traditional style of roasting and blending coffee is the unique charm of Hokhoelee coffee with its strong flavour. The coffee is packed in aluminium foil which protects it from the sun and humidity. There is a variety of choices such as arabica, robusta, expresso and organic as well as traditional pan-roasted style. Hokhoelee also stocks teas and spices imported from Malaysia.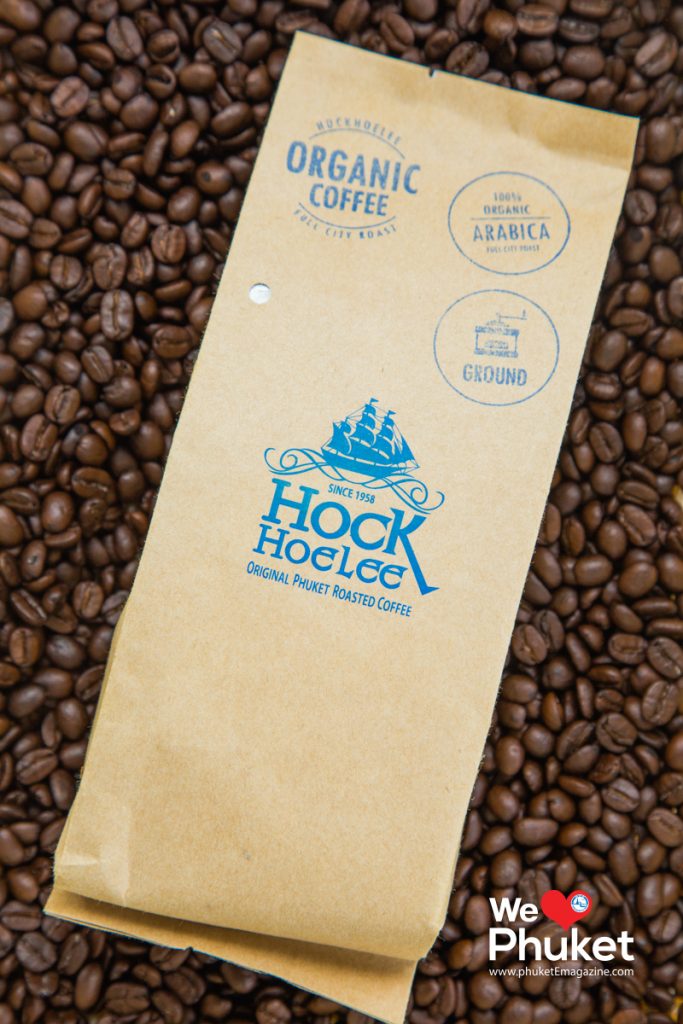 Hokhoelee Coffee 28/9 Moo. 5 Viset Rd., Rawai, Muang, Phuket. Tel: 076 381975
Or Phuket Old Town shop at 183 Ranong Rd., Talad Nua, Muang, Phuket. Tel: 076 211228
Facebook: www.facebook.com/HockHoeLee/
Soya Beans
Chao Fa Soya Bean sells soya bean powder or instant beverage powder. Those who love healthy drinks should appreciate this because it's made from 100% soya beans without any additives or artificial flavouring. Chao Fa soya beans have been produced since 1977 and the product has subsequently received many awards. Selected soya beans are pounded into powder and stored in a specially sealed bag which helps keep the product fresh. Simply use three tablespoons of soya bean powder with hot water and sugar to get a perfect drink for any age – appealing from children to grandparents. Start the day with a soya drink or even have some with your dinner if you want to stay in shape. Some people mix it with coffee instead of using cream. Bring some soya bean drink back for the ones you love and care for.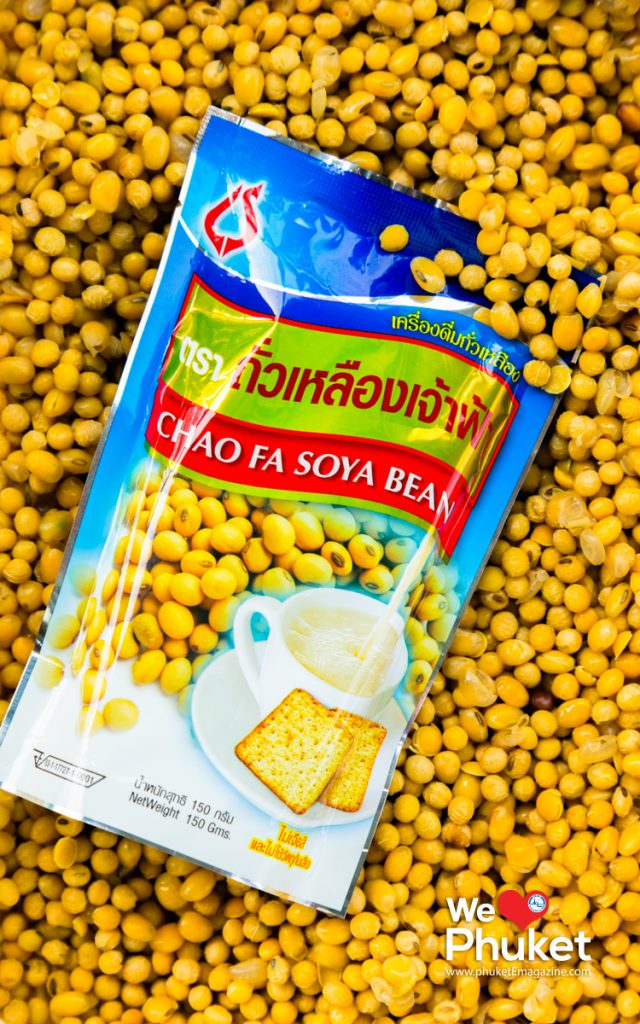 Chao Fa Soya Bean 54 Soi Pattanakarn-Koo-kwang, Talad Nua, Muang, Phuket. Tel: 076 21658
Noodles
Many people who visit here try some traditional Phuket noodles for breakfast. The noodles are white and thin and are usually eaten with hot soup with minced pork, egg, garlic and spring onion on top. But watch out… you may become addicted and will miss them when you leave as these noodles are only produced in Phuket! Swallow Brand rice noodles have been eaten since the days of our grandfathers and grandmothers. The noodles are made from wheat flour and the factory manufactures noodles daily.
Swallow Brand factory at 40/1 Mae Luan, Muang, Phuket Tel: 076 211632
Seaweed
Some people call seaweed 'green caviar' and local people name it 'grape seaweed'. Besides its good taste it's also full of nutrition such as iodised salt, aminos, omega and collagen. Seaweed is commonly used in seaweed salad, seaweed som-tam and is served with traditional Phuket shrimp chili paste. Seaweed can increase your appetite because of its crunchy texture. Phuket features a farm that grows seaweed named 'Phuket Sea Grape' and if you want, Sea Grape will be happy to pack some for you to take home.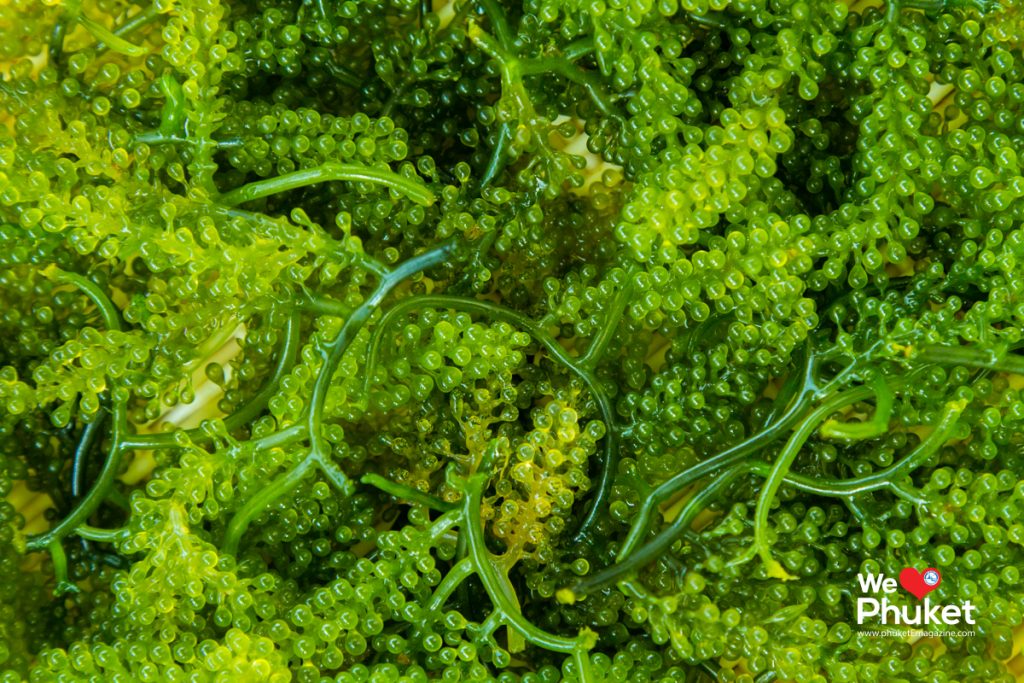 Phuket Sea Grape 152/28 Moo. 7 Soi Yamu, Paklok, Thalang, Phuket. Tel: 094 296 5595
https://www.facebook.com/Phuket-Sea-Grapes-ภูเก็ต-สาหร่ายพวงองุ่น
Instant Durian Drink
This is a must-have item for durian lovers! Orta is considered as the first instant durian drink and is manufactured by the Pornthip Company Phuket. The drink is considered as a bestseller among Asian customers, especially Chinese, Malaysian, and Singaporean visitors. The drink is made from Mon Thong Durian which is full of low-calorie fibre. The taste genuinely that of a real durian and you don't need to worry if it's not in season. Now this is surely a better idea than carrying a fresh but smelly durian around and your friends will love it! This durian powder can be baked in cakes, cookies and a lot more.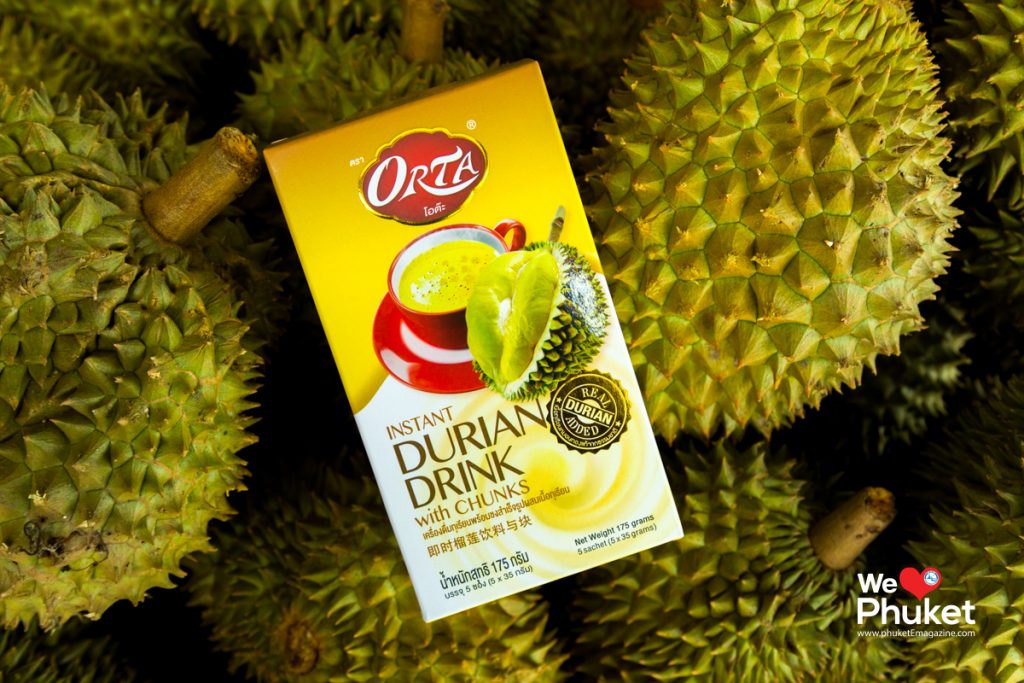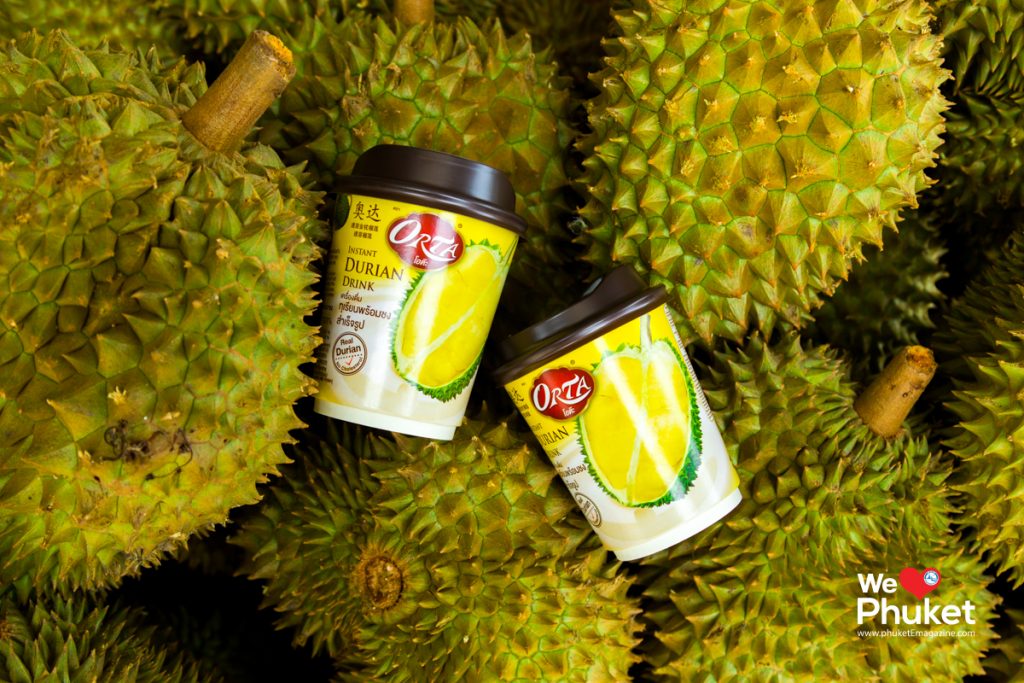 Pornthip Phuket 108/1 Moo.5 Chalermprakiat King Rama 9 Rd. (Bypass Road), Rassada, Muang, Phuket. Tel: 0922760928
https://www.facebook.com/DurianORTA/