When you visit Phuket, you will not only see natural attractions, beaches, and the Phuket Old Town, but you will also have fun with kid activities that will allow your children to explore the world and gain new learning experiences. You can spend time with your entire family resting and learning at the same time. There are currently many places in Phuket that offer family activities where families can share positive experiences and memories. The following family-friendly activities for children in Phuket are ideal for your perfect family vacation.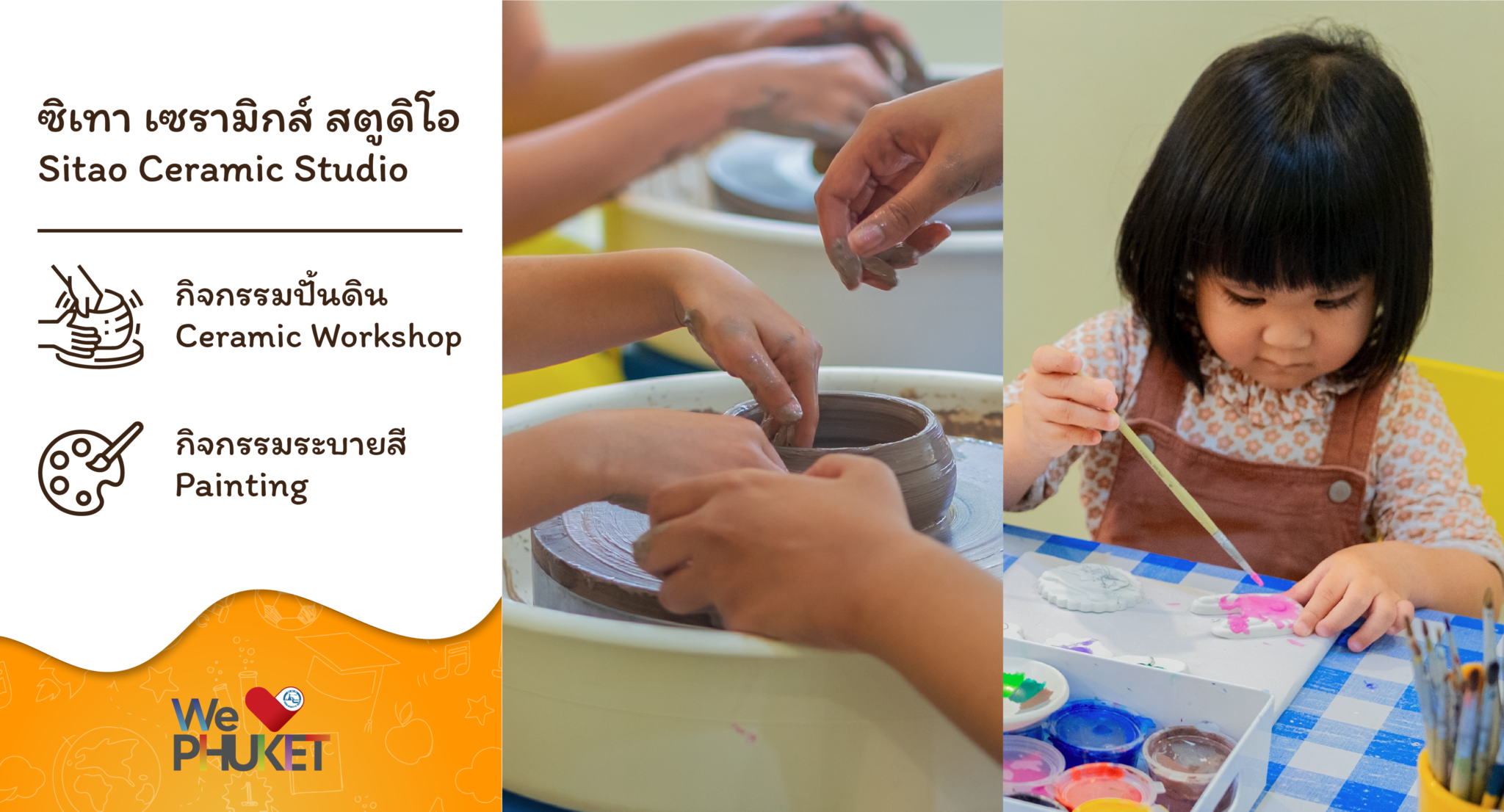 Sitao Ceramic Studio
Sitao Ceramic Studio will help your child develop their skills while they enjoy making ceramics, shaping clay on the potter's wheel, and painting and decorating their handmade pottery. This activity will improve thinking and imagination skills, as well as muscle strength, through sculpting clay.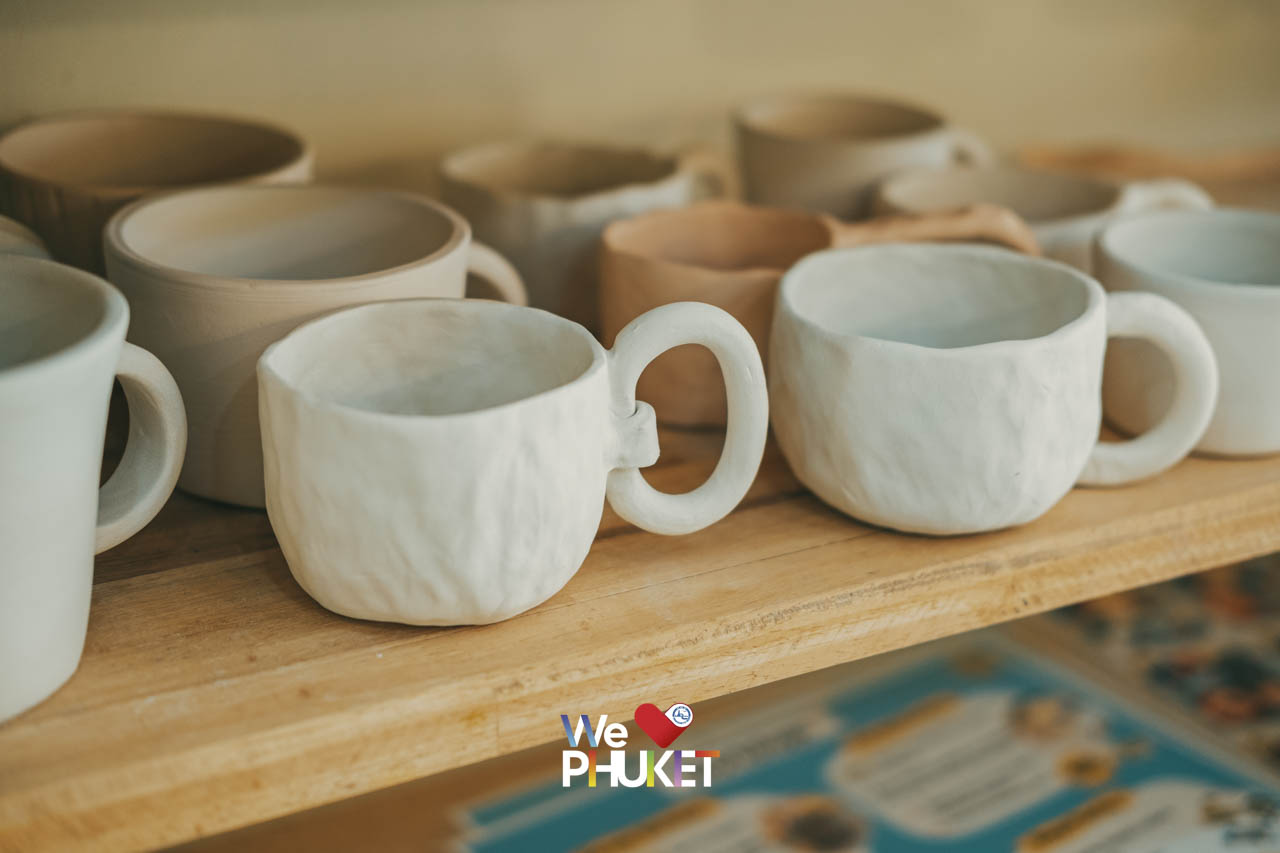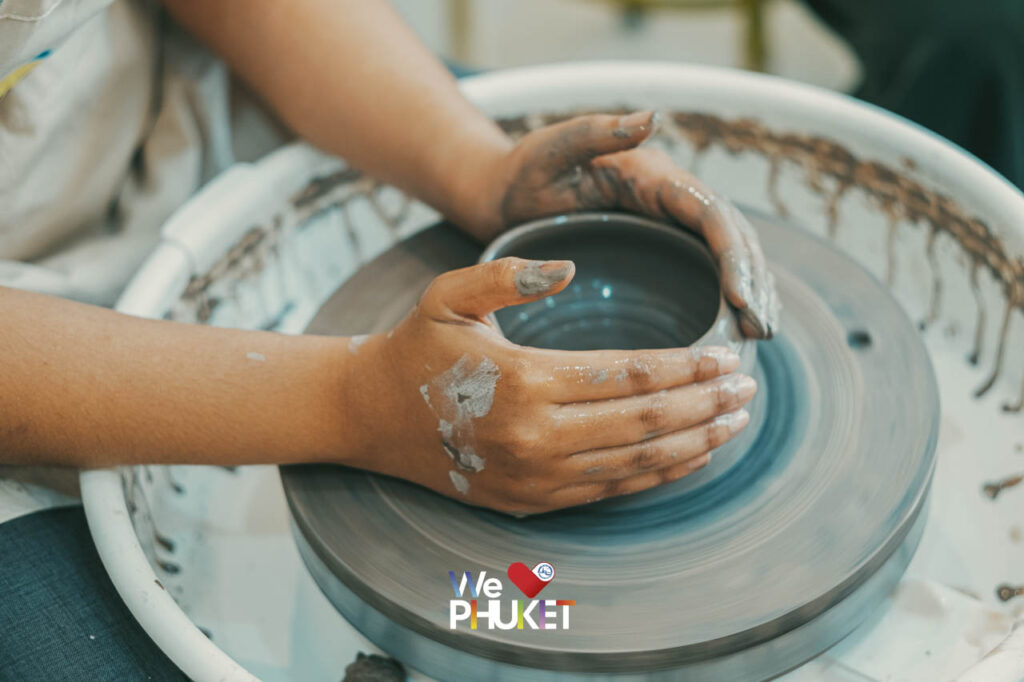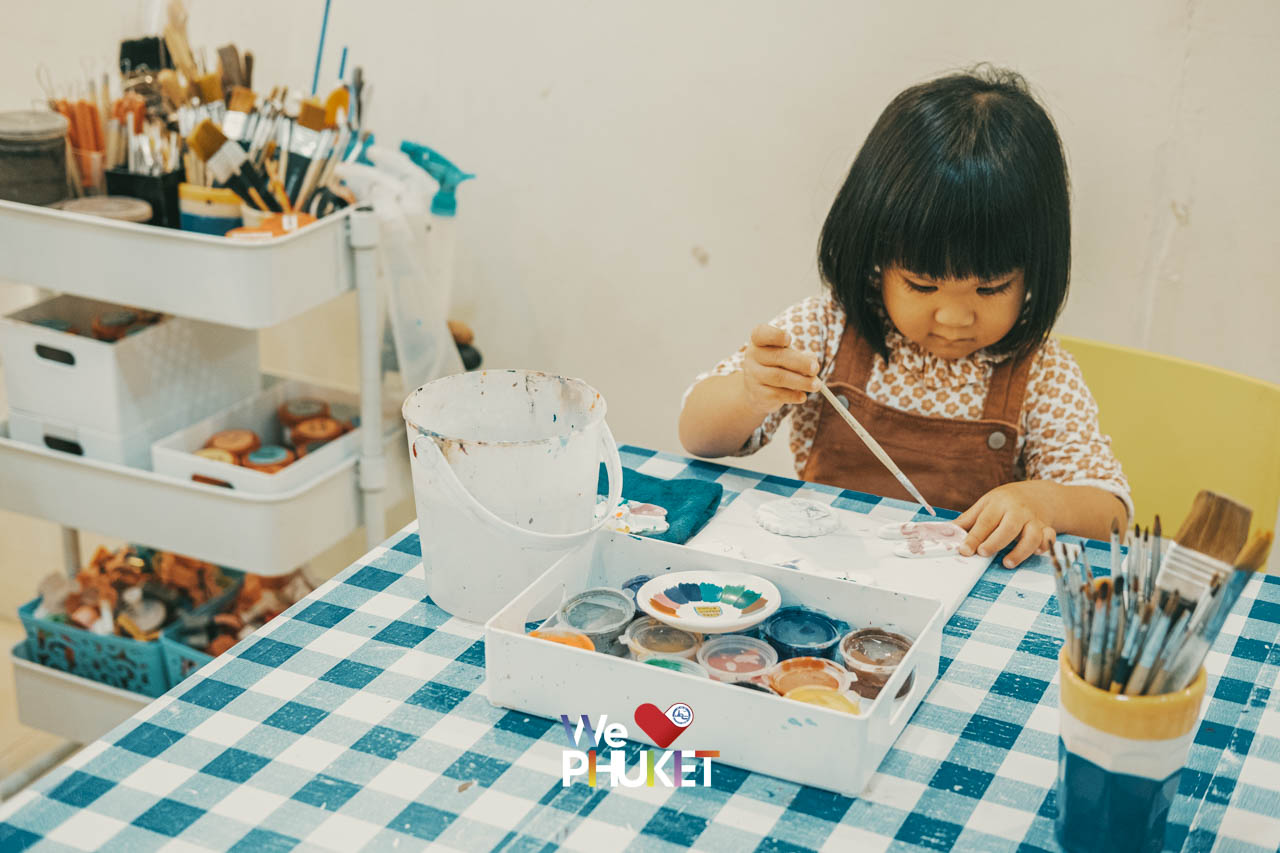 Sitao Ceramic Studio is appropriate for children over the age of three. For the program detail, it has been divided into 4 programs following customer interests. Each program usually takes 1-3 hours, and you can keep your pottery as a souvenir. If you want to glaze and fire your pottery, it will take 2-4 weeks, and the studio can arrange for delivery with a delivery fee.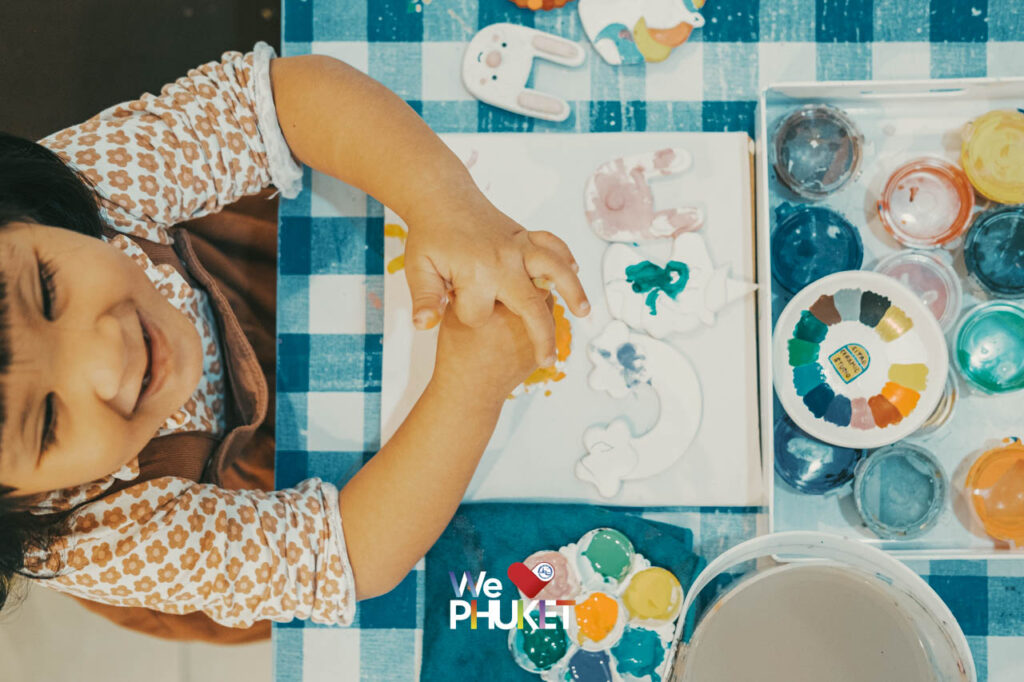 Programs
1. Ceramic Workshop
– Sculpt and Paint for 1-2 hours
– Glaze and Fire within 2-4 weeks (service provided by the Sitao team)
Remark
– The pottery is food and microwave safe
– Worldwide shipping service is available (Shipping cost is not included in the program)
2. Ceramic Painting
– Paint biscuit (underglaze colors) for 1-2 hours
– Glaze and Fire within 2-4 weeks (service provided by the Sitao team)
Remark
-The pottery is food and microwave safe
– Worldwide shipping service is available (Shipping cost is not included in the program)
3. Porcelain Painting
– Paint ceramics (overglaze colors) for 1-2 hours
– Oven-baking painted ceramic within 40 minutes
Remark
The pottery is food and microwave safe
You can take it on the same day
4. Bisque Painting
– Paint bisque (Acrylic colors) for 1-2 hours
– Spray coating within 15 minutes
Remark
The pottery is only for decoration
You can take it on the same day
For more information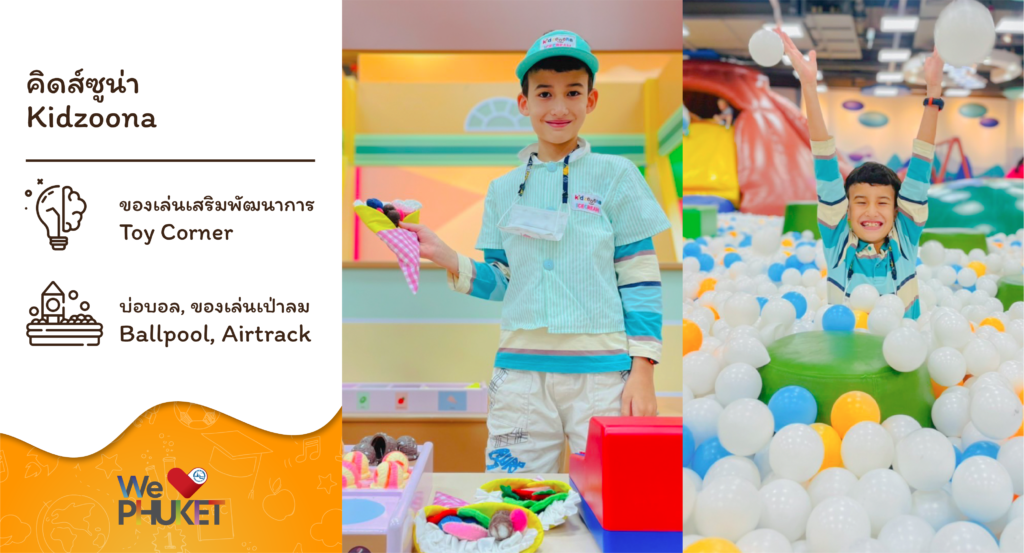 Kidzooona
Kidzooona Phuket is a Japanese-inspired children's theme park with the goal of "supporting children to grow together with parents and the children can play happily."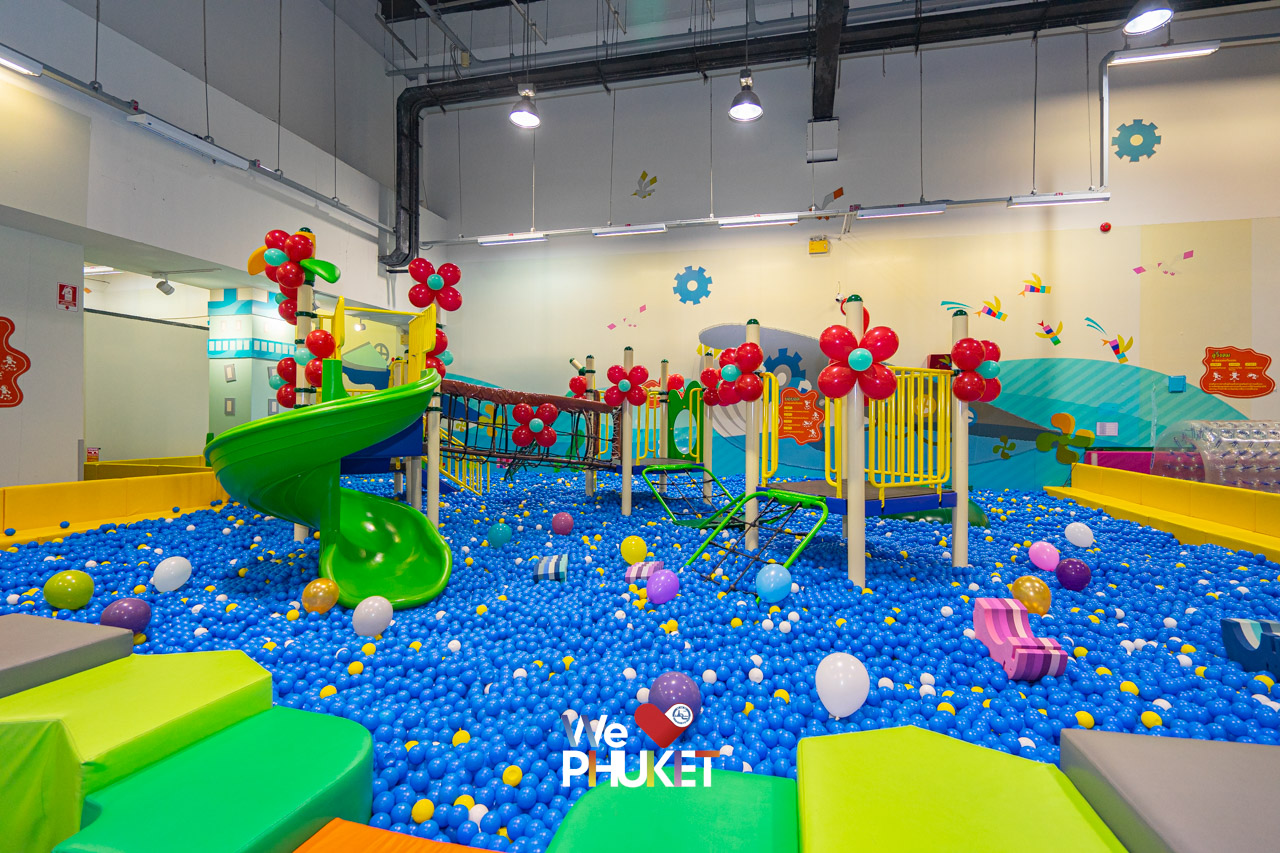 One of the highlights of Kidzoona is the Japanese care concept that can only experience at Kidzoona stores by stimulating the imagination, exercising children's brains, and developing social skills.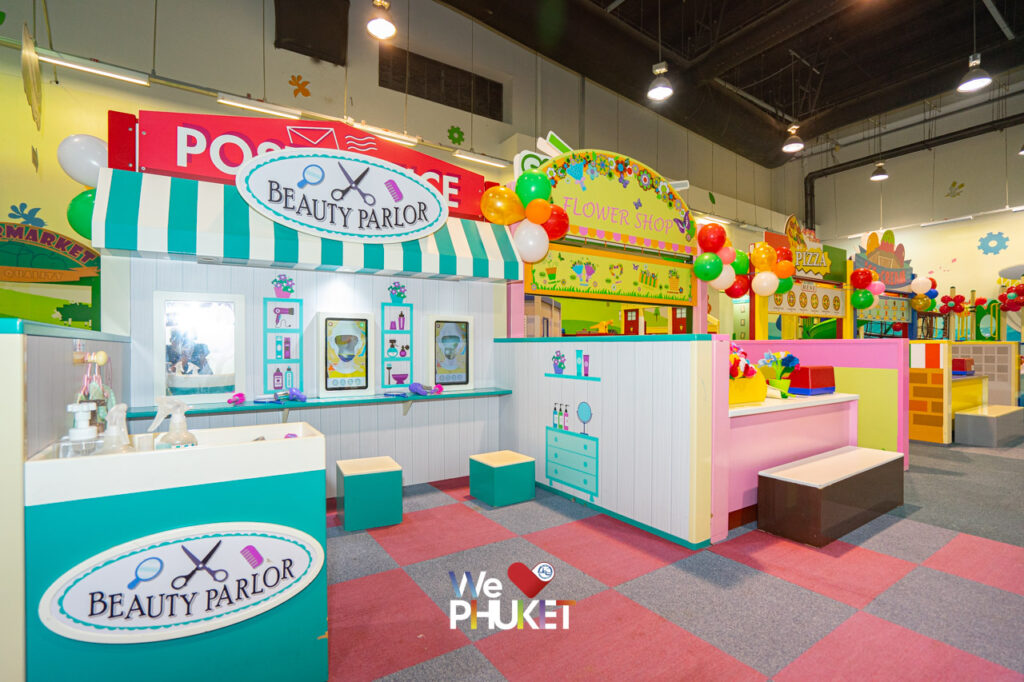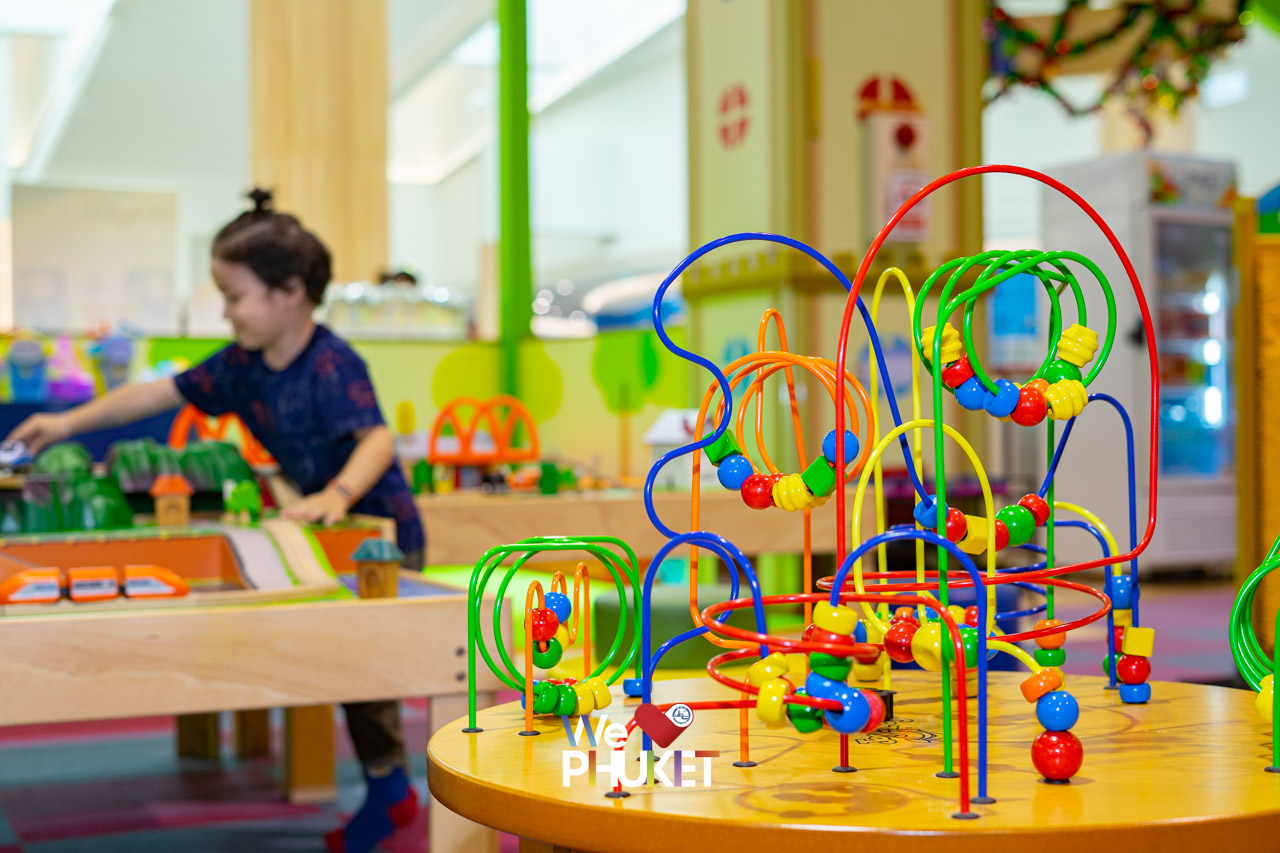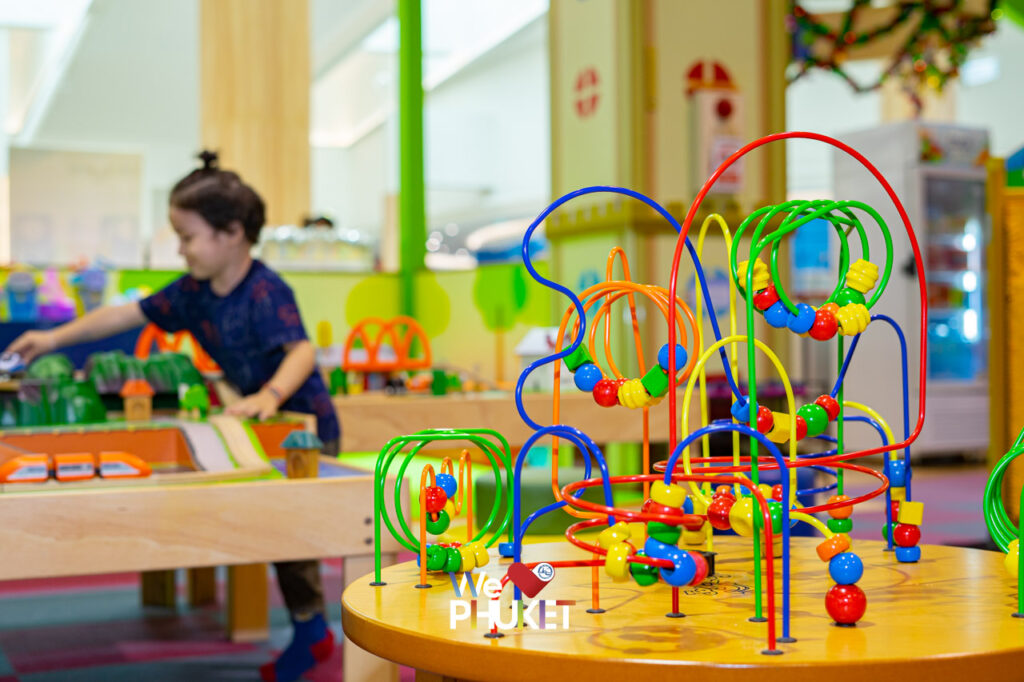 At Kidzooona, there are many fun games such as role-playing (Narikiri), air track, ball pool, cyber wheel, toy corner, fun event, and party.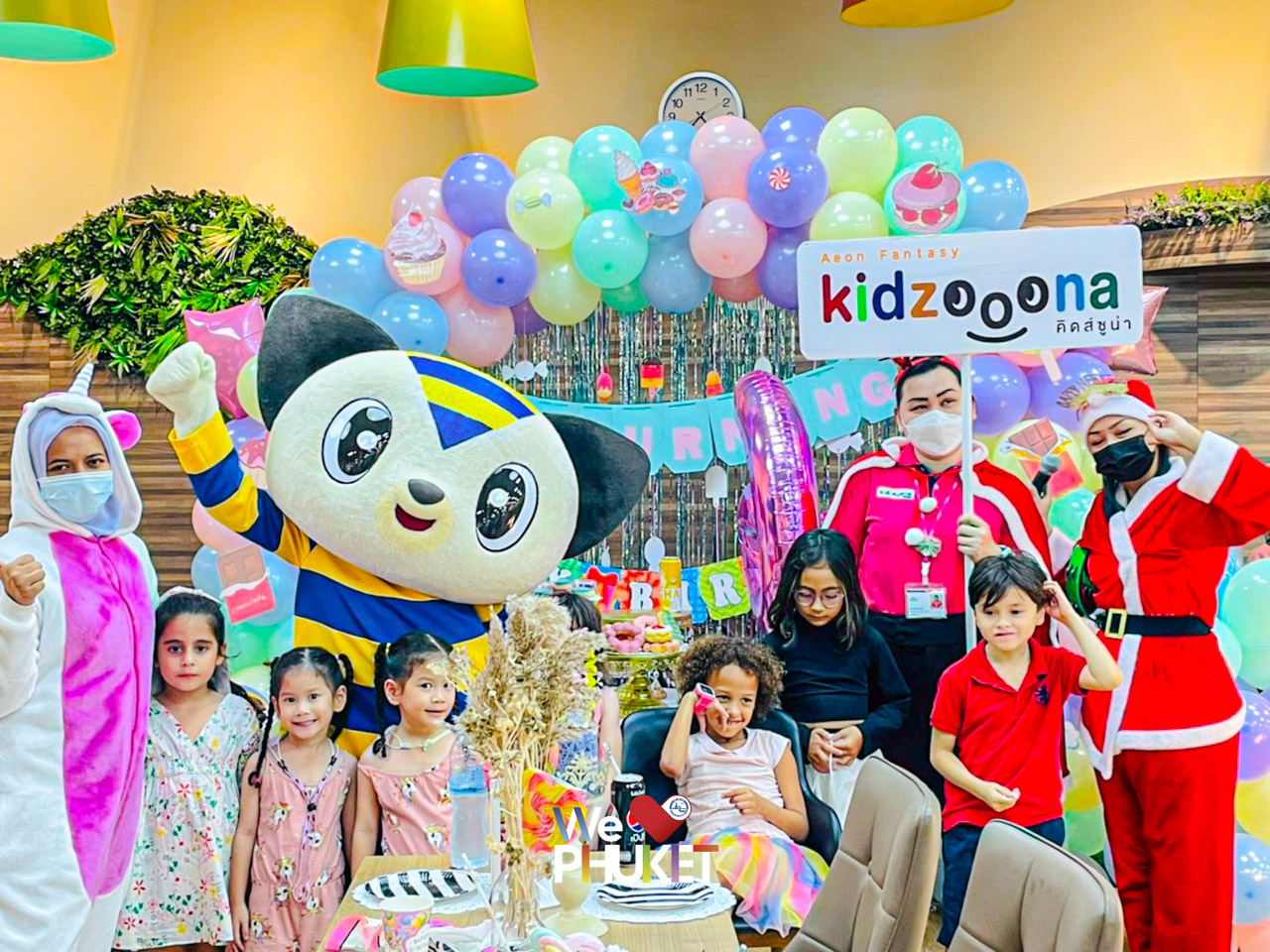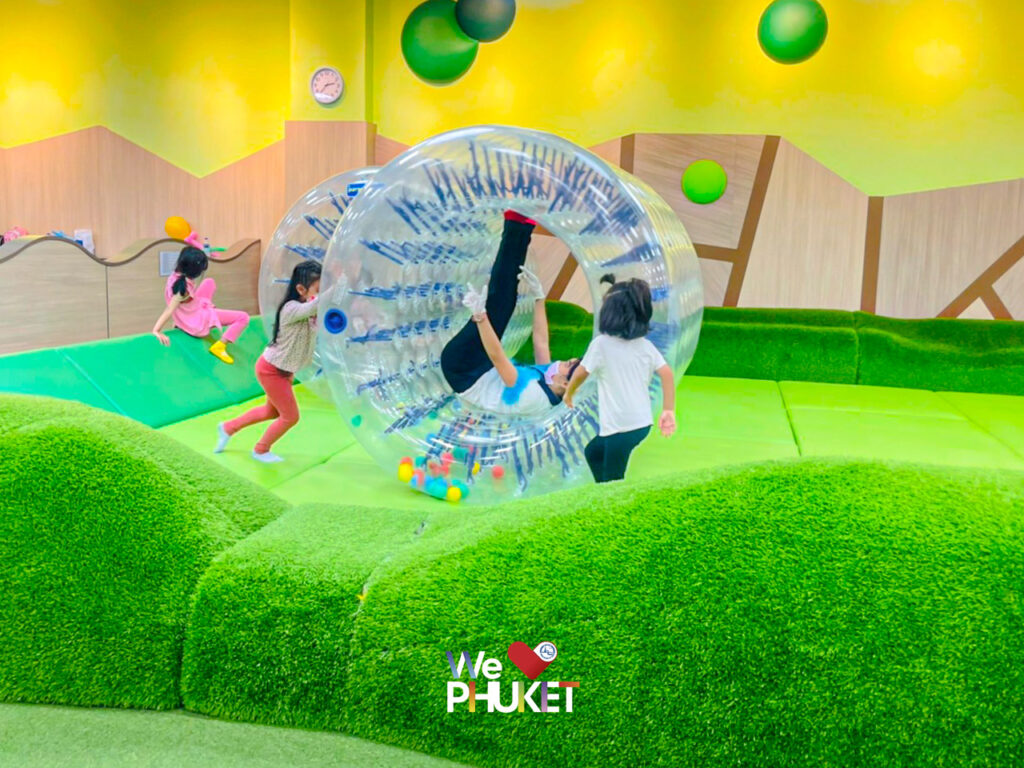 Furthermore, Kidzooona prioritizes cleanliness, ensuring that children's toys are always clean. Your children can stay all day and play with toys in a clean environment.
Kidzooona has 3 branches in Phuket
– Central Phuket Festival
– Lotus Phuket
– Jungceylon Phuket
For more information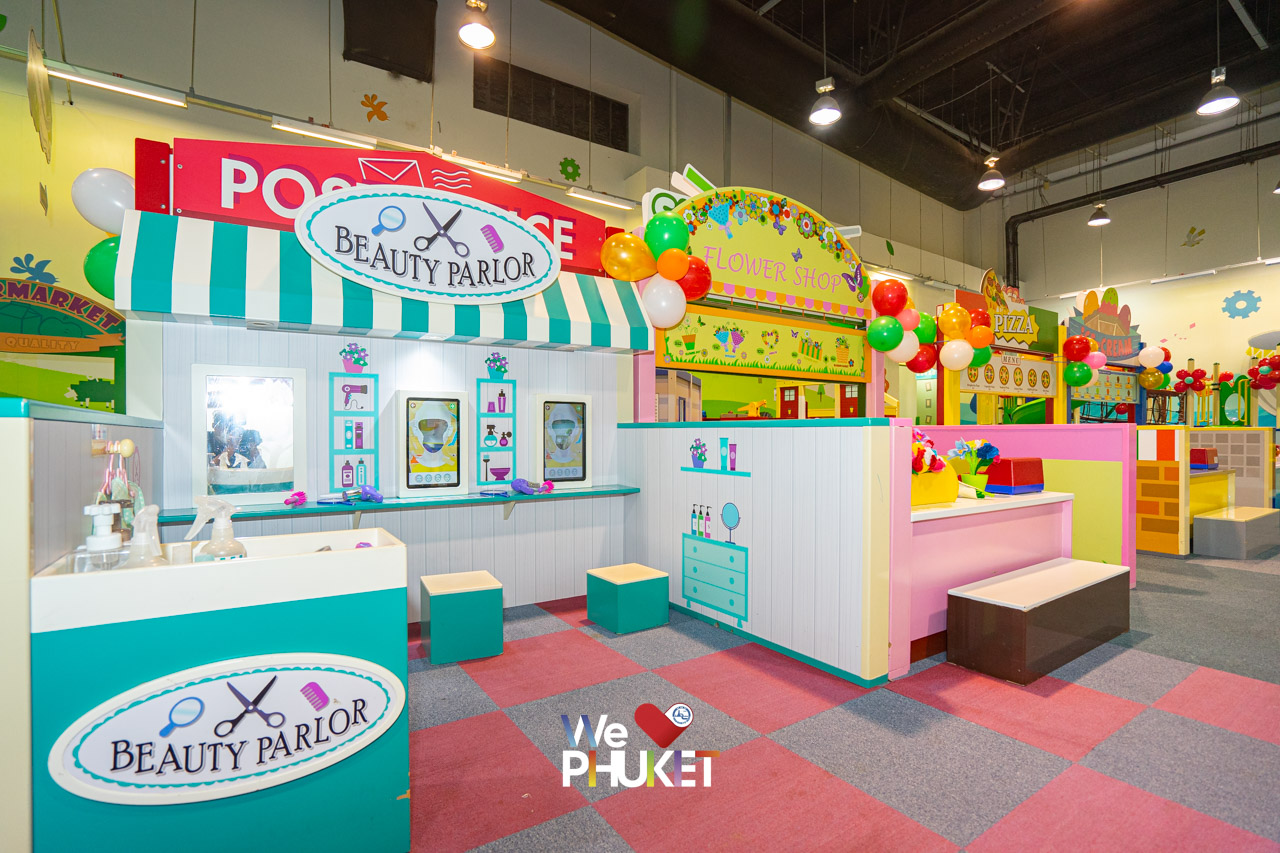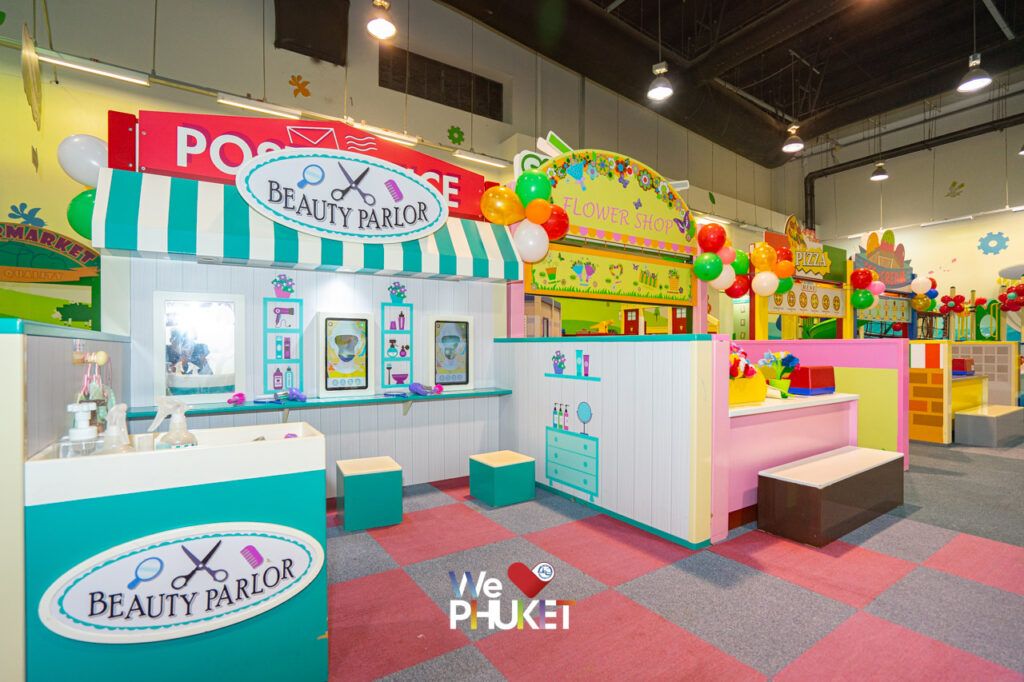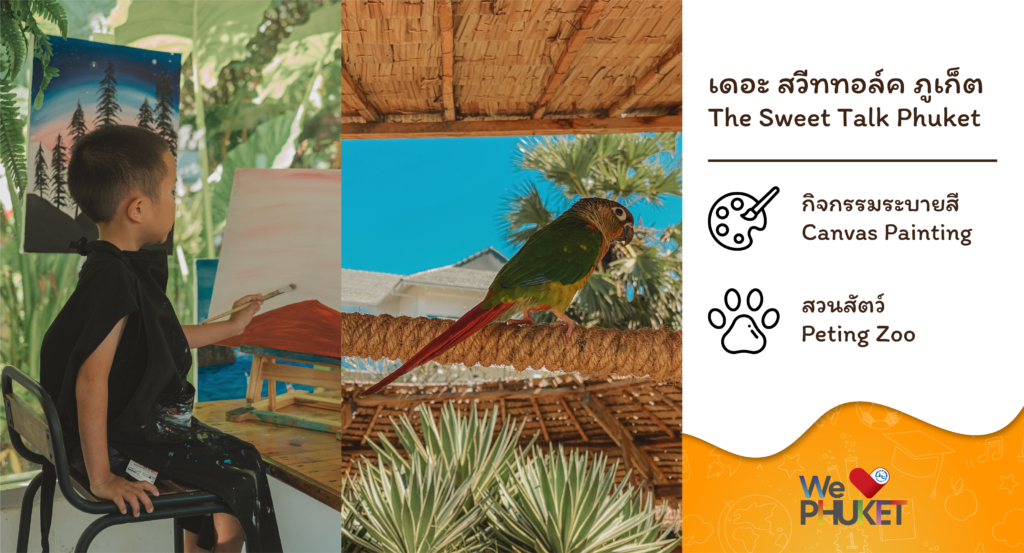 Sweet Talk Phuket
Sweet Talk Phuket is a colorfully New York-style beachside dessert cafe with a stunning sunset view. There is plenty of room for children to play with a variety of delectable desserts.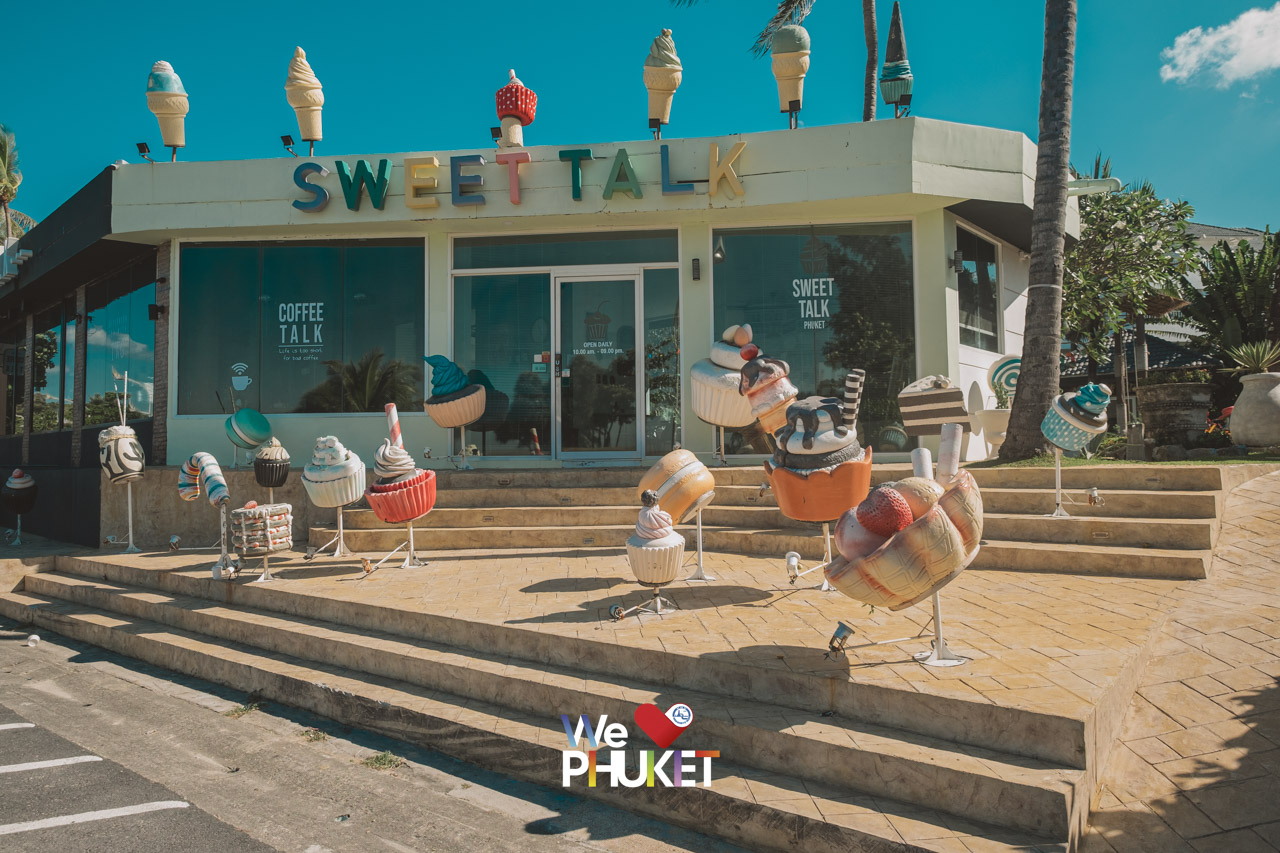 At Sweet Talk Phuket, this is more than just a cafe because there are activities for children to enjoy, such as drawing and coloring, as well as teachers who will assist parents and children in completing the activities.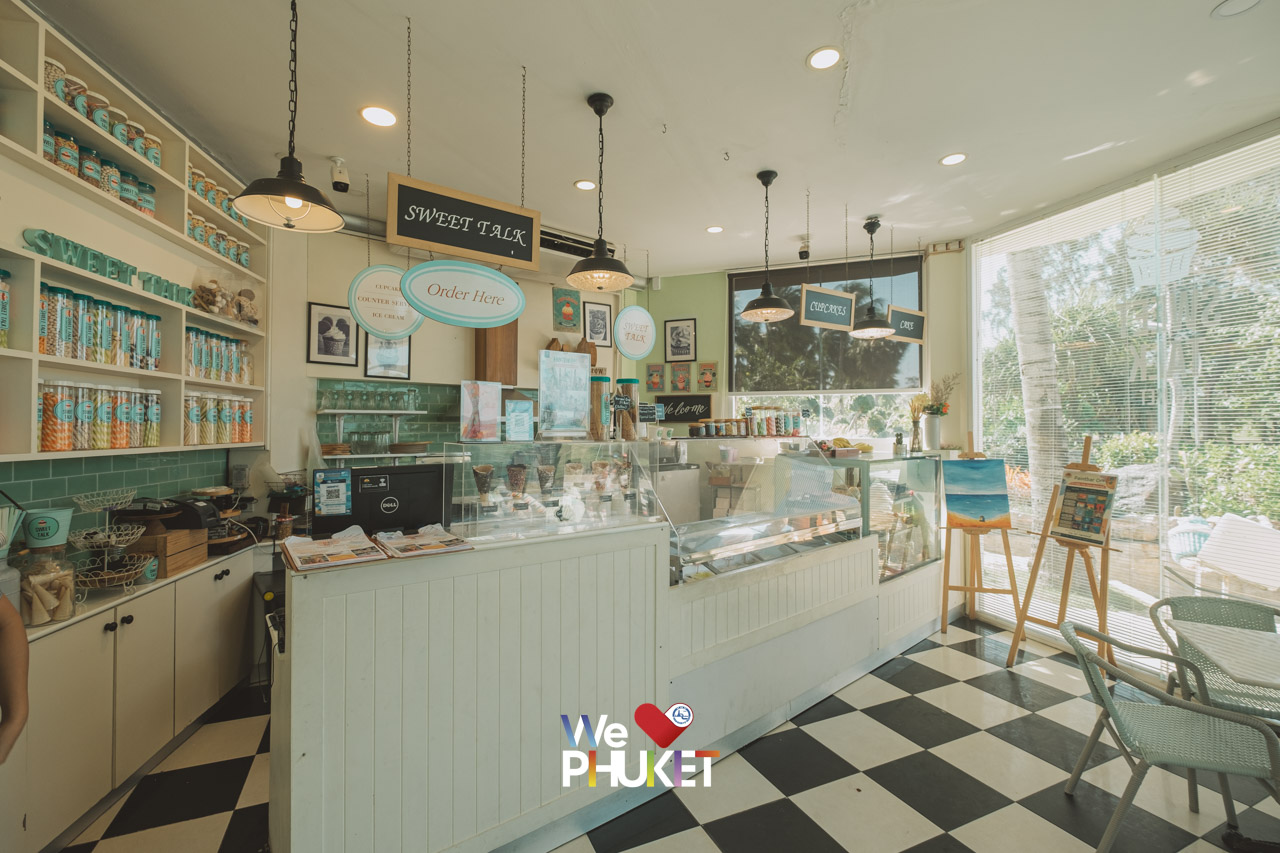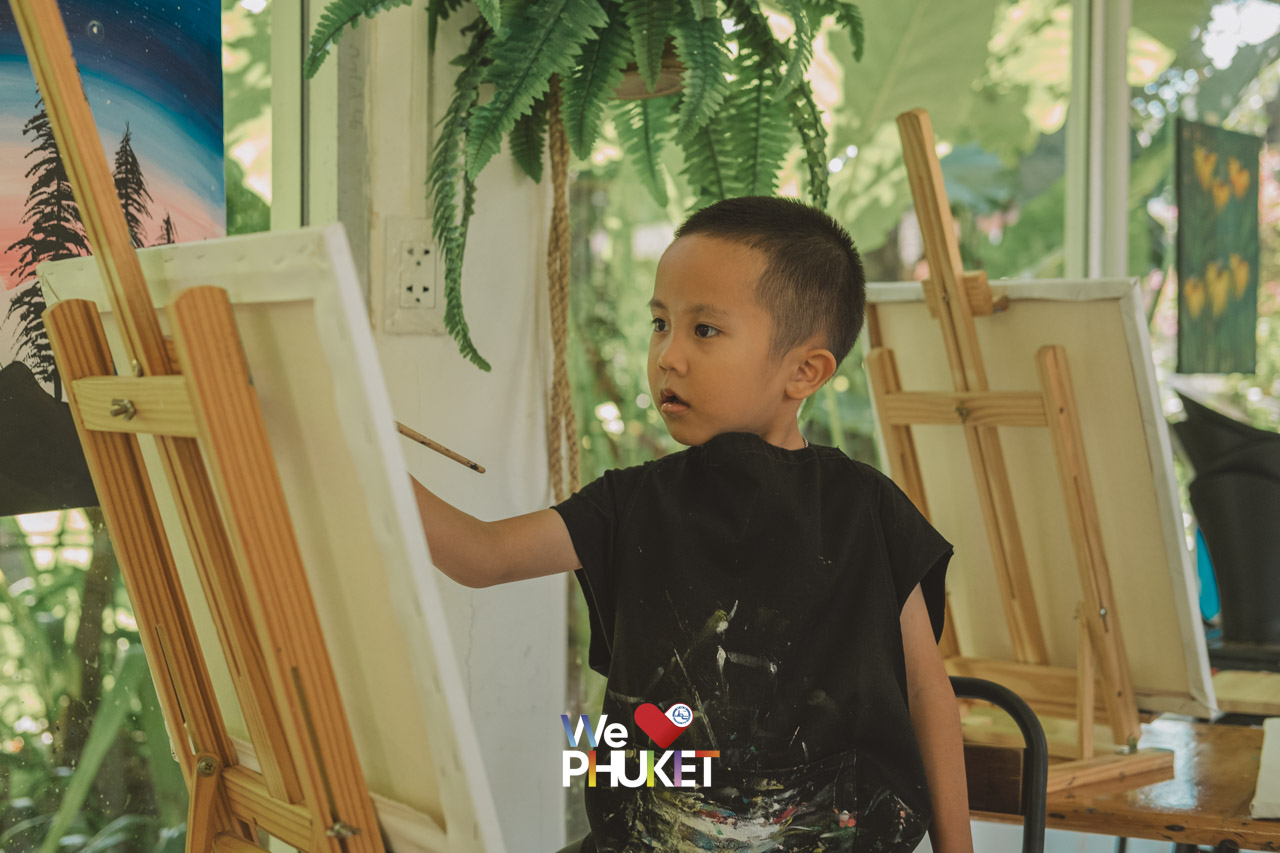 These activities can help families spend quality time together and strengthen family bonds. Moreover, there is also a hand-printing activity for children who are not good at drawing, which you can keep as a souvenir.
There is also a cute pet show where children can get excited about and feed animals like goats, sheep, chickens, turtles, pygmy pigs, rabbits, and parrots, with staff closely monitoring the children's safety.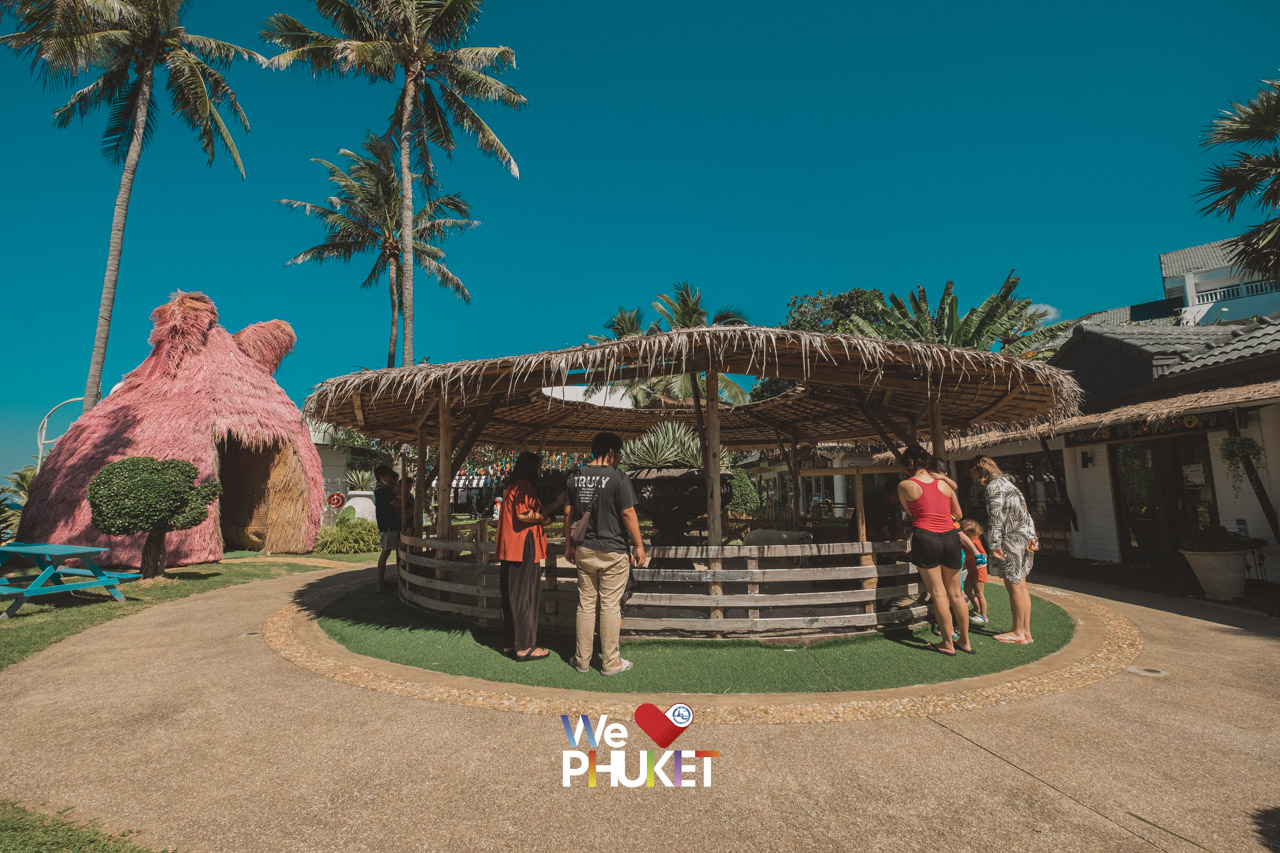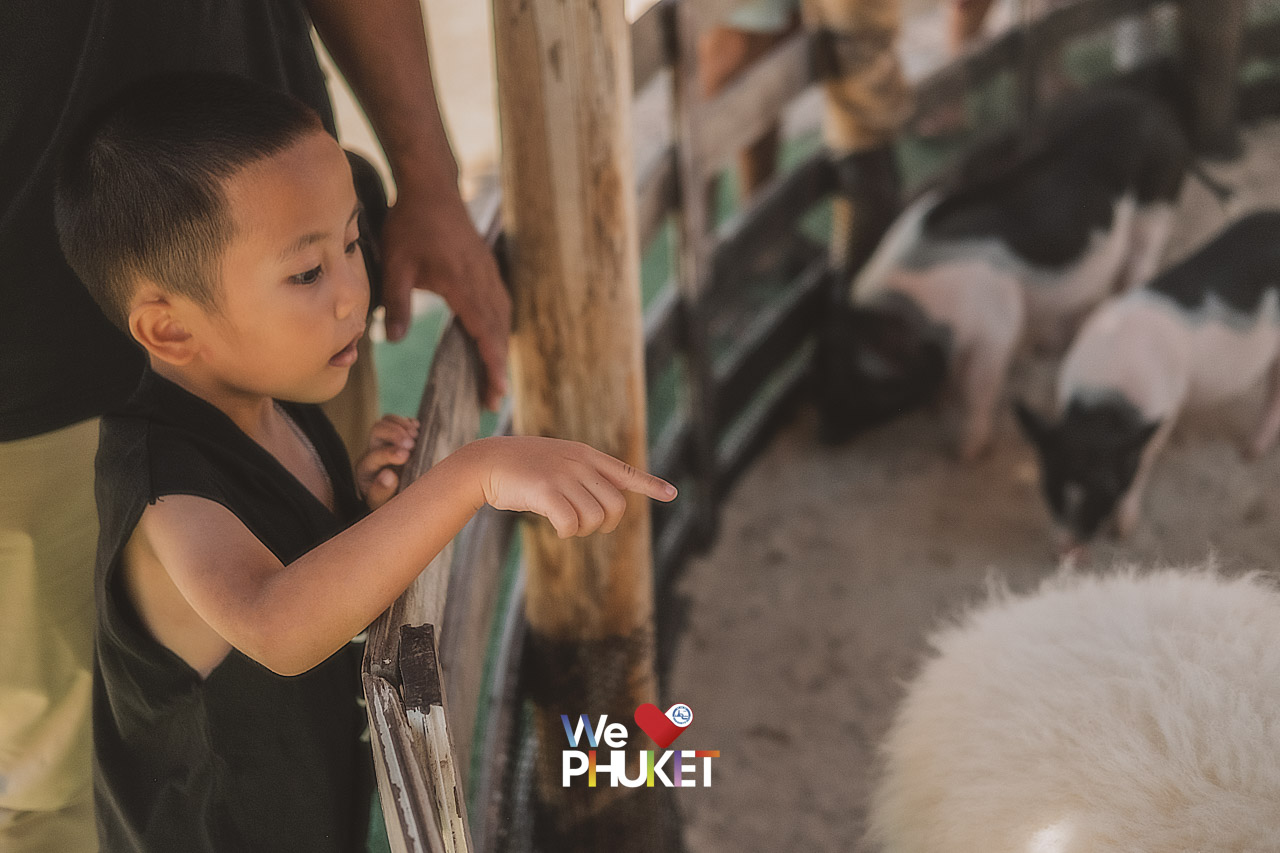 In addition to the various activities for children, there will be delicious desserts for both parents and children to enjoy as a relaxing break from activities. Sweet Talk Phuket is located in front of Karon Beach which provides a very comfortable atmosphere that is ideal for family vacations.
• Animal shows: every day at 11.00-12.00 hrs. and 16.00-17.00 hrs.
• Drawing and painting activity: every weekend at 12.00-13.00 hrs., 14.00-15.30 hrs., and 16.00-17.30 hrs.
For more information, please contact 063 062 6811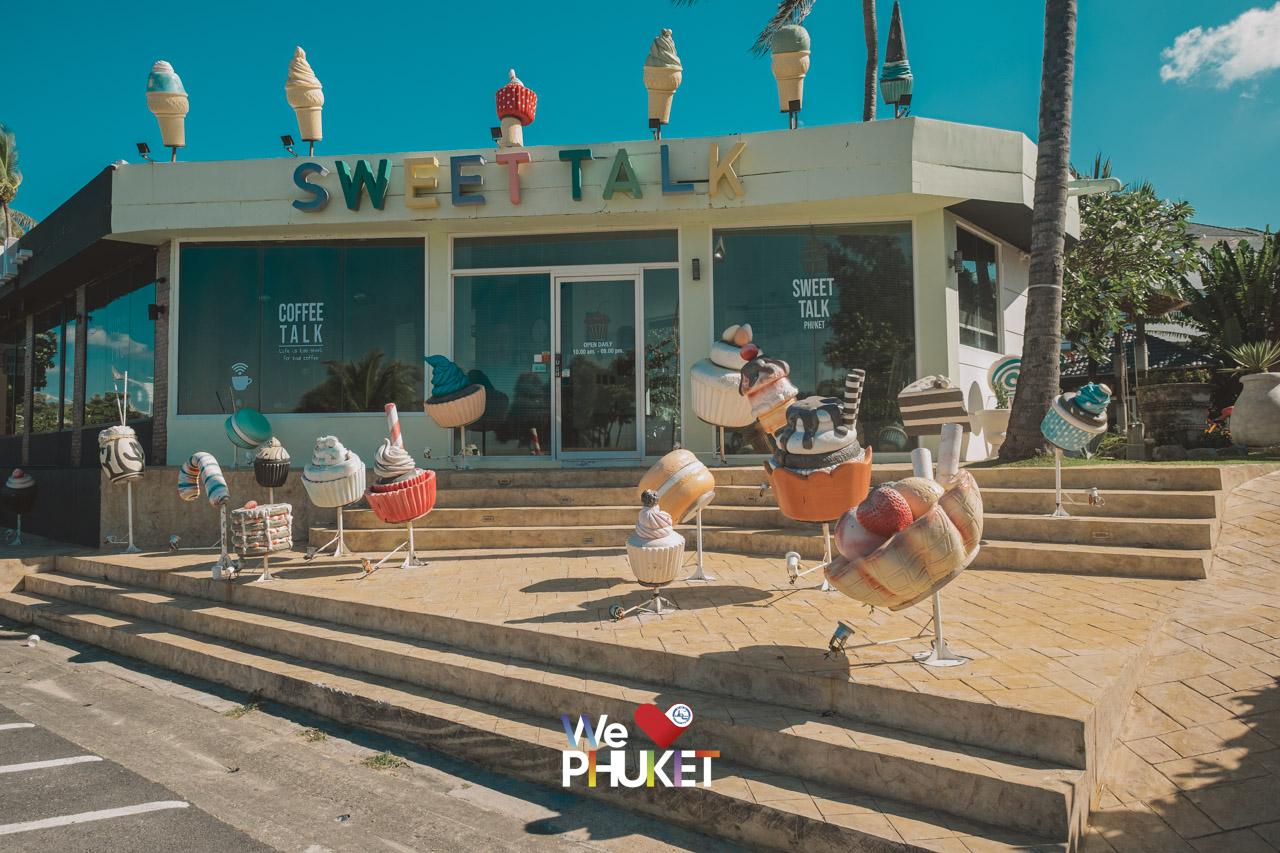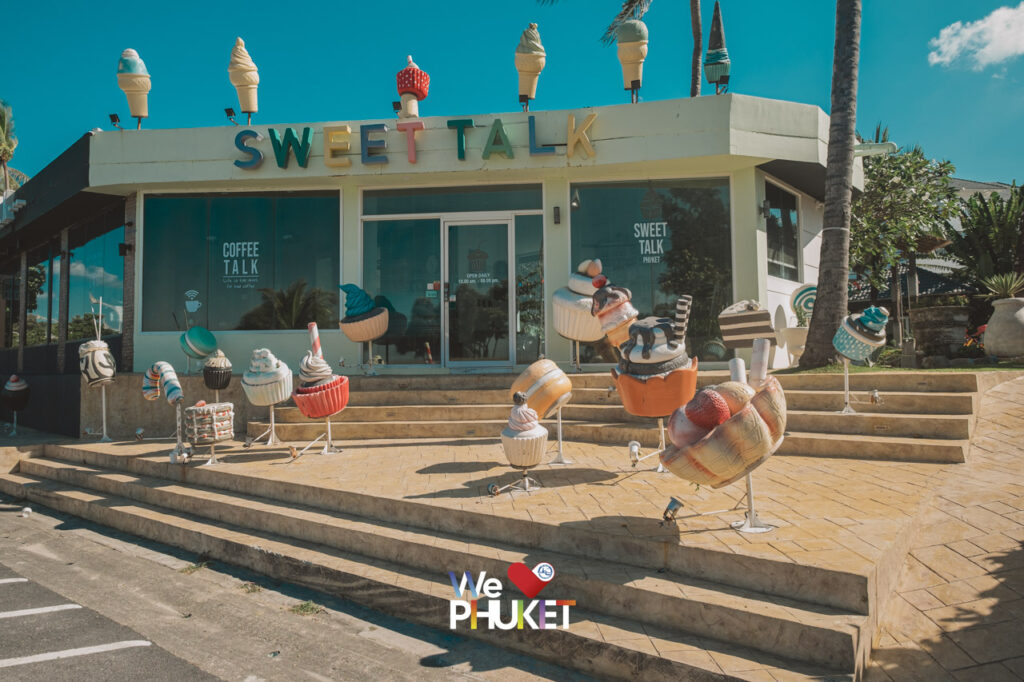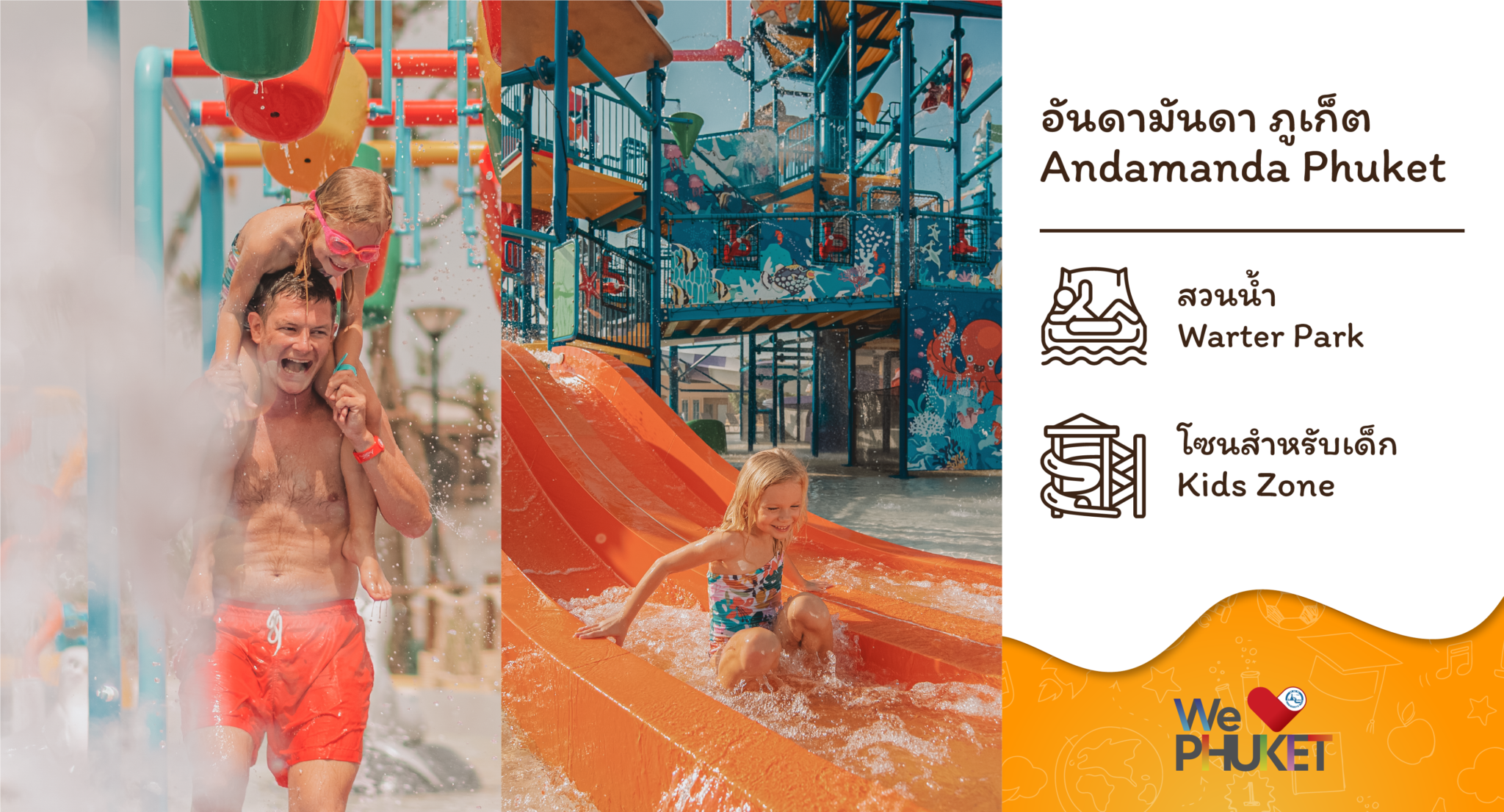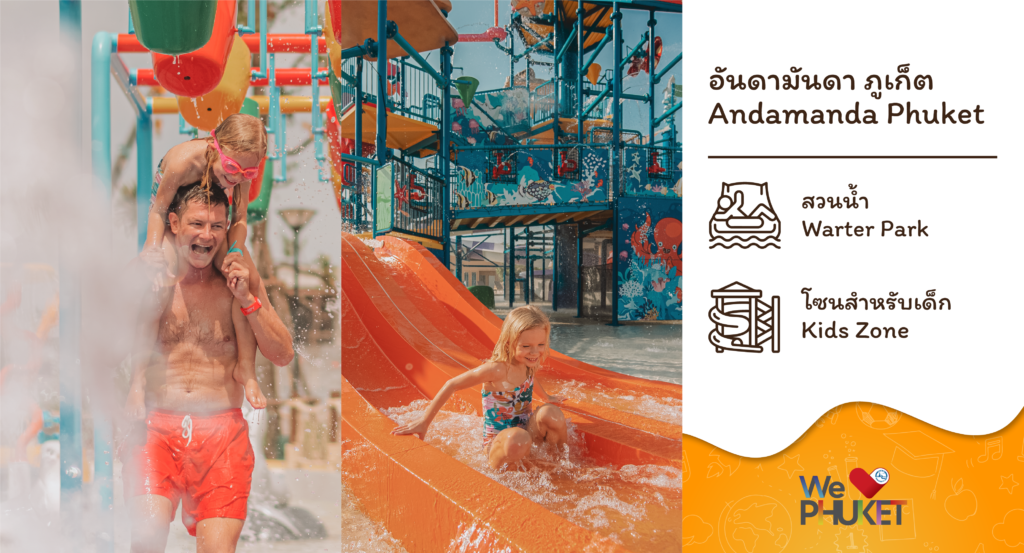 Andamanda Phuket
Andamanda Phuket, Phuket's newest and largest water park, brings together the majestic grandeur of the Andaman Sea on an area of more than 58 rai, which has been divided into 5 zones.
THE PEARL PALACE
CORAL WORLD
THE VILLAGE THE
GREAT ANDAMAN BAY
NAGA JUNGLE
EMERALD FOREST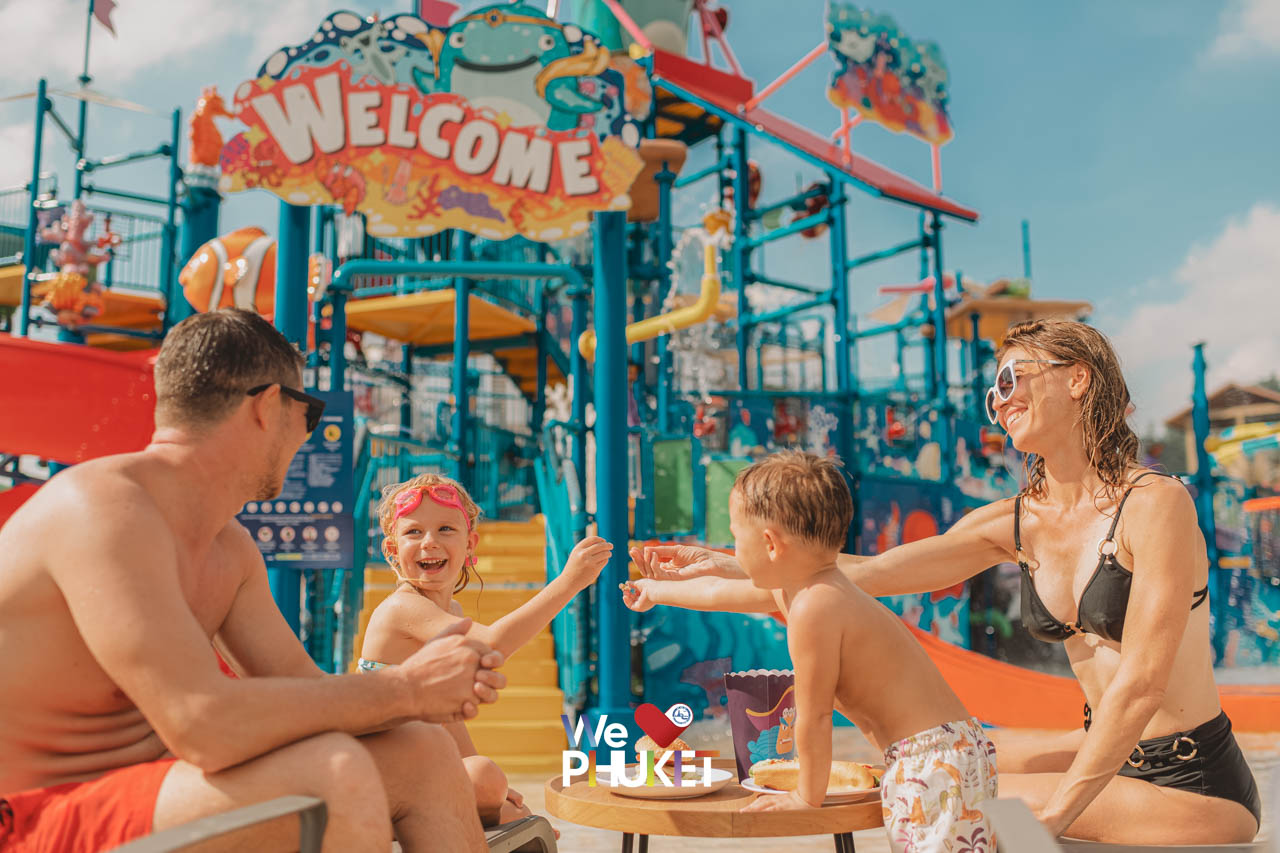 Each area has its own highlight story, with various attractions and water slides. However, we would like to introduce a children's area, CORAL WORLD, which is suitable for children with a minimum height of 91 centimeters. The CORAL WORLD offers adventure experiences with a giant whale shark tank that will drop a giant water bomb every 5 minutes. Plus, Wonder Waterland is the area where your kids can jump and splash around jellyfish swings and slide down Mr. Krab waterslide. Furthermore, Little Reef is a place where your kids can have fun on their own. Throughout the day, there are numerous small adventures to enjoy. This is a fantastic location for families to enjoy and spend quality time together.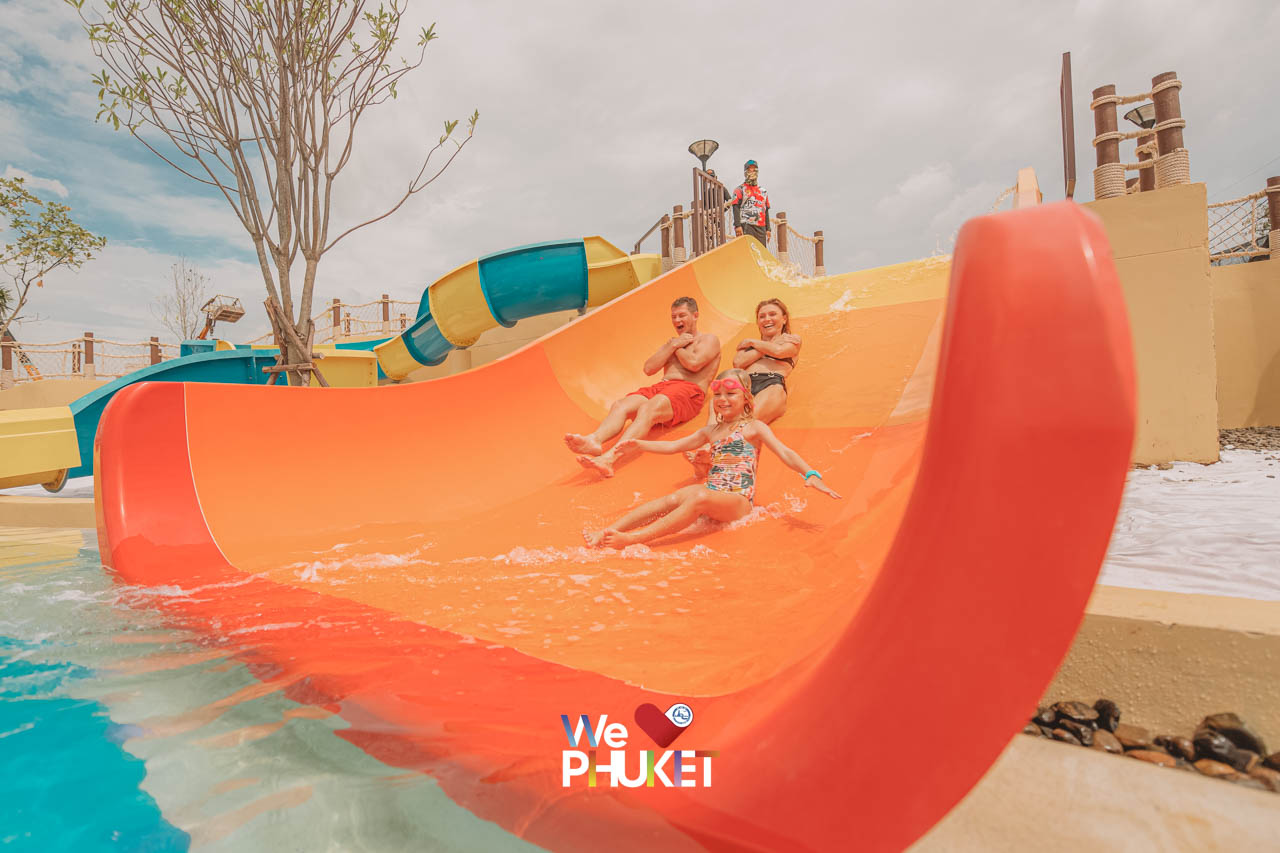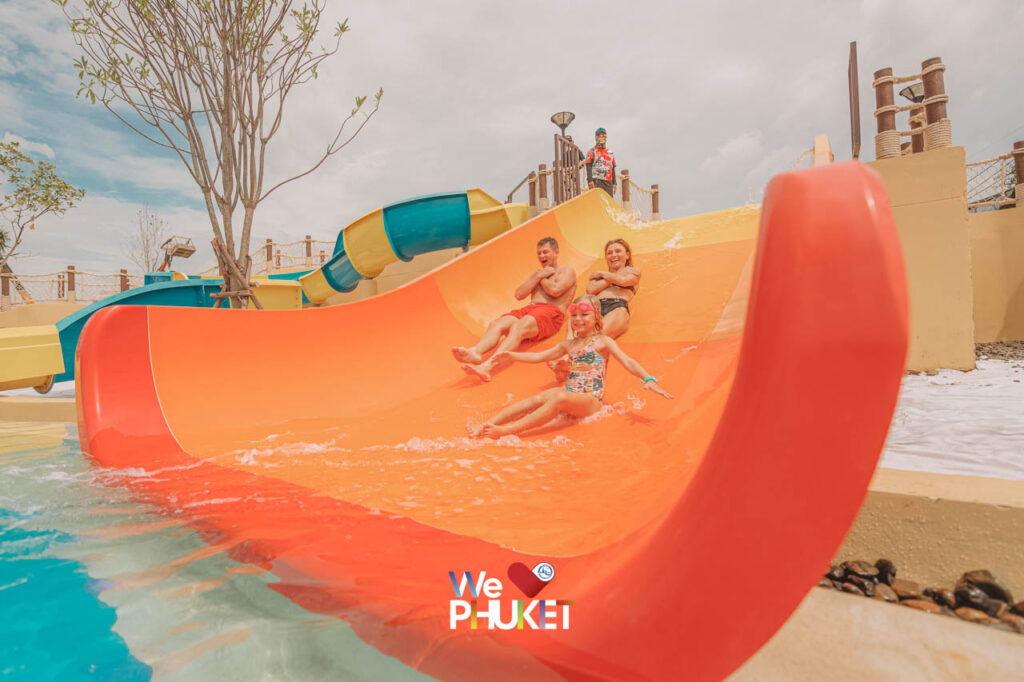 Andamanda Phuket has a world-class safety policy that prioritizes tourist safety at the highest level by hiring Ellis & Associates, a world-class accredited institute for water safety and rescue, to train lifeguards in first aid and tourist safety. Furthermore, the number of lifeguards must be appropriate for the size of the water park area and the number of tourists to adequately care for all visitors.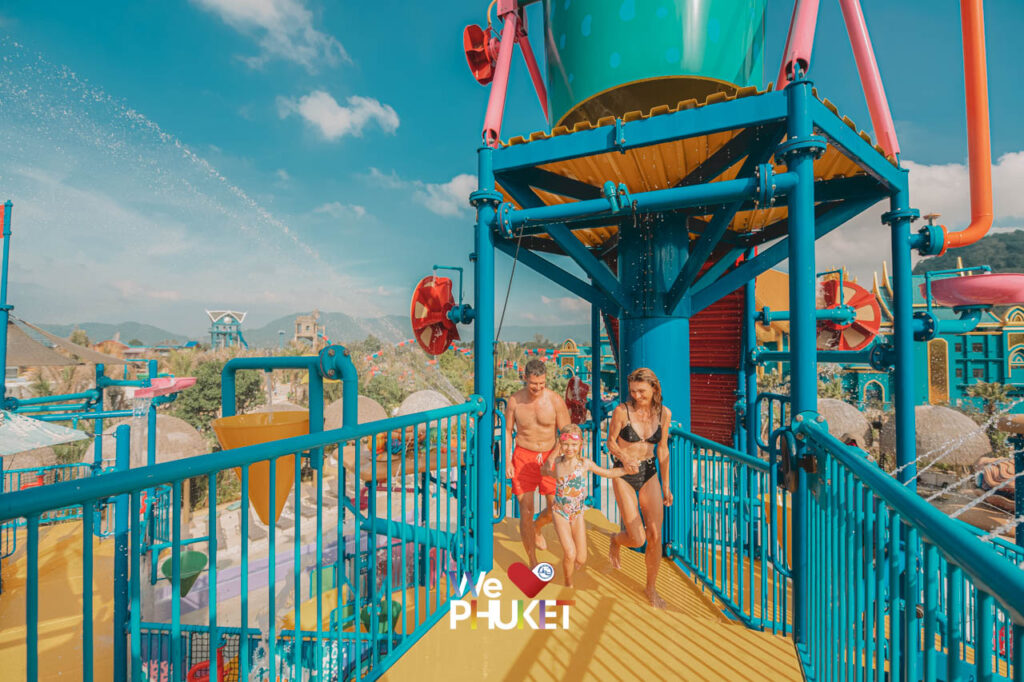 It is also convenient with RFID wristbands, which create a cashless payment experience, allowing everyone to spend comfortably within Andamanda Phuket.
Open daily from 10.00 – 19.00 hrs.
For more information, please contact