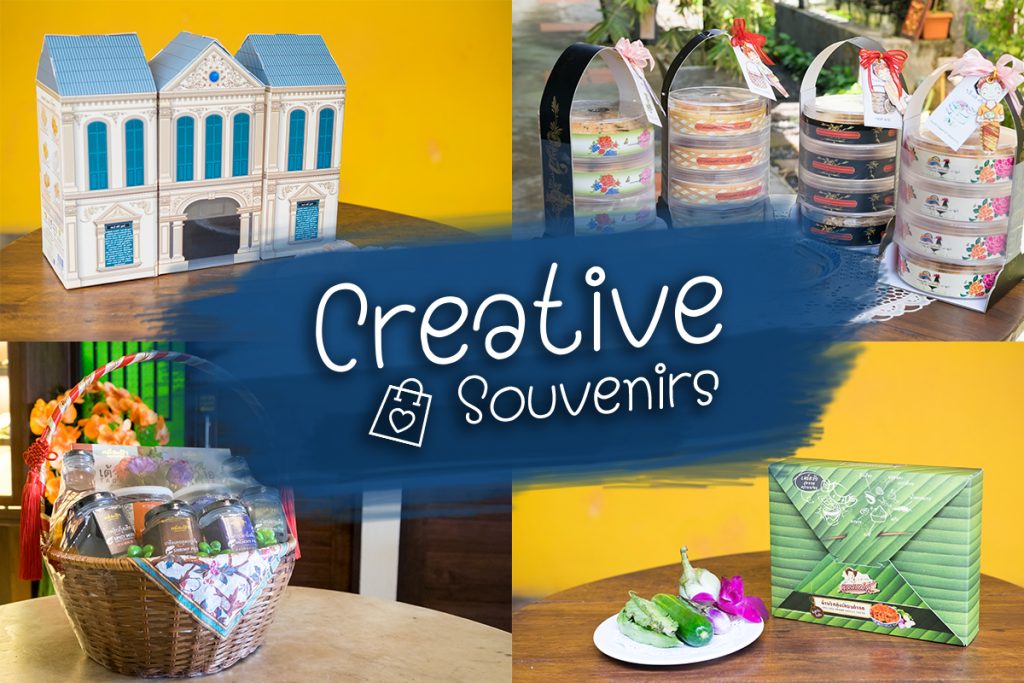 If you're visiting Phuket but are at a loss for what to buy as souvenirs Phuket E Magazine would like to recommend some 'creative' souvenirs with attractive packaging.
Sino Building Gift Set from the Pornthip Phuket Shop
Why not buy a Sino-design building as a souvenir for your friends? A miniature one, that is. This creative gift set is fashioned after the Sino colonial building architecture in Phuket's old town area along Thalang road, Rommanee road, such as the Thaihua Museum, the On On Hotel and Baan Chinpracha, as well as the Charter Bank. The Charter Bank is nowadays a Peranakan museum. The idea started out as a desire to promote and to bring the beauty of these Sino buildings to the world's attention. Pornthip made the little models so now it looks like all the significant Phuket downtown Sino buildings had been shrunk down to a handy size! There are several types ranging from a big paper box, a small paper box, tin boxes and music boxes and they're all filled with local snacks, Phuket pineapples, coffee, durian toffee and mixed flavor cashew nuts. The shop also has empty boxes for those who want to choose their snacks on their own. Some tin boxes can be used as a piggy bank as well. Shoppers can choose to buy an individual building or a set of Sino buildings as souvenirs. All these lovely boxes can be used as home decorations once you've finished the snacks inside them.
https://www.facebook.com/BestLocal.Souvenir/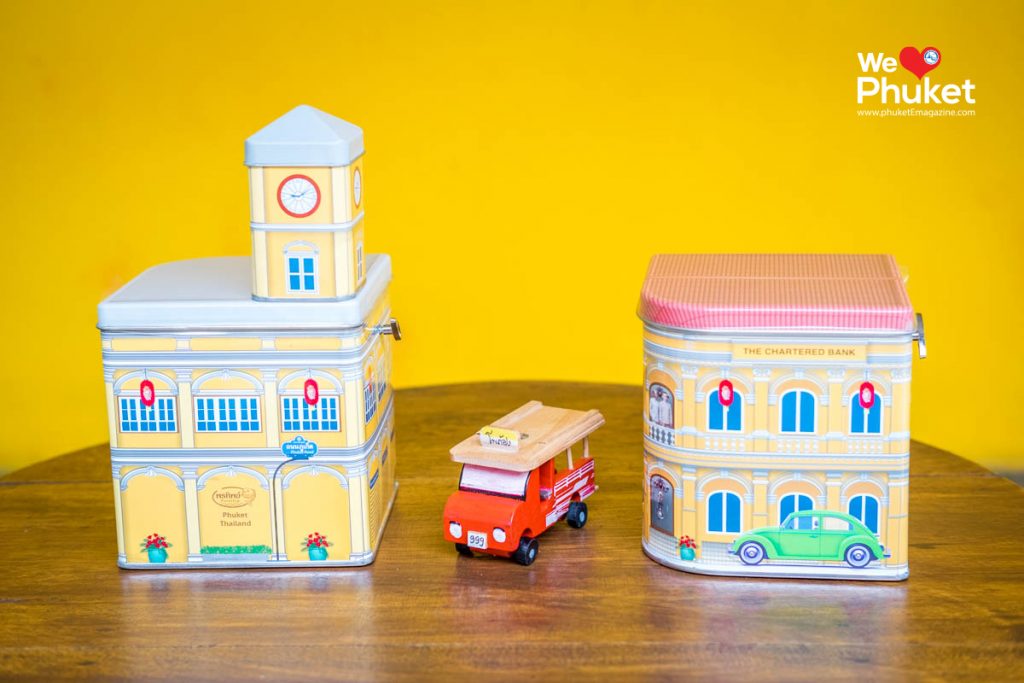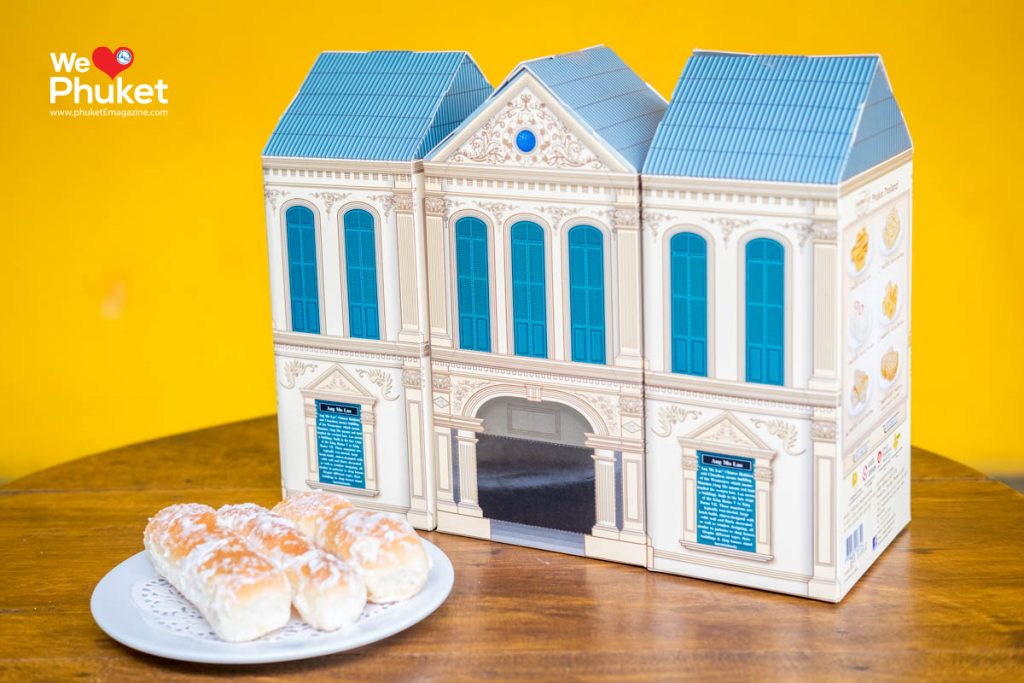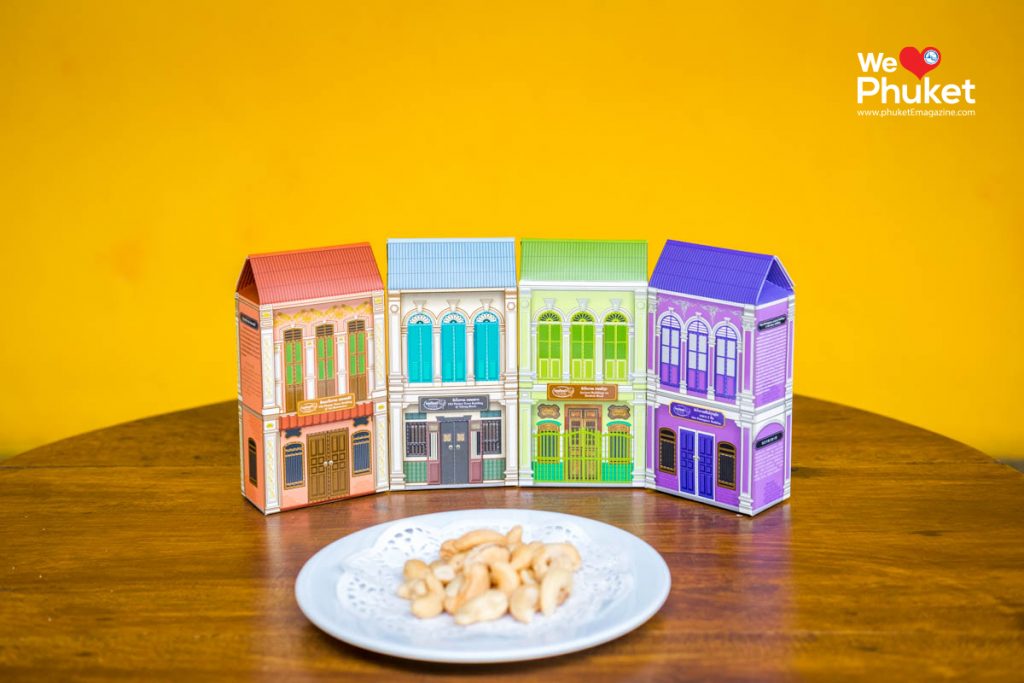 Fresh Shrimp paste from Khun Mae Ju Phuket
Shrimp paste is another recommended souvenir from Phuket and also one of top-selling products at the Khun Mae Ju shop – especially the secret shrimp paste recipe that's been popular for more than 70 years. The fresh shrimp paste at Khun Mae Ju's not only received a 'great taste award but also an award for its package design as well. The pattern of the package is based on a banana leaf which was traditionally the Phuket style packaging the product. The packaging reminds us of how the traditional fresh shrimp paste was made. Inside the package you'll find a fresh shrimp paste bag, a fresh vegetables set, and crispy fried dry shrimp. This is so convenient, it tastes good and is a perfect souvenir.
https://www.facebook.com/khunmaejuphuket2482/
Tao Sor set from Khun Mae Ju
Who would imagine that the pattern on Baba-Yaya dresses would appear on the packaging set of Tao-Sor snacks from Khun Mae Ju? Tao-sor is a traditional snack that's famous from Phuket and the packaging design makes the product look more attractive. The famous Tao-sor comes with three original fillings which are sweet, salty, and black beans. However, the shop also have new fillings such as pineapple, durian, banana, mango and egg. The flavor are seasonal based. The box set comes in three main colors, pink, yellow and light green and when you open the outer surface, you can see the skirt pattern inside. The product also received "Asian Star Packaging Award 2015". The Tao-sor inside is homemade and comes with a good quality plastic seal so there's no need for any preservative chemicals in the food.
https://www.facebook.com/khunmaejuphuket2482/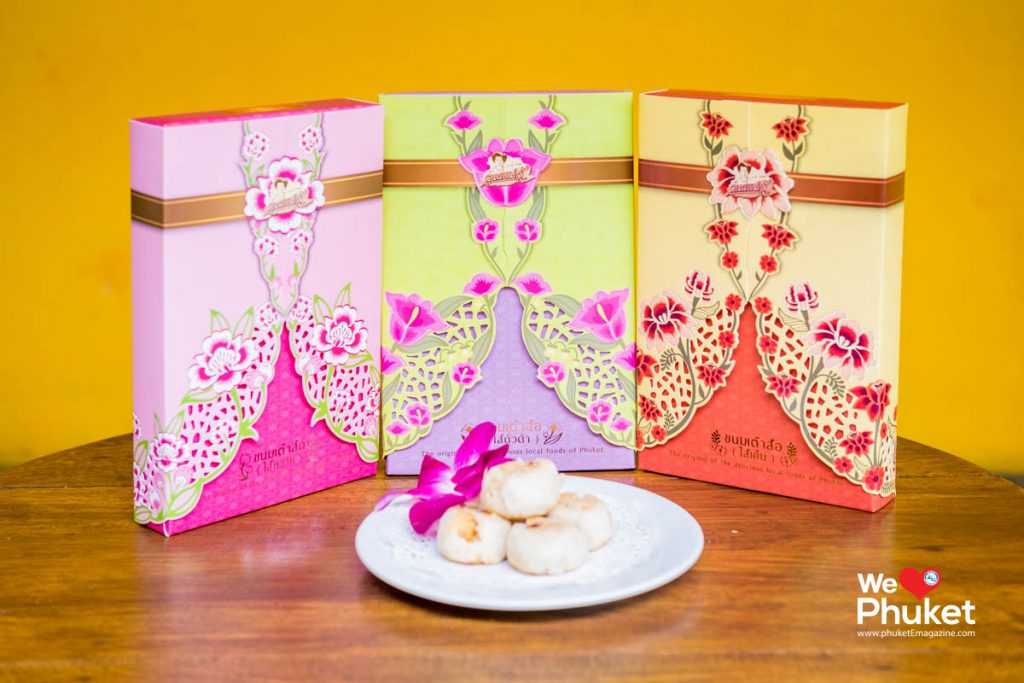 Chili Paste Set and Local Products from Mee Sapam Khunyai Jian
Most people will already know about the good reputation of Mee Sapam's noodles and that they're a must-try once here on the island because of their unique taste. There's a souvenir shop right next to the restaurant selling dried shrimp chili paste, dry fish chili paste, shrimp paste and dry spicy fish curry paste. The packaging of the product shows the original ancestral Chinese Hokkien influences with an elegant peacock that represents Grandma Jien who started the Mee Sapam business. All the products at the shop are guaranteed to taste the same from generation to generation. Don't forget Phuket's famous fish balls that are 100% made from fish sealed in a plastic bag that keeps the product fresh for a long time. Don't forget to stop by at Mee Sapam Khunyai Jien on the way back, to enjoy some the noodles!
https://www.facebook.com/meesapam/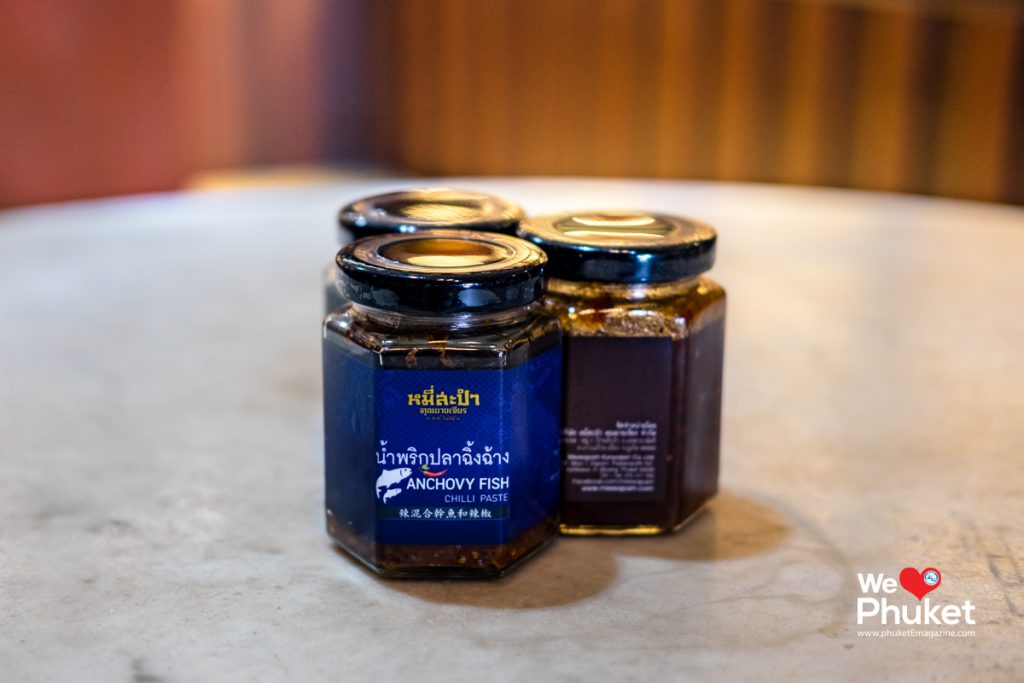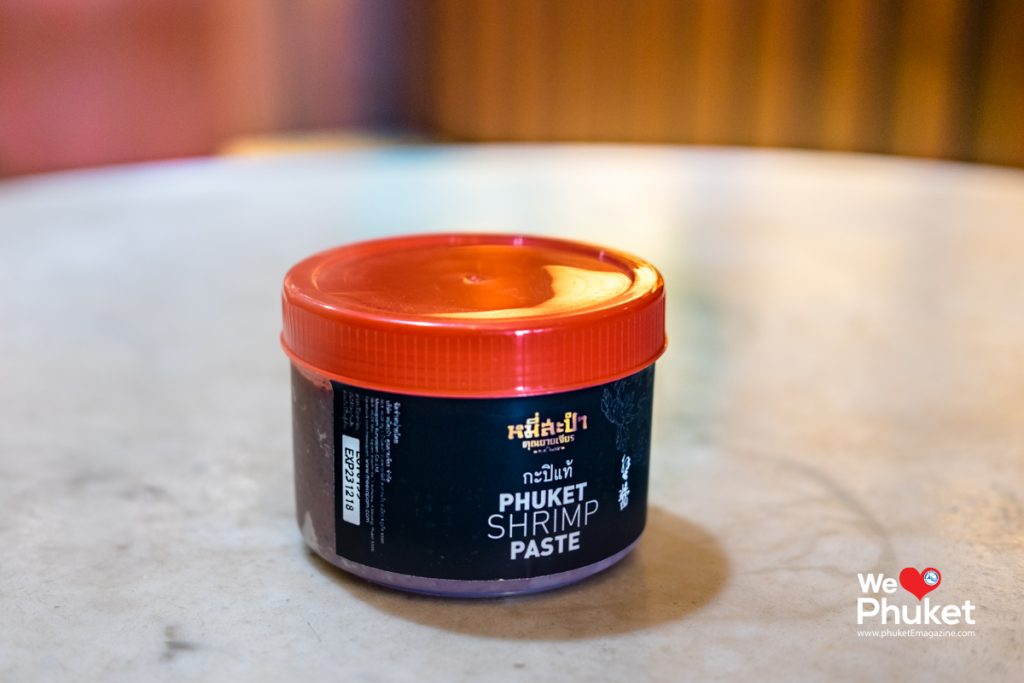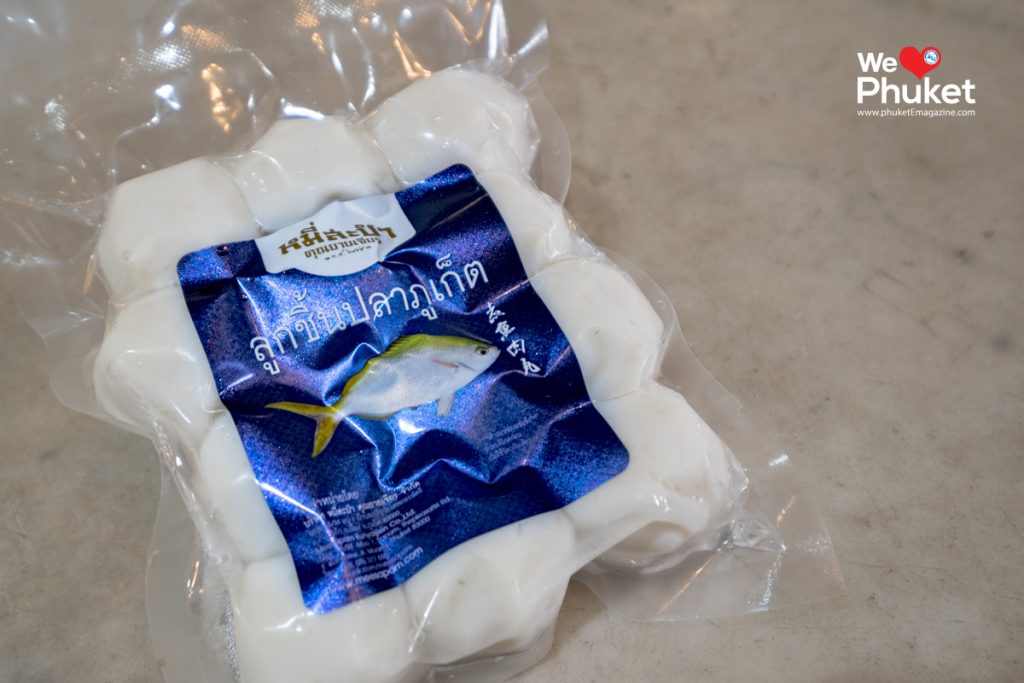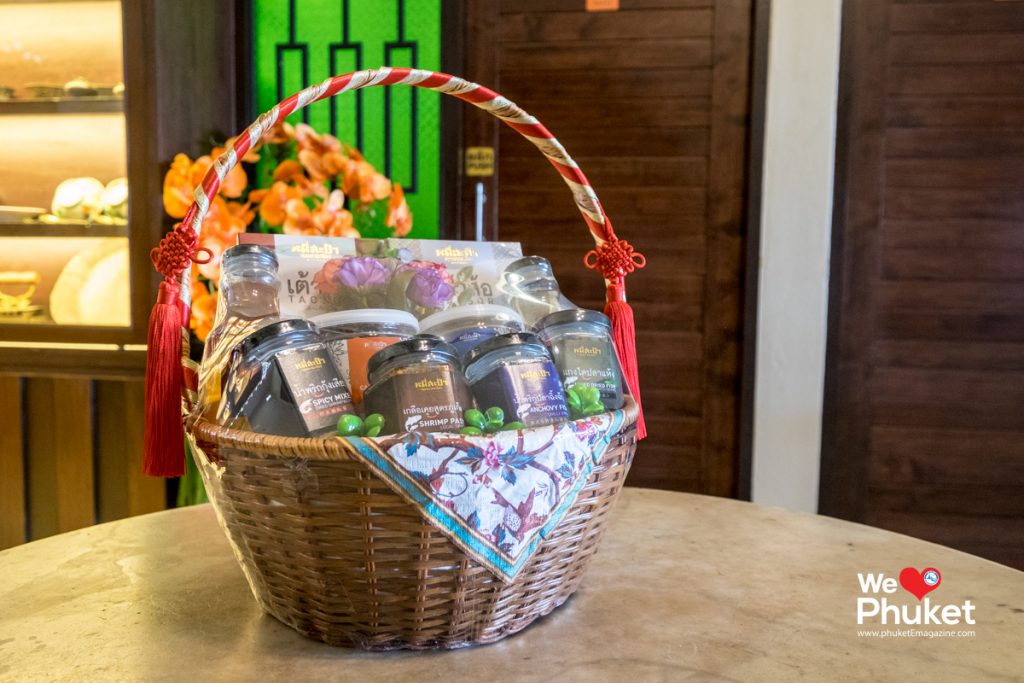 Local Snack Set from Café Inn Phuket
The owner of this café wishes to share with his customers some memories from his youth. Wishing to bring back the tradition of sharing food within the community he harks back to the past using four-layered boxes known as 'Pin To' or food carriers. There are different types of boxes such as 'Sia Nah' which is used in sacred ceremonies, bamboo baskets, tiffin carriers and traditional chicken bowls. The products inside are famous Phuket snacks such as Tao-for, pepper cookies and so on. The snacks have been chosen from local shops in town and repackaged with creative ideas and an image of a lady dressed in a Baba-dress.
https://www.facebook.com/CafeinThaihuaMuseum/