Many people may wonder, "Eh! What is this?" when they hear the name Som Kwai. "How come the name sounds similar to Som Kaek?" Som Kwai and Som Kaek is a thai name of Garcinia Cambogia. On the other hand, they are two different species of Garcinia Cambogia. Som Kwai is a Phuket native plant that is mostly found in Kamala. The villagers of Kamala are well-versed in the use of Som Kwai. Therefore, Som Kwai is more than just a symbol to the villagers. It is a way of life for them.
Most people understand that Som Kwai is just another name for Som Kaek. However, Som Kwai differs from Som Kaek in its size and has more meat. Som Kaek has a smaller shape and a clearer groove, and its calyx is similar to mangosteen calyx. Furthermore, Som Kwai provides a distinct sour flavor. It tastes sourer than Som Kaek.
At Kamala villagers, drying Som Kwai in front of the houses is a daily routine because this is the production site of high-quality dried Som Kwai that has been well-known for a long time. Died Som Kwai from Ban Kamala is widespread for having good dried quality, the right color, the right sour taste, and the ability to keep expanding the expiration period. To get the right sour flavor, all Phuket cooks use Som Kwai when making Kaeng Som, Tom Yum, or Tom Som. Dried Som Kwai has a mellow sour flavor that differs from lemon and tamarind.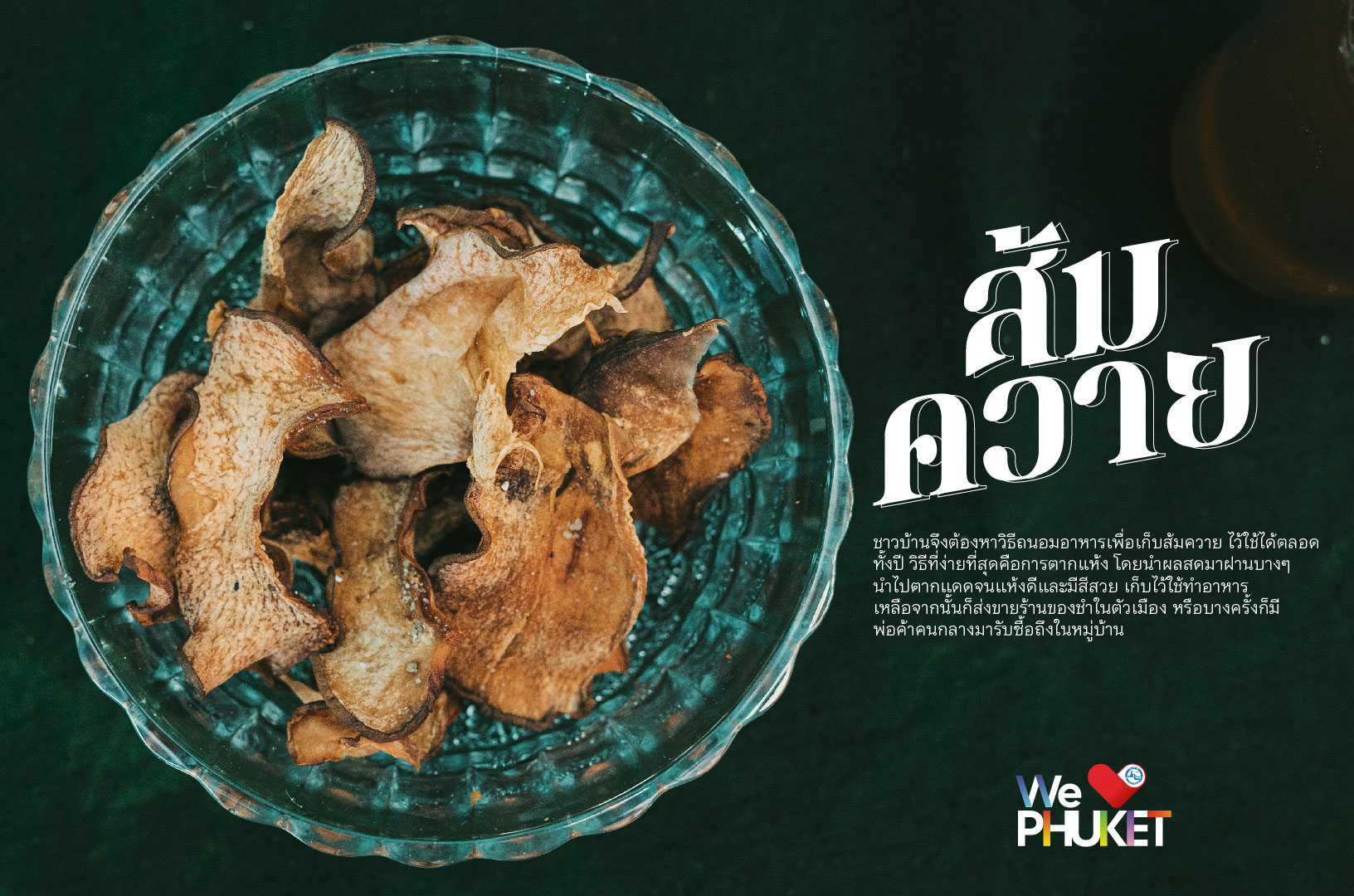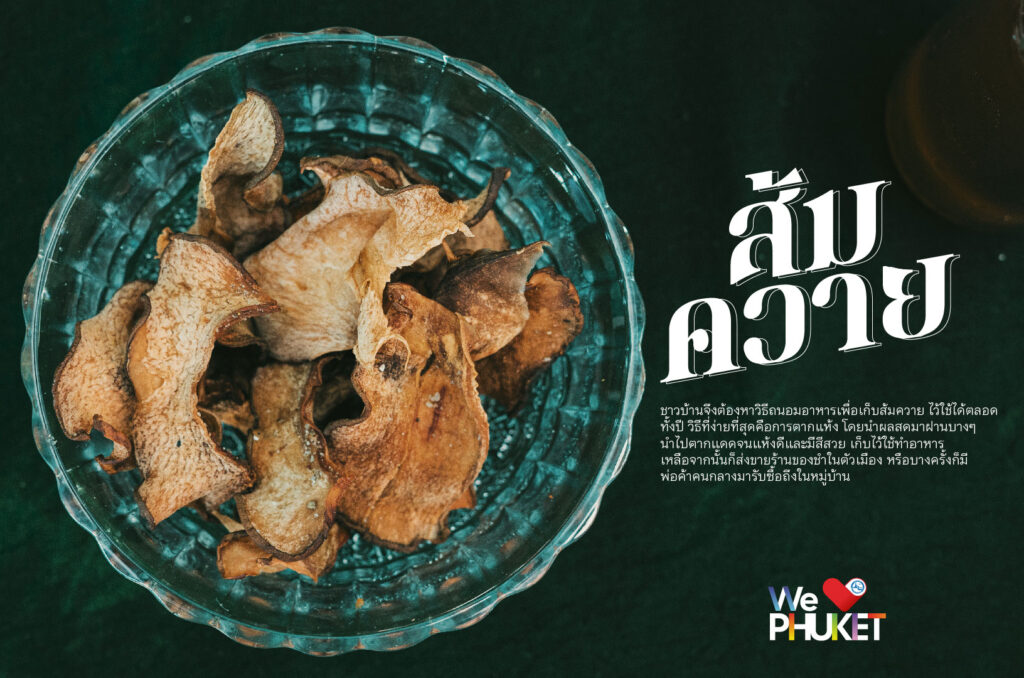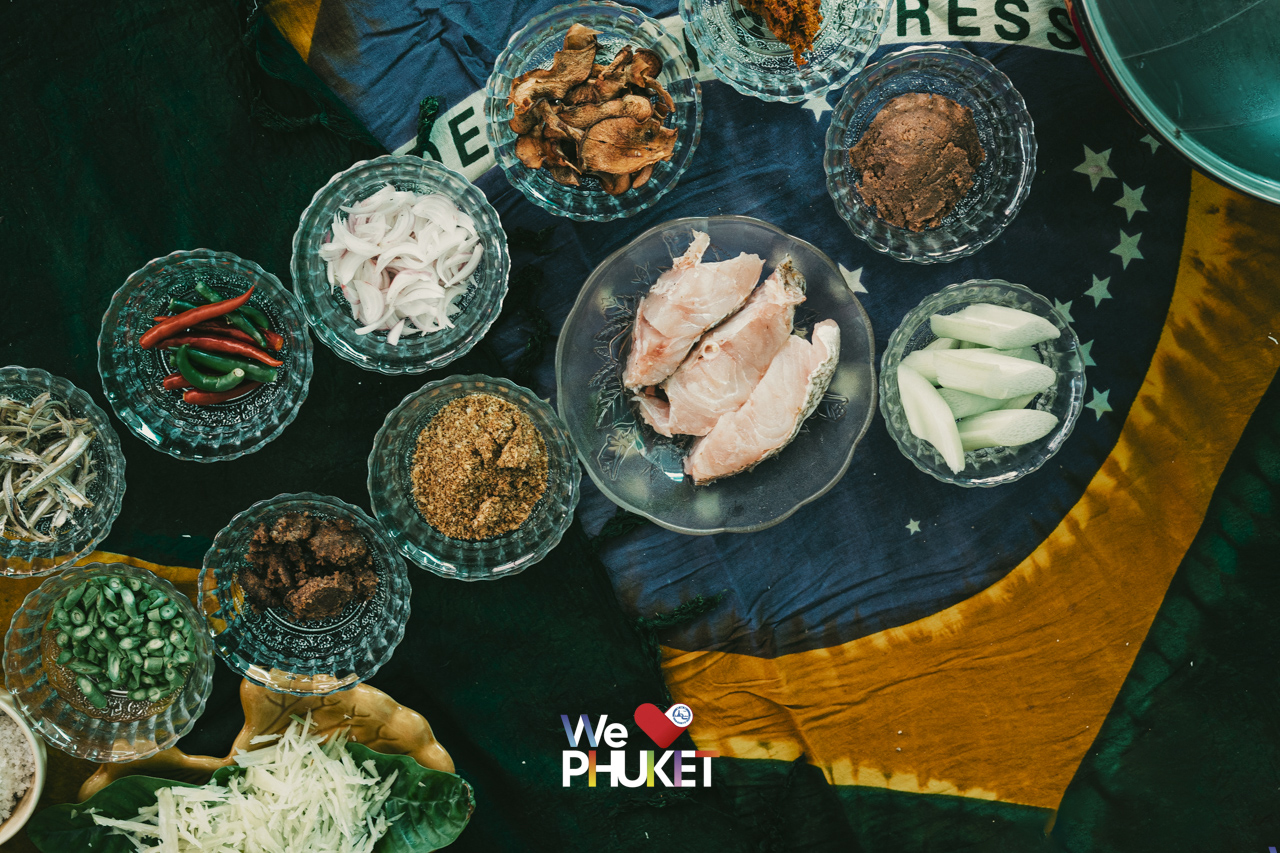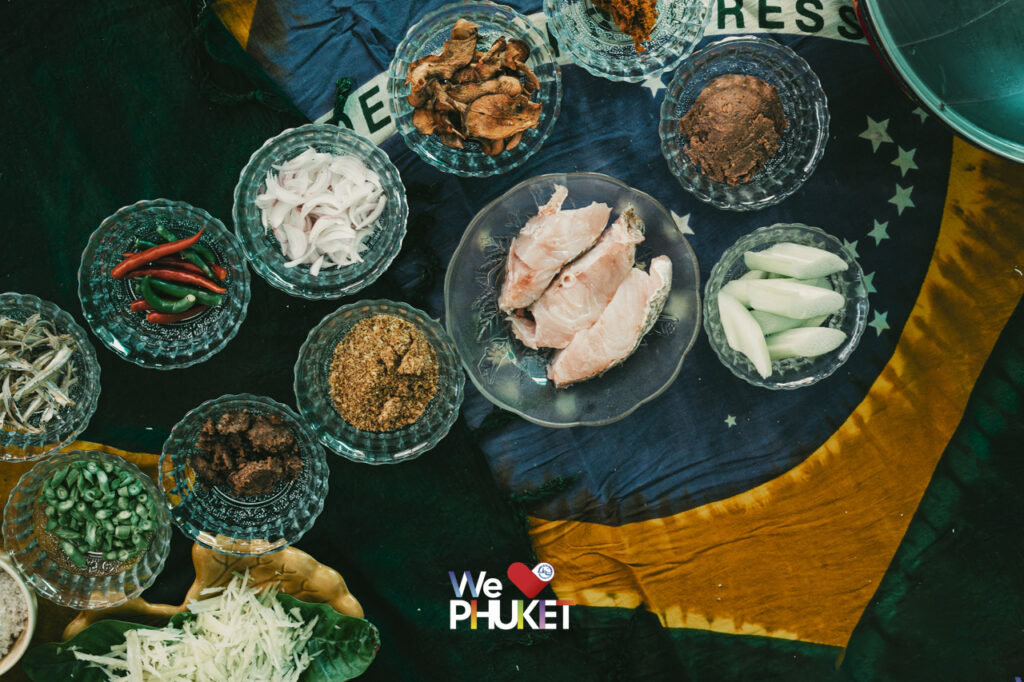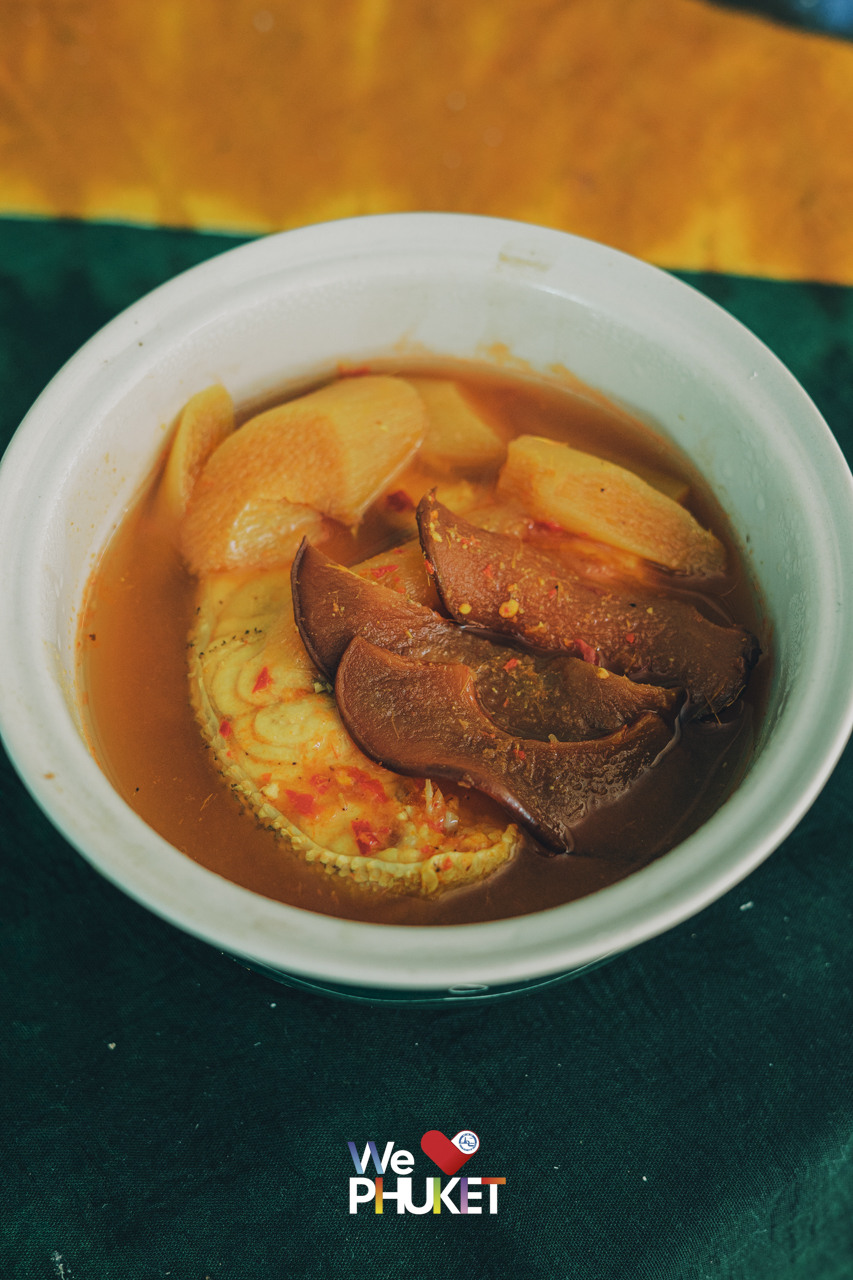 With Kamala villager collaboration, Ban Kamala's Som Kwai is more than just a cooking ingredient. "Bang Whaan Phatthana Housewives Farmers Group Community Enterprise" was established to add value to Som Kwai to become a new local product that provided villagers with jobs and increased their income.
Ms. Ladda Kawijit, president of the Bang Whaan Phatthana Housewives Farmers Group Community Enterprise, told us that "Ban Kamala villagers have planted Som Kwai in almost every house. The elders have known about the Som Khwai tree in the village since they were children. Some of the Som Kwai trees are over 100 years old compared to the age of the village elders. Som Kwai trees can be found throughout Phuket's forests, especially in Ban Kamala."
Moreover, Ms. Ladda shared the original definition of the name "Som Kwai" which may come from its size and taste. Southern Thai people refer to this big, heavy-handed sour fruit as Som (mean sour fruit) Kwai (mean buffalo) because big size is frequently compared to the size of buffalo. Another story of Som Kwai is that Ban Kamala was once in a golden rice field. At the end of the paddy fields, Som Kwai trees have grown. The buffalo always came to hide from the sun beneath the Som Kwai tree. So, when people went to pick fruit for cooking, they always said "Pick the sour fruit under the tree where the buffalo is lying". Som Kwai may be the short word for calling at the time.
According to the Som Kwai season, the Som kwai flower only blooms once a year, in December. It produces fruit from January to March, which will gradually ripen and fall in April. Thus, the villagers needed to figure out how to preserve the fruit for keeping it throughout the year. The simplest method is to dry the fresh fruit by thinly slicing it and placing it in the sun until it turns a beautiful brown color. This method can keep Som Kwai for cooking while also being delivered to the local grocery store or sold to the dealer.
With the plentiful supply of fresh Som Kwai fruit, the group recognizes the benefits of Som Khwai. So, since around the year 2010, they have begun to develop the new Som Kwai product, as well as apply for the registration of the Bang Whaan Phatthana Housewives Farmers Group Community Enterprise to obtain knowledge and budget support from the government to help conduct the new product experiment.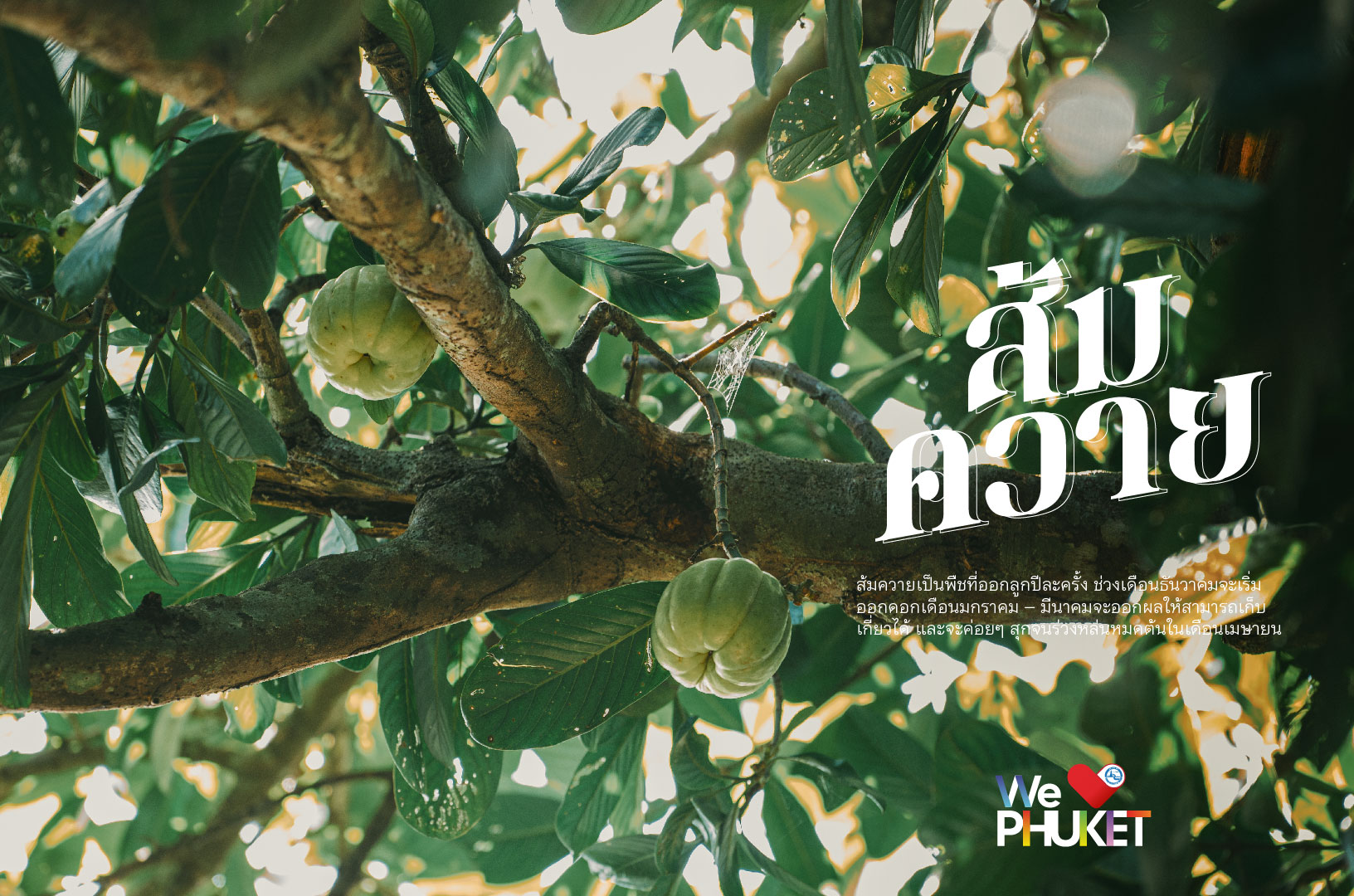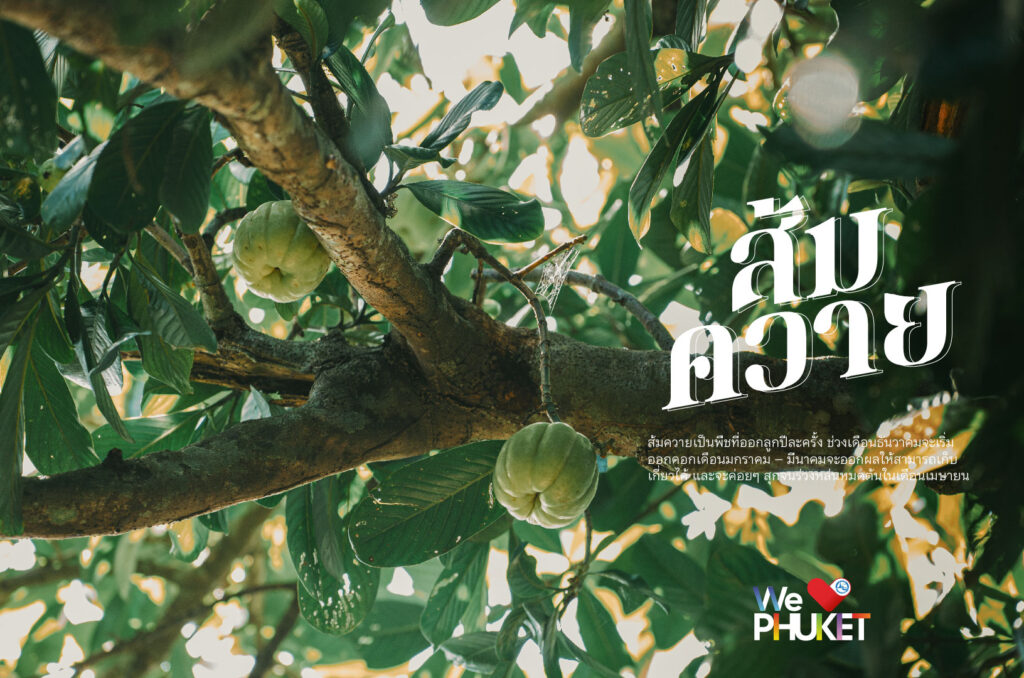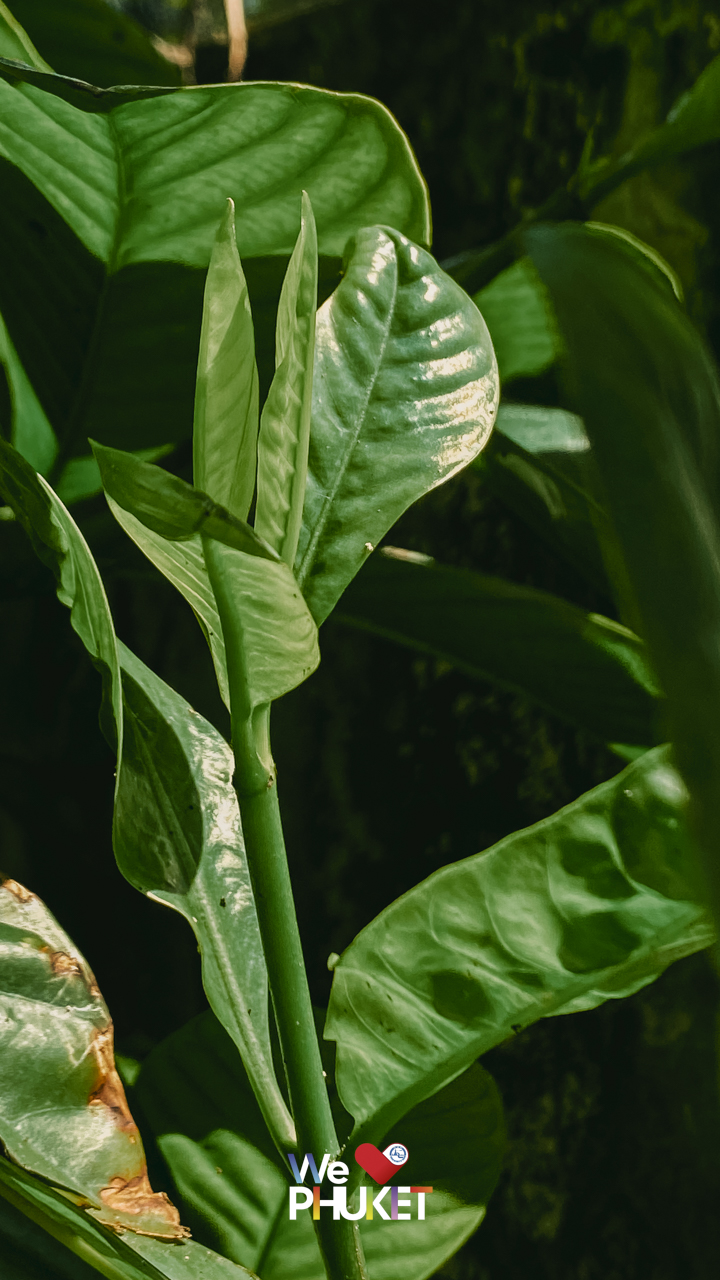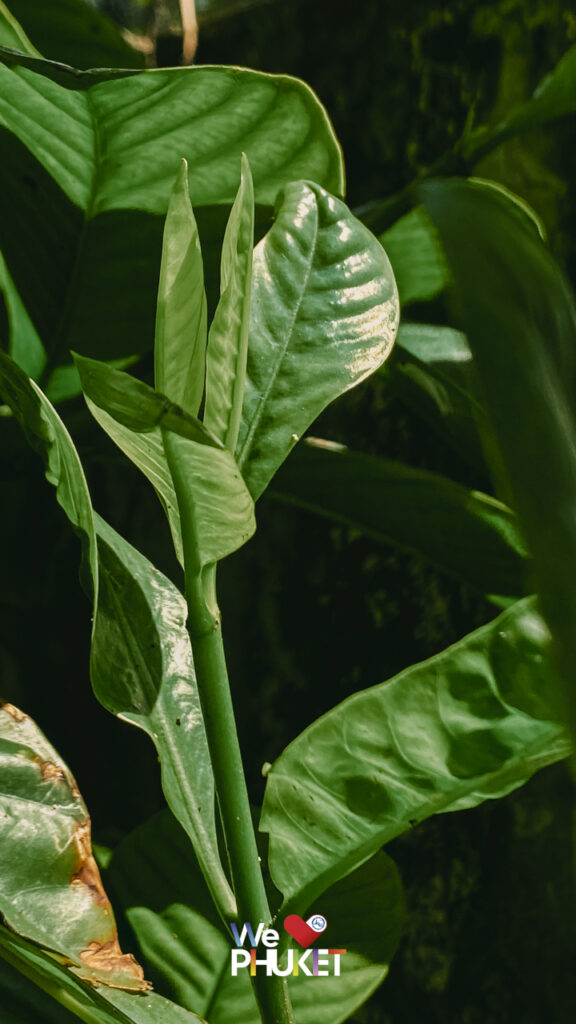 In 2012, the group finally settled on a brand name, packaging, and marketing strategy for the new product. The first item is Som Kwai in syrup. Then, they released Som Kwai conserves and Som Kwai candy. At that time, there were no online sales. So, they began promoting Som Kwai at OTOP booths at the provincial, regional, and national levels.
"Do you believe it? No one knew about Som Kwai. Many people from other areas have never seen Som Kwai because it is a native plant with no published information. Even though it has numerous medicinal properties, no research has been conducted to support it." Ms. Ladda shared with us about the national event that her group went to promote her products.
After that, universities, particularly Phuket Rajabhat University, assist and support with research, academic information, and nutritional information, including product development. These help the group learn more about Som Kwai, also known as Garcinia Cambogia, which is a versatile plant. It is widely consumed because it contains beneficial nutrients that aid in the treatment of high blood pressure and diabetes. Furthermore, Som Kwai is high in vitamin C, antioxidants, and energy.
This is why the group also launched Som Kwai tea under the brand "Gaciara". It is an instant tea with several scents, including original Som Kwai, orange, Som Kwai with butterfly pea flowers, Som Kwai with roses, Som Kwai with ginger, and Som Kwai with chrysanthemum. Moreover, They have also launched a powder version of Som Kwai that can be mixed with hot or cold water to help quench thirst.
We hope to develop more products, both food, and beverages, in the future to broaden people's understanding of its benefits. As we found that Som Kwai is high in vitamin C and helps to brighten the skin, we also decided to launch our body scrub made from Som Kwai's peel and seeds to test the market. So, in the future, we will also focus more on the skincare market." Ms. Ladda stated.
However, Ban Kamala's Som Kwai is not only a local product but also a community tourism destination. The Bang Whaan Phatthana Housewives Farmers Group Community Enterprise has developed Som Kwai as a significant point to attract tourists to experience the village's charm stories.
"Our group organizes community tourism activities for visitors to experience Som Kwai from the tree to the plate. We take visitors to see the oldest Som Kwai tree, which is over 100 years old, along with planting the Som Kwai tree and cooking some great dishes from Som Kwai that were picked by themselves, such as Kaeng Som and Som Kwai Salad called "Yum Ban Ngan". It is a type of salad created by Ban Kamala villagers to entertain guests at various important events. Som Kwai meat, both fresh and pickled, is mixed with spices such as roasted coconut, anchovies, asparagus beans, and shrimp paste in this salad recipe. It is a spicy salad that is unlike any other Thai salad recipe. The visitors will get to cook and taste the authentic flavor of Som Kwai's famous dish. Furthermore, our inspection allows visitors to see how our Som Kwai products are made and buy our products as souvenirs.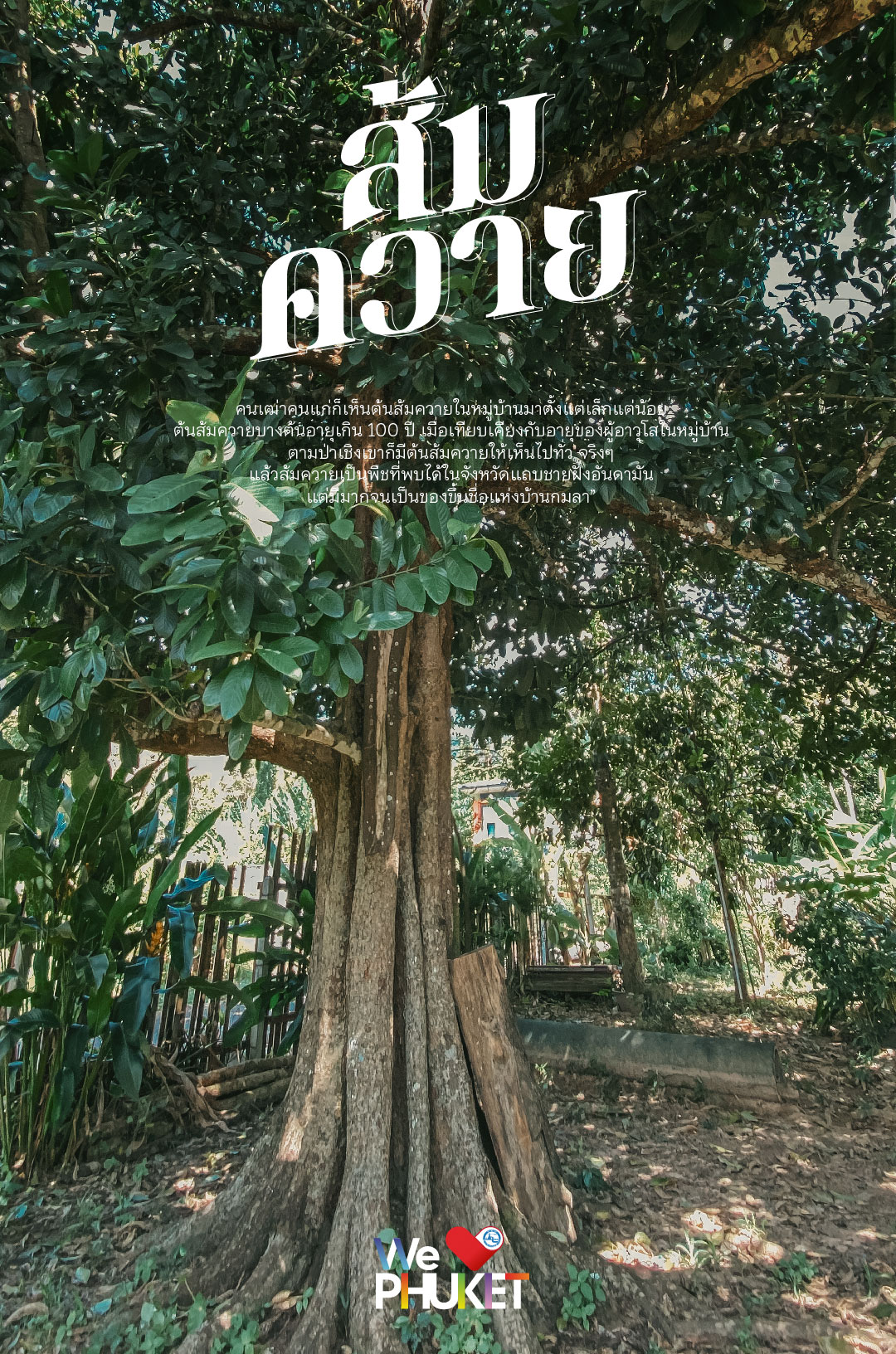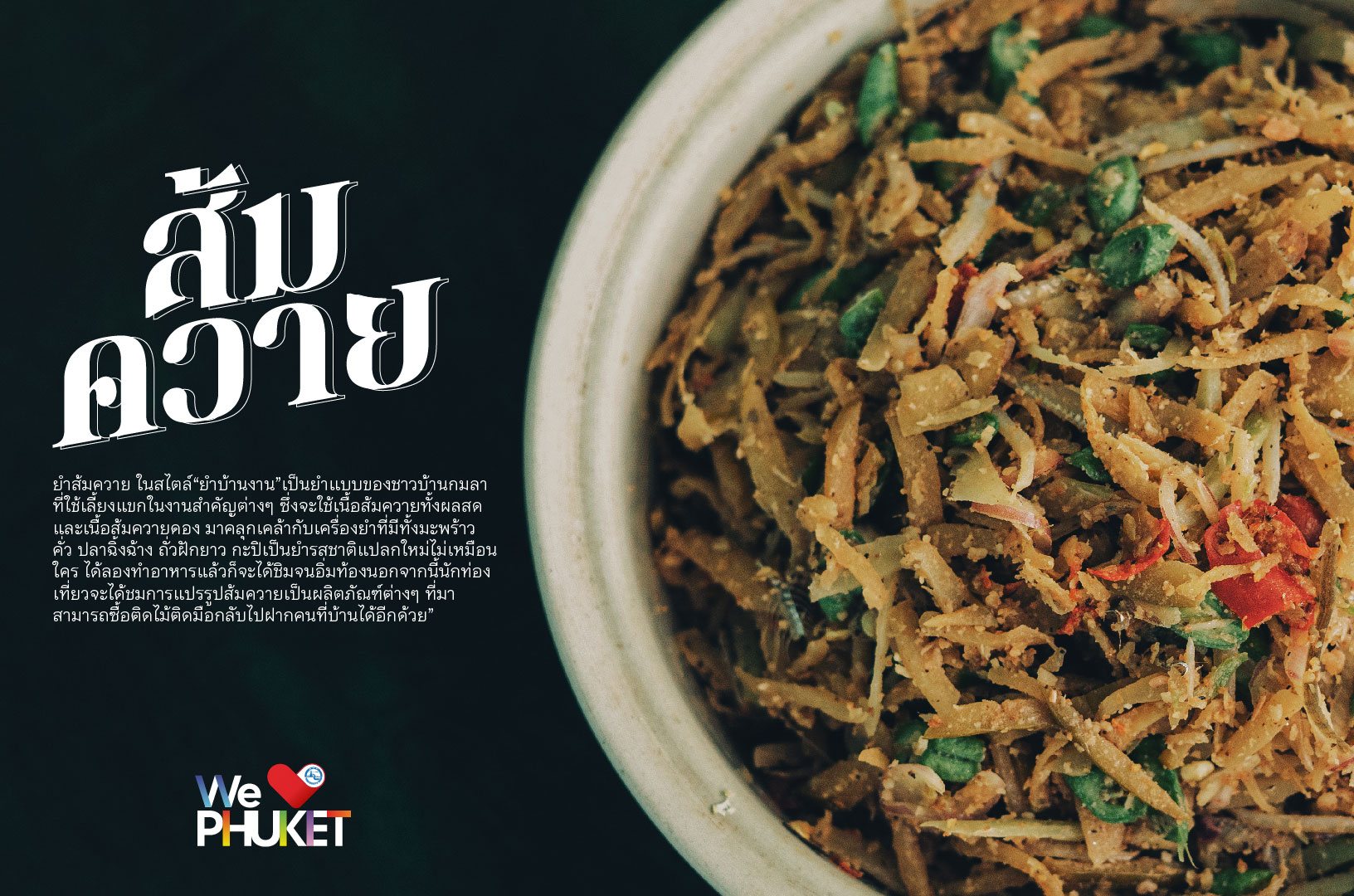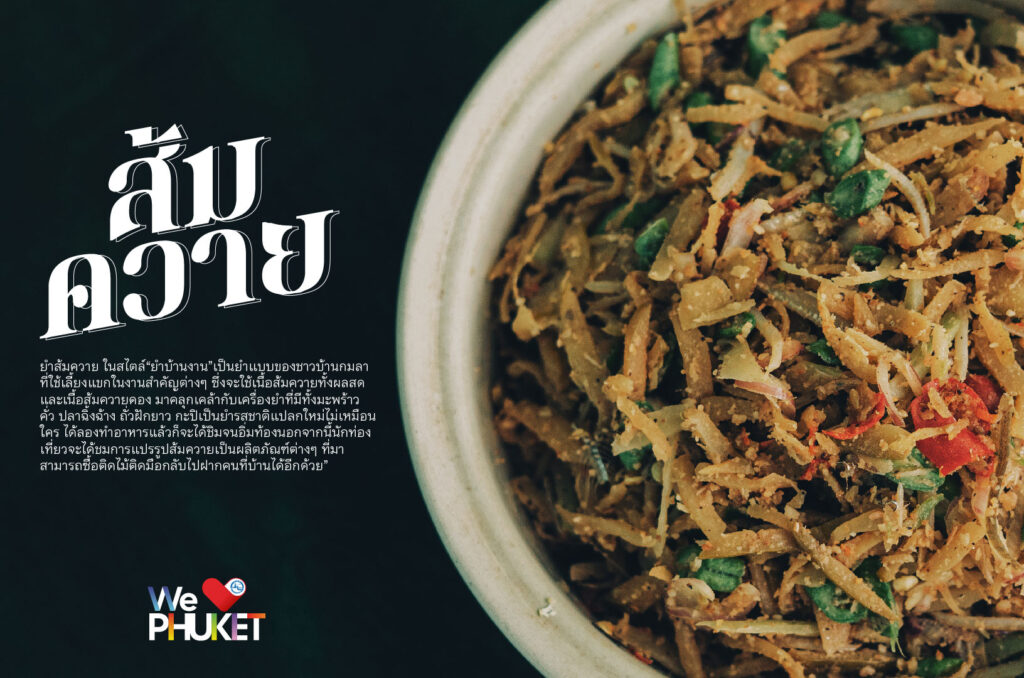 During the previous COVID-19 crisis, many villagers lost their jobs and income because the hotel laid them off. We have made every effort to expand the Som Kwai product line to help us get through this crisis. We try to recruit more community members and collaborate to produce more products, improve the marketing strategy, and establish more online channels. Our youth are assisting with online sales. They will go Live, take photos for promotion, and post them on social media to increase awareness of our Som Kwai products. As a result of these strategies, we have received more orders and earned more money. Furthermore, we have raised awareness among the younger generation about our goal as well as the value and benefits of Som Kwai to keep our local businesses growing in the future.
To gain acceptance and recognition for Ban Kamala Som Kwai, the government has encouraged the project to plant more Som Kwai trees throughout Phuket to establish Som Kwai as another endemic plant in Phuket. Meanwhile, we are applying GI (geographical indication) for Phuket's Som Kwai, to develop Som Kwai as our other Phuket identity. It will be not only our success but also the pride of Phuket to have Som Khwai as a versatile plant known to people all over the world." Ms. Ladda shared her goal and her village's business story, which has improved the quality of life for the locals.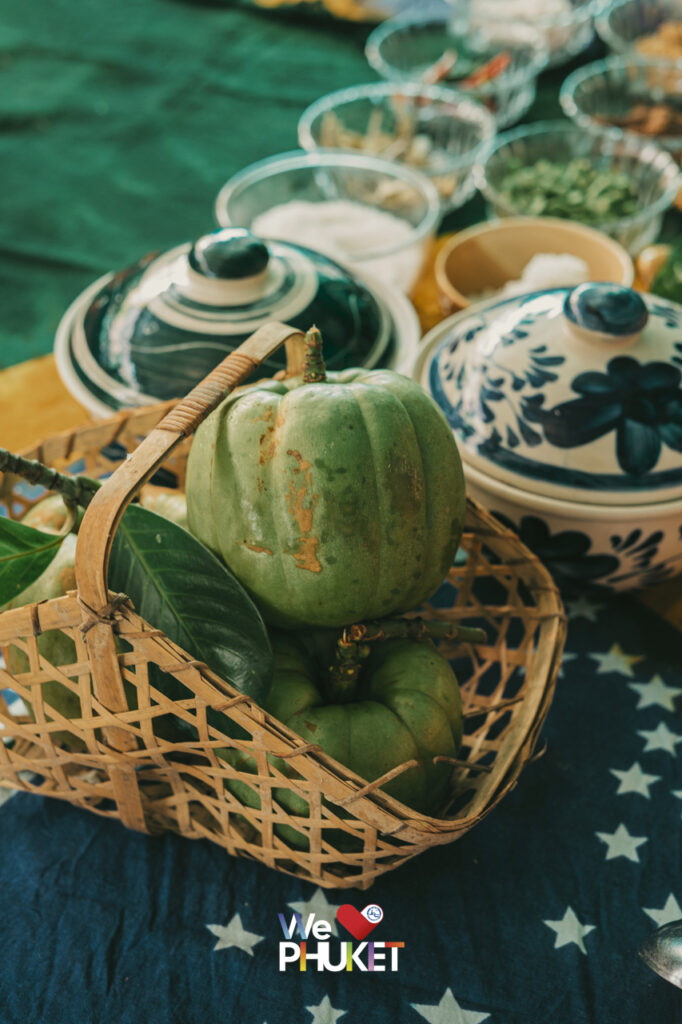 For more information:
Bang Whaan Phatthana Housewives Farmers Group Community Enterprise
33/5 m. 5 Supdistrict kamala district kathu Phuket 83150 Kamala Kathu Phuket 83150
Tel. 0935766401, 0819680877
Facebook: วิสาหกิจชุมชนกลุ่มแม่บ้านเกษตรกรบางหวานพัฒนา/ Bang Whaan Phatthana Housewives Farmers Group Community Enterprise
https://www.facebook.com/Banbangwan